An introduction to 19 essential Chinese ingredients that will help you recreate Chinese restaurant dishes in your own kitchen.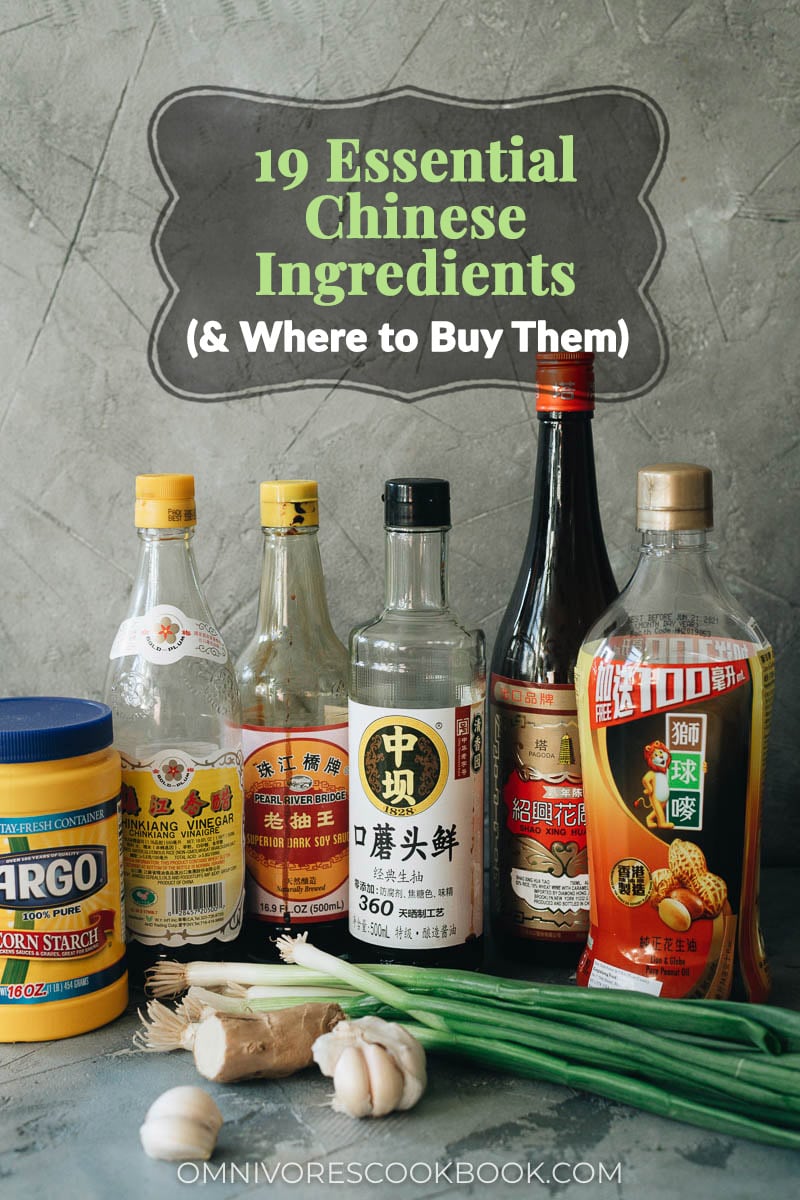 Over the past few years, the one question that I've received the most is – What are the basic ingredients to get me started cooking real-deal Chinese food?
The short answer is, you only need 6 Chinese ingredients to get started cooking delicious Chinese food. These are the ingredients I use 80% of the time, if not every day.
I've also listed 3 must-have fresh ingredients, which you can often get at a grocery store.
The rest of the post contains 5 sauces and 5 spices that are commonly used in many of my recipes. It can come in handy, depending on the type of food you want to cook. For example, if you'd like to make authentic dim sum or Sichuan food.
After getting these basic Chinese ingredients, you'll be able to cook a wide variety of Chinese dishes by combining them with other ingredients that you can find at the average grocery store.
NOTE: I have included a short introduction for each ingredient. If you want to read more about the ingredient, click on the title. It will lead you to a more thorough article on the use, storage, and shopping for that ingredient.
6 Must-Have Basic Chinese Ingredients
Light soy sauce, or Sheng Chou (生抽), is a must-have Chinese ingredient. It's saltier than regular soy sauce but has a lighter color. It adds a savory umami flavor to the dish without adding much color. Light soy sauce is commonly used in all kinds of dishes.
Note, "lite" soy sauce is a totally different thing, which is usually sold by Japanese brands. "Lite" soy sauce contains less sodium and has a different taste. It's not suitable for Chinese recipes.
I usually keep a bottle of regular soy sauce on hand as well, which will add a bit of color to a dish. If you want to keep your pantry less crowded, you can keep either light soy sauce or regular soy sauce.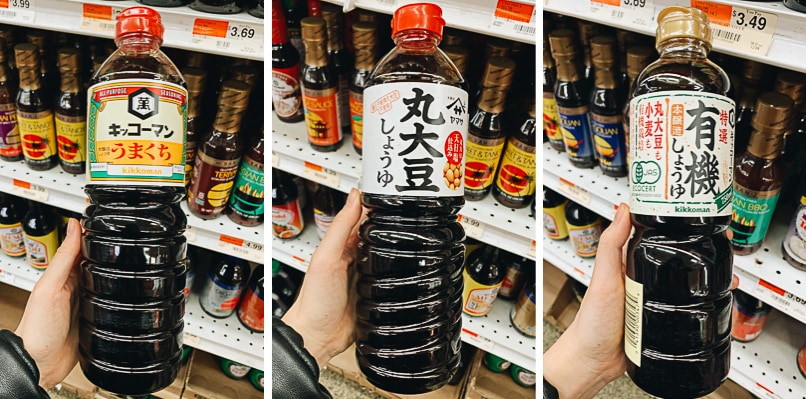 If you avoid gluten, you can either use tamari to replace the (light) soy sauce.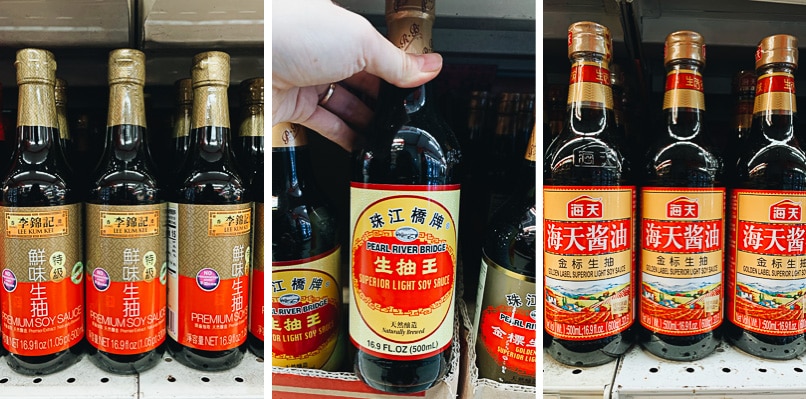 Recommended Brands
Dark soy sauce, or Lao Chou (老抽), tastes less salty and slightly sweet and is thicker in texture and darker in color. Dark soy sauce is more like a food coloring than a condiment. It is usually used together with light soy sauce in braising and sometimes stir frying, to add an appetizing dark brown color to a dish. It is responsible for the lovely deep color of dishes such as Beef Chow Fun and Red Braised Pork.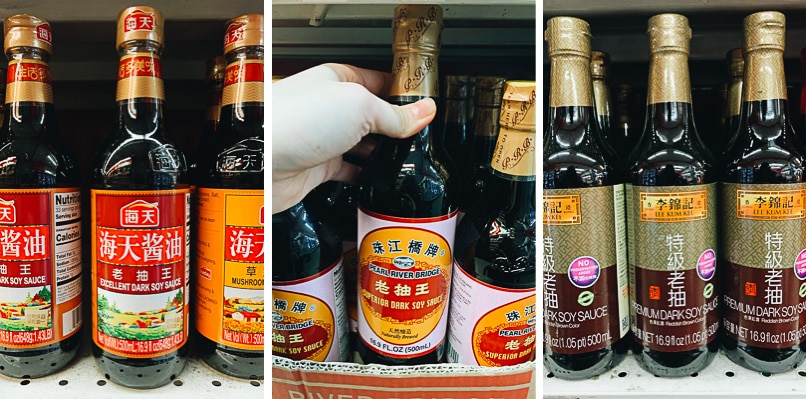 Recommended Brands
Pearl River Bridge, Lee Kum Kee, Haitian
Chinkiang vinegar, or Zhen Jiang Xiang Cu (镇江香醋), is sometimes called old vinegar (老醋, Lao Cu), or black vinegar (黑醋, Hei Cu). Chinkiang vinegar has a distinctive dark brown color that is almost like that of soy sauce. It has a rich, pungent, and tart flavor, with a fermented, malty taste and woody character that differentiates it from the lighter colored rice vinegar.
In China, Chinkiang vinegar is an important Chinese ingredient balsamic vinegar is in Italian cuisine. I use it to make General Tso's Chicken, Hot and Sour Soup, and Cucumber Salad.
PS. On a different note, if you love northern Chinese cooking, also keep an eye on Shan Xi vinegar (sometimes called aged vinegar or mature vinegar). It has a more intense flavor and less sweet. It's perfect for dumpling dipping.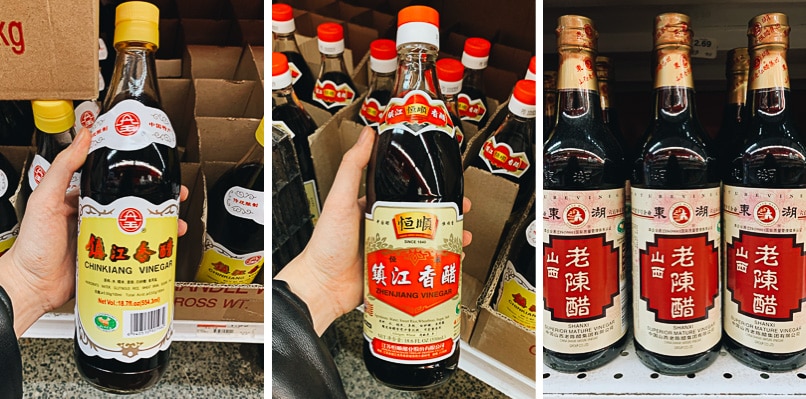 Recommended Brands
Golden Plum, Heng Shun, Shan Xi Vinegar (NOTE, the last one is not Chinking, but for dumpling dippings)
Shaoxing wine (绍兴酒, pronounced "shao-shing") is a type of rice wine. It's an important Chinese ingredient as soy sauce. It has a light brown color and a savory umami flavor that resembles light soy sauce. It adds depth of flavor to a dish and I use it in almost everything, from making sauce, to deglazing pans, and making marinade.
It has an alcohol content of around 17%, so it is impossible for grocery stores in some states to carry the original unsalted type. I highly recommend to purchase your Shaoxing wine from an Asian liquor store or Asian grocery store, where it is usually displayed in the liquor section (not the pantry section). 
NOTE: Read the label before purchasing. I try to avoid the type that has salt in it, but if the salted one is the only type you can find, it's OK to use them as well.
The next best thing to Shaoxing wine is dry sherry (avoid the sweet type), which you can get at most liquor stores.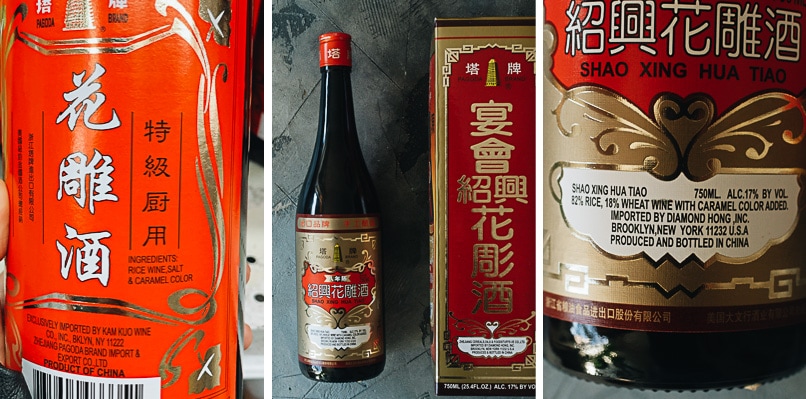 A great bottle of high-quality peanut oil will make all dishes instantly better. It has a high smoking point, which is perfect for stir-fries. Try to find an Asian brand that consists of 100% peanut oil. When you open the lid, the oil should be particularly fragrant and smell like peanut butter. It is as fragrant as toasted sesame oil, but with a higher smoke point and a much lower price (per volume, anyway). If you cook simple vegetable dishes, such as bok choy with hot garlic soy sauce or stir fried cabbage, you'll notice a big difference when using pure peanut oil instead of regular vegetable oil. I often skip adding sesame oil in my dishes because I use the pure peanut oil.
You can usually find high quality peanut oil in an Asian grocery store. Note, it usually has a golden color, which is darker than that of the pale-colored regular peanut oil you see in regular grocery stores.
NOTE: read the label before purchasing. You should only purchase the one that contains 100% peanut oil. Some brands will produce both types – See the picture below. The one on the left says blended peanut oil in Chinese, and the product has a golden color. The one on the right is pure peanut oil and has a dark amber color.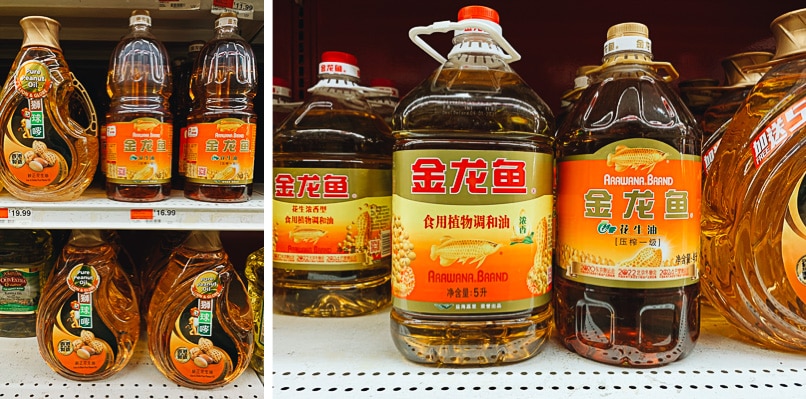 Recommended Brands
Lion & Globe (I love this brand it's easier to find in the US), Arowana Brand (we use this in China)

(6) Cornstarch
Cornstarch is a very important part of any Asian pantry, because you will use it to thicken sauces and soups, marinate meat, and pan fry ingredients to create a crispy crust.
For example, you will use the cornstarch slurry to create the silky texture of egg drop soup. You will need it to create the sticky texture of sauces, such as orange sauce and General Tso's sauce. In many recipes, I use cornstarch to coat meat and pan fry it, to create a super crispy deep-fried texture. Such as with the salt and pepper chicken.
It's possible to use other starches, such as potato starch or tapioca starch, to replace the cornstarch. But each starch has a different thickening power. So you might need to adjust the amount used in my recipes.
3 Essential Fresh Ingredients – Aromatics
Ginger, Green Onion, and Garlic
I've seen cookbook authors call these the Holy Trinity of Chinese Cooking. It's very true and I will forever have all three of them in my pantry. You will use them in most Chinese dishes. All three of them add aroma and fragrance to a dish. Although ginger has another advantage – it contains enzymes that can tenderize meat.
For stir-fried dishes, you will saute aromatics in oil to infuse the flavor of the aromatics, which creates a rich and robust sauce that tastes so much better than bottled sauce. Just look at how much of these aromatics I used in the Char Siu Chow Mein.
Aromatics are also commonly used in meat marinades, dumpling fillings, soups, and cold dishes. See how I repetitively used green onion and ginger in the Wonton Soup. And how I used all three of these aromatics and some Chinese sauces to turn poached chicken into a feast in my Bang Bang Chicken recipe (So many readers have told me it's their favorite Game Day snack now).
You might be familiar with green onion and garlic, which are very common in a regular market. However, I do find that fresh ginger can be hard to find sometimes, depending on where you live. So I've created a post on How to Freeze Ginger, so you can store it for a long time. Sometimes you will also find packaged ginger paste that comes in a tube. It's less fragrant than fresh ginger, but still works much better than dry ginger powder.
7 Nice-to-have Chinese Ingredients – Sauce & Paste
(1) Rice Vinegar
Rice vinegar is fruity and slightly sweet. Compared to Chinkiang vinegar, rice vinegar is less commonly used on a daily basis. However, if you like dishes such as Orange Chicken, Sweet and Sour Pork, and Honey Chicken, rice vinegar is a must. I also like to use it to make Pickled Cabbage.
Recommended Brands
Marukan (or other Japanese brands)
Oyster sauce (蚝油, hao you) is a dark, thick sauce made from oyster extract. It is salty, savory, a bit seafoody, and lightly sweet. It adds umami and sweetness to a dish. Commonly used in Cantonese cuisine, it is a must-have ingredient for fried noodles and dim sum.
No matter whether you're making a quick Chicken Chow Fun or Chicken and Broccoli, oyster sauce will add a rich taste to your dish. It's also a key ingredient for making authentic egg rolls.
NOTE: Oyster sauce comes with different grades. The premium type (left in the picture) contains more oyster essence and has a better taste. The regular one (middle in the picture) contains more sugar and is cheaper.
For vegetarian and vegan dishes, you can use vegetarian oyster sauce or homemade vegetarian oyster sauce.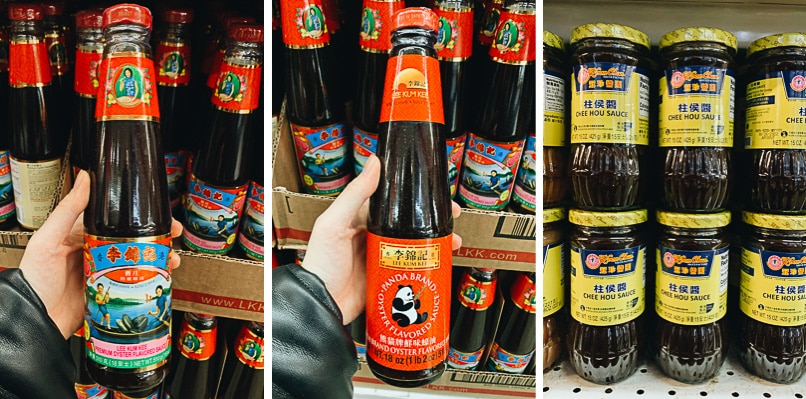 Recommended Brands
Lee Kum Kee (they invented oyster sauce), Chee Hou Sauce for vegetarian / vegan alternatives
(3) Hoisin sauce
Hoisin sauce (海鲜酱, hai xian jiang) is a dark, thick sauce made mostly from sugar and soybeans. It's commonly used in Cantonese cuisine – a key ingredient for making Char Siu Pork and Char Siu Buns. It's also a popular dipping sauce that is great for veggies and roasted meat.
Consider using my Homemade Hoisin Sauce recipe instead of purchasing it.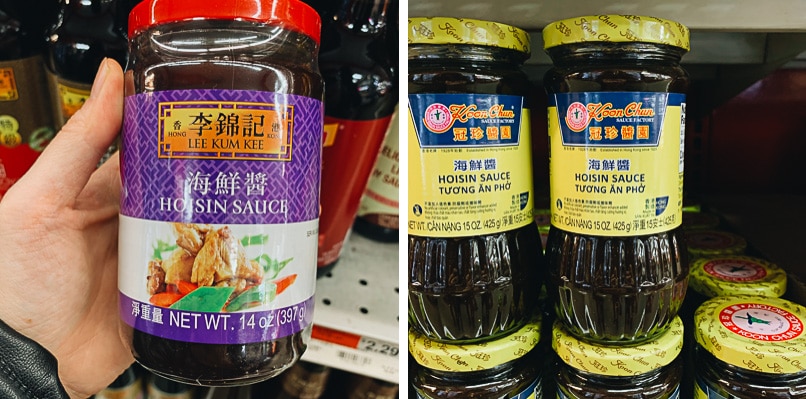 Recommended Brands
Lee Kum Kee, Koon Chun, Kikkoman
Doubanjiang (豆瓣酱), or Chinese spicy fermented bean paste, is a thick dark brown paste that tastes salty, fermented-savory, and spicy. A key ingredient in Sichuan cuisine, you'll need this one if you want to cook a good Mapo Tofu, Twice Cooked Pork, or Yu Xiang Eggplant. I also highly recommend this ingredient if you like spicy food, because it adds a rich taste to any simple stir fried dish immediately. For example, super simple yet delicious Green Beans with Ground Pork and Braised Daikon Radish.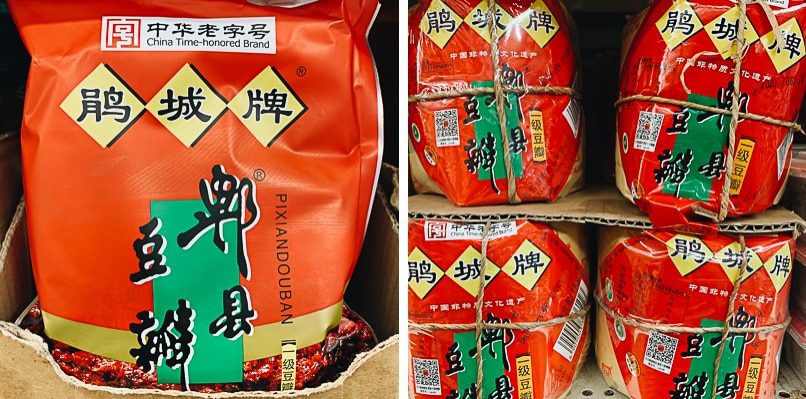 Recommended Brands
Pi Xian Dou Ban (named after its origin and current source of production).
Toasted sesame oil has a dark amber color and an intense, nutty aroma. It has a low smoking point and can't stand up to high heat, so it's usually only used at the end of cooking. I skip sesame oil most of the time in my cooking since I always use a high-quality peanut oil (see above). But it's an important condiment to have, since you can use it to create delicious soup and dumplings.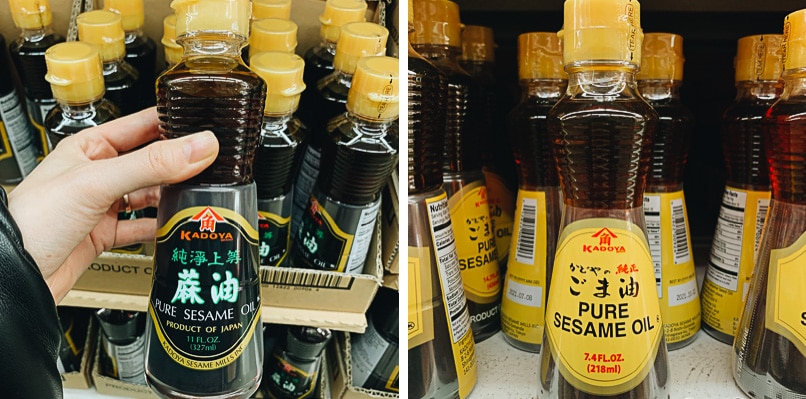 Recommended Brands
Kadoya, Spectrum (can be find in Whole Foods and other grocery stores)
5 Nice-to-have Spices
White pepper powder (白胡椒粉, Bai Hu Jiao Fen) is widely used in Chinese cooking. It has a sharp, spicy, and smoky flavor that is perfect for adding a clean and light spiciness without being too overwhelming. It is spicier and fruitier, but less complex, than black pepper.
Finely ground white pepper is a key ingredient in popular Chinese dishes such as Hot and Sour Soup and Salt and Pepper Chicken.
Five spice powder (五香粉, wu xiang fen) is another common ingredient in Chinese cuisine. As its name would suggest, the powder is a mixture of five spices – star anise, clove, cinnamon, fennel seed, and Sichuan peppercorn. Five spice powder has a warm, savory, earthy and licorice flavor. A tiny amount goes a long way. While not a necessity in the Chinese pantry, it is a very convenient spice blend to have, in order to infuse savory goodness into meat dishes.
Five spice powder is usually used in braising, as a dry rub for grilling, and in marinades.
Five spice powder is a key ingredient in the popular Char Siu (Chinese BBQ Pork) and I use it as a secret ingredient in my famous Homemade Chili Oil recipe.
Dried chili pepper
Not only is it a key ingredient in authentic Sichuan food, it's commonly used in braising and stir-frying to infuse fragrance into the oil. There are a few types of commonly used Chinese chili peppers. For example, Facing Heaven Chili (the most common) is medium-hot and very fragrant. The fat Lantern Chili is smoky and mild. Xiao Mi Chili (looks like a bird's eye chili) is very spicy.
It's nice to have dried chilis on hand so you can easily add smokiness and fragrance to your dish.
See how I use dried chili peppers to make this fragrant 4-Ingredient Fried Cabbage and the authentic Sichuan Mala Chicken.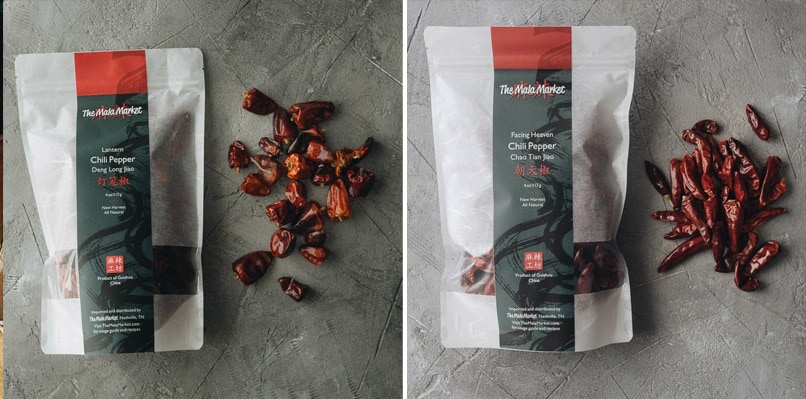 Recommended Brands
The Mala Market (they import premium high-quality ingredients from Sichuan)
Sichuan peppercorn, or Hua Jiao (花椒), is a lesser known and underrated ingredient that's crucial to the Chinese pantry. It has a pungent aroma, slightly lemony overtones, and numbing properties (it's not exactly "spicy"). If you bite into one of these small peppercorns, you'll immediately feel the tongue-tingling, buzzing, party-in-your-mouth sensation otherwise known as "ma" (numbing).
It's a key ingredient in authentic Sichuan food, as important as the chili peppers. And like dried chili peppers, it's commonly used in stir fries, noodles, and cold dishes, to add an intense aroma to the dish.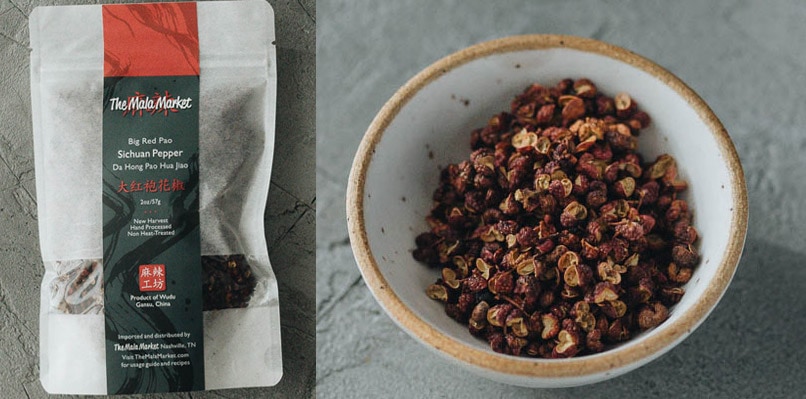 You will need it for all the famous Sichuan dishes, such as Dan Dan Noodles, Mapo Tofu, Kung Pao Chicken, and Dry Fried Green Beans. It's also a key ingredient to make great Sesame Noodles, Xinjiang Lamb Skewers, and Beef Meat Pies.
Recommended Brands
The Mala Market (some of the most fresh products I've seen in the US)
One of the ingredients in five spice powder, whole star anise pods (大料, da liao) are commonly used in braised dishes to add a warm licorice-like aroma.
You will need it to make Chinese Red Braised Pork, Tea Eggs, and Soy Sauce Chicken.