Turn your kitchen into a Chinese restaurant by making crispy pan fried noodles with juicy beef in a rich and savory sauce that tastes too good to be true!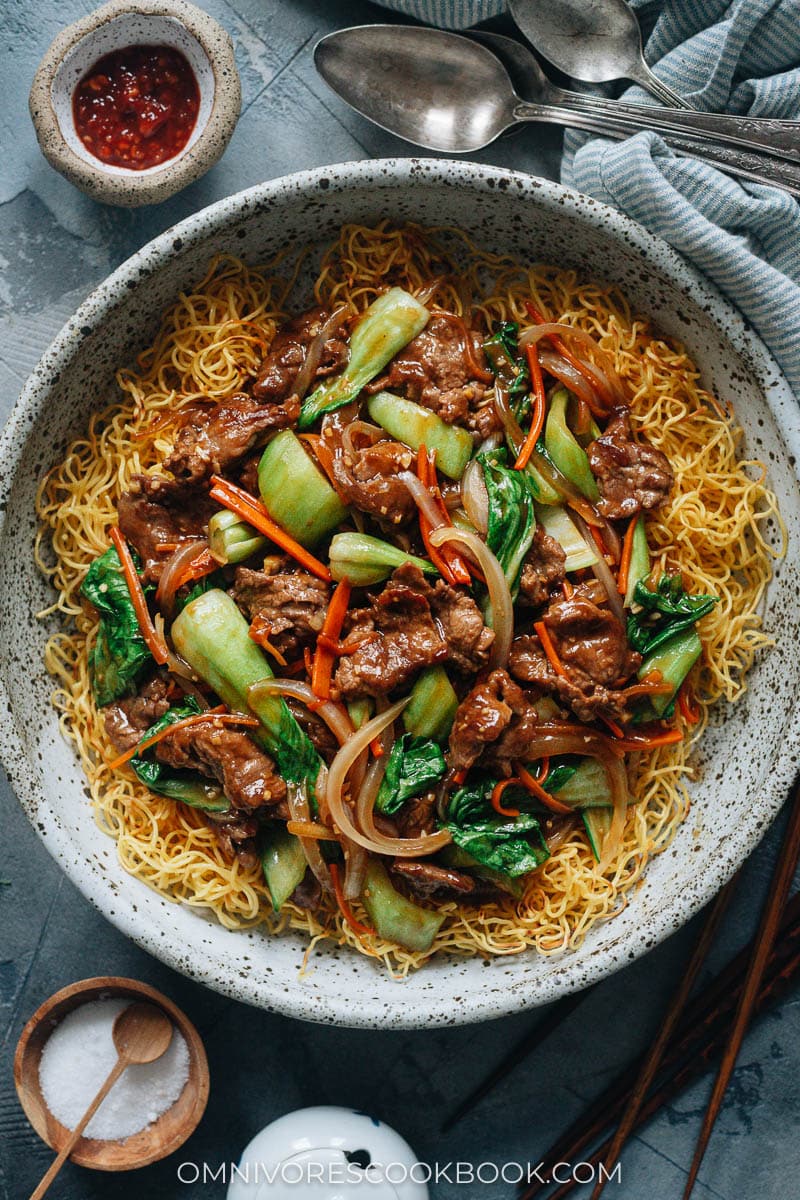 Beef pan fried noodles has always been one of my favorite dishes in Chinese restaurants. Those crunchy-fried noodles with the crispy texture. That heavenly brown sauce over the tender slices of beef, all mingling with a bed of crispy noodles and a medley of crunchy veggies. It's a perfect meal that has everything you need to fill you up and satisfy your Chinese food craving.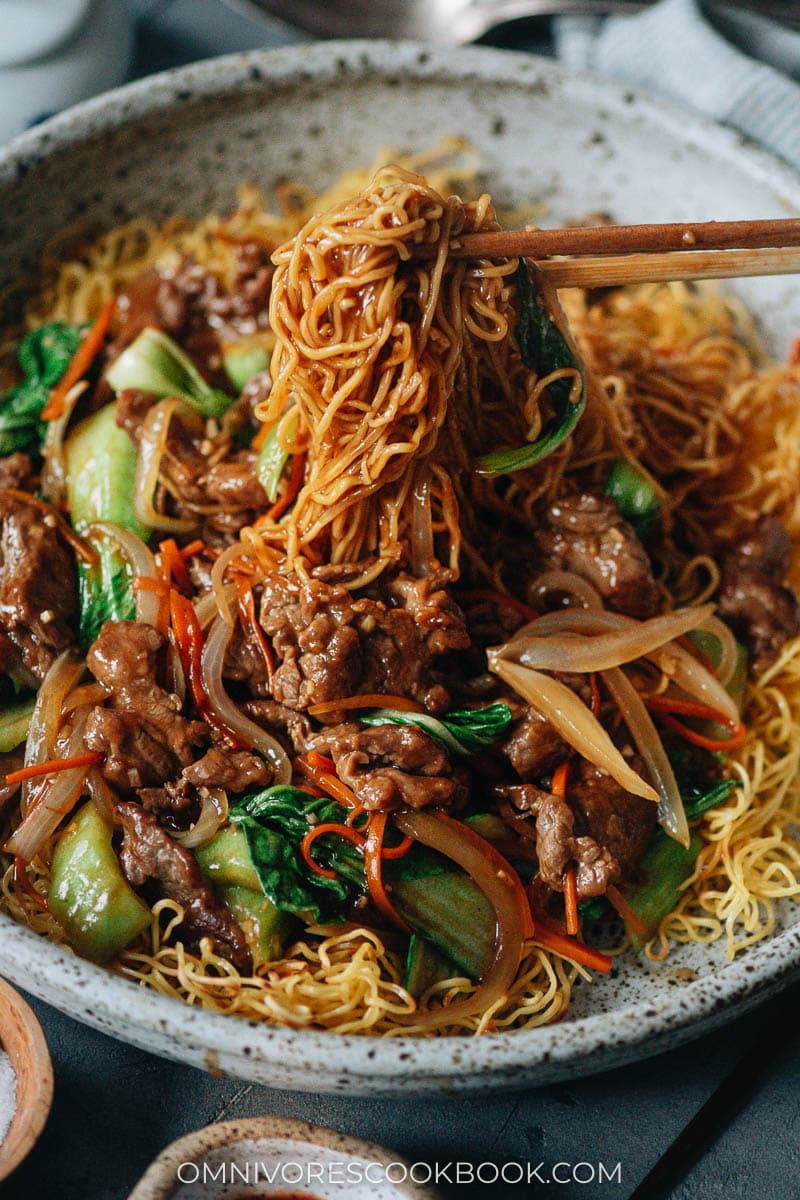 Ingredients
The recipe might look long, but I promise it is incredibly easy to cook. As with any recipe, it always helps to get organized first. When you have everything ready to go, it couldn't be simpler to prepare.
Most of the ingredients on the list are for making that wonderful brown sauce. You'll see it all come together so quickly. When added together, all the tastes and textures really satisfy!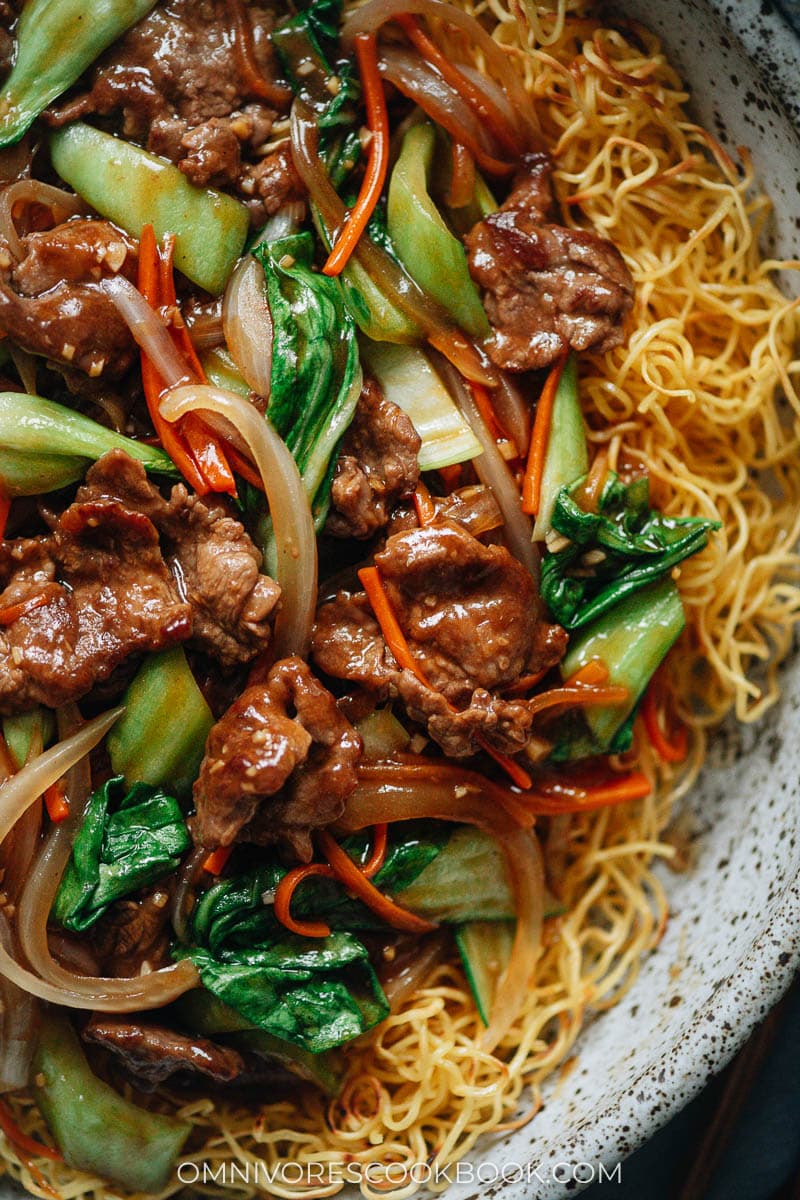 What type of noodles to use
I use Hong Kong pan fry noodles, which are fresh, thin noodles that are partially cooked and ready to use for pan frying without the need to boil them first. It's the best type of noodles for this dish to create heavenly crispy noodles. You can find them in the refrigerated section of your Asian market or even on Amazon, although they're very expensive if you buy them online.
However, you can use other types of thin noodles to recreate this beef pan fried noodles recipe. I have notes further down on simple substitutions that you might already have in your kitchen, though if you can get your hands on the Hong Kong pan fry noodles, I highly recommend them.
What type of beef to use
I like to use beef flank steak or skirt steak for stir fries because they are slightly cheaper than the premium cuts but still produce a tender, juicy result.
Vegetables & aromatics
In my recipe, I use baby bok choy, yellow onion, and carrots, though you can easily customize it with whatever you have in your fridge. Aromatics like ginger and garlic are a must, though, for rendering that authentic flavor that makes you pull out the takeout menu for your favorite Chinese place up the street.
How to cut baby bok choy for stir fry
To create the best evenly cooked texture, here is how I cut baby bok choy:
Tear apart the larger outer leaves
Chop the white parts into small bite-sized pieces and leave the green part intact or cut it into bigger bite-sized pieces (depending on the size of the head)
Keep the small tender leaves whole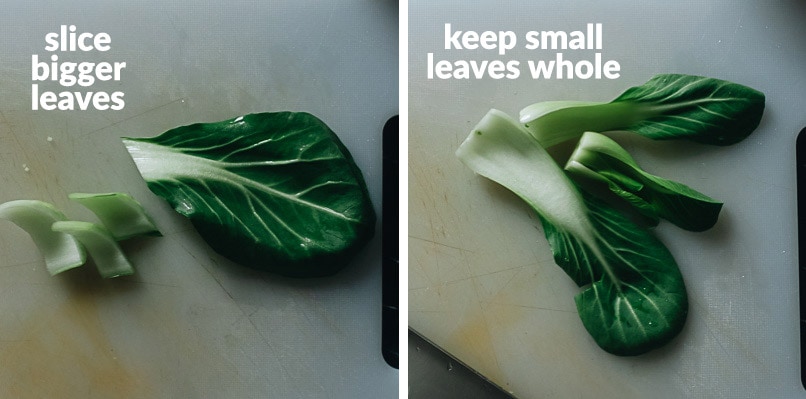 When you're ready to cook, your table should have the prepped ingredients below.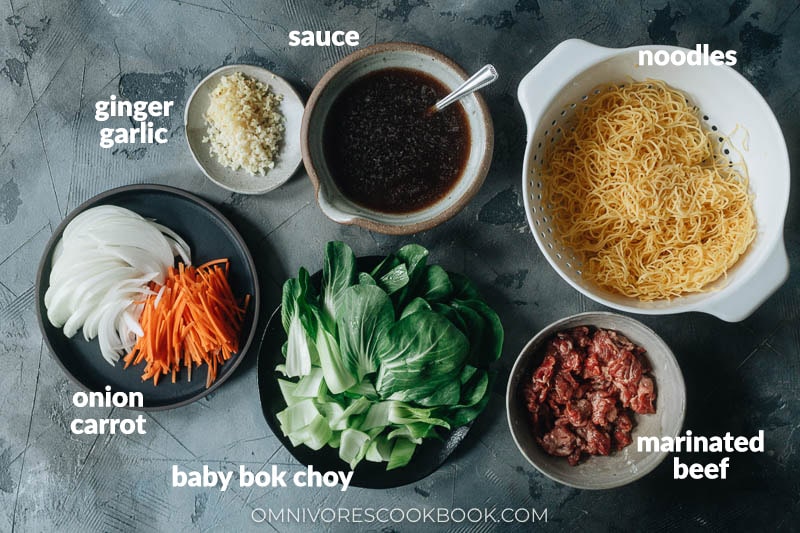 Cooking process
To cook beef pan fried noodles:
Use a generous amount of oil to pan fry the noodles until crispy and move them to a serving plate
Sear the beef and move it to a plate
Saute the aromatics and veggies that take longer to cook
Add the baby bok choy
Pour in the sauce and cook until it thickens
Add back the beef and mix. Pour the sauce and beef over the crispy noodles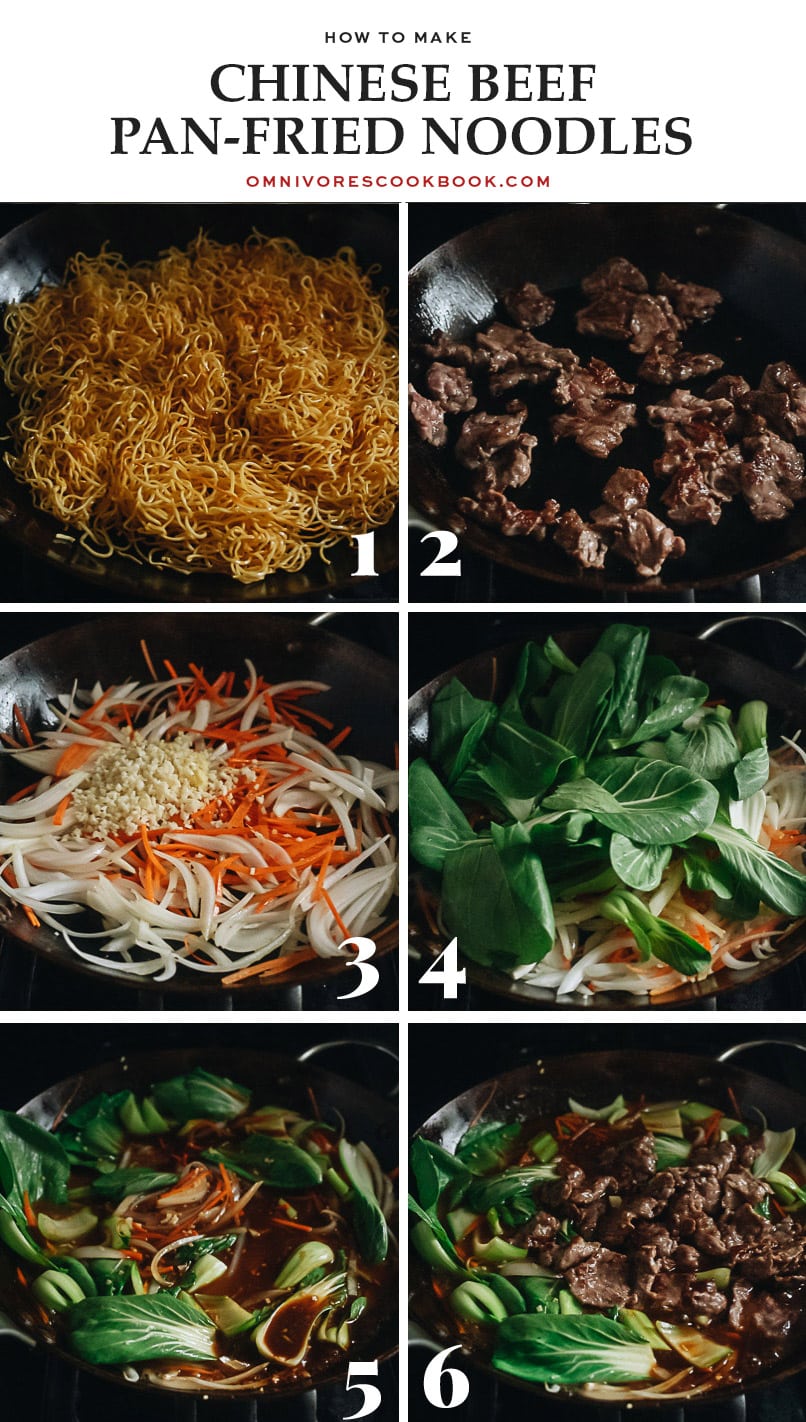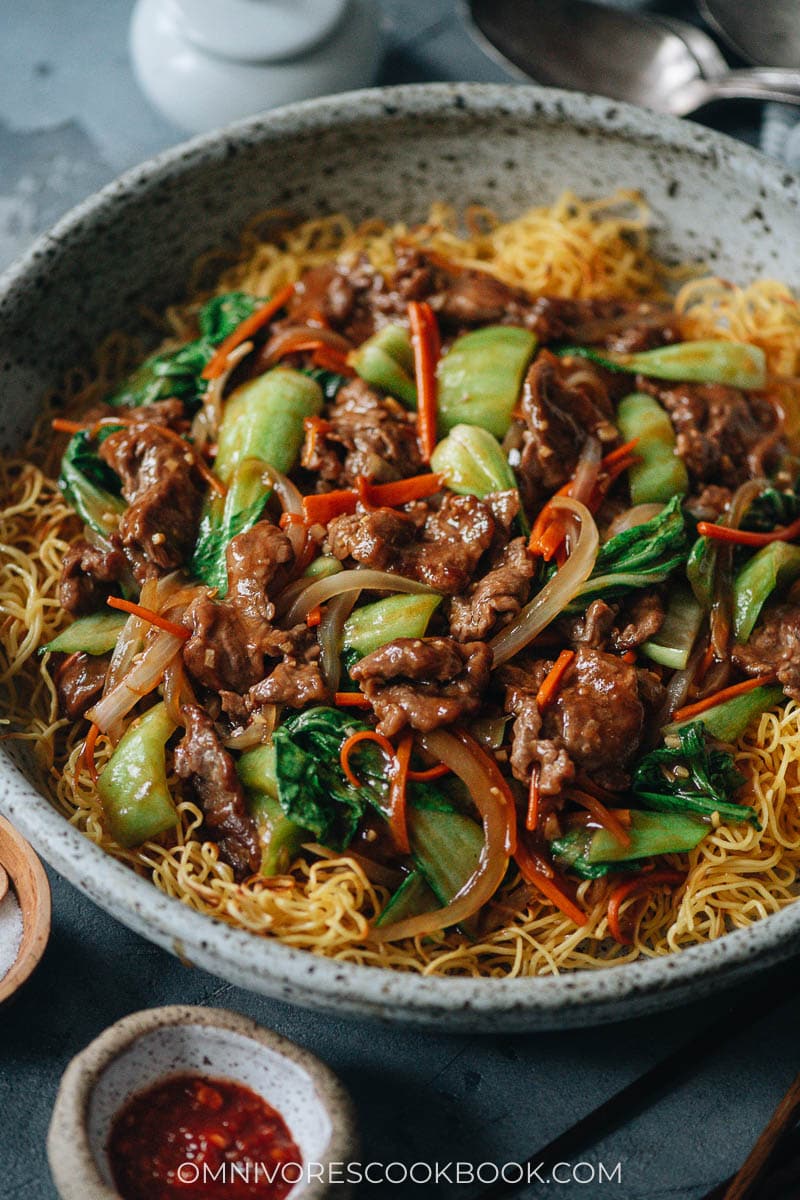 With beef pan fried noodles, you can have dinner on the table well before any delivery would arrive. Even with marinating the beef, which is what gives it that melt-in-your-mouth texture. It all comes together in record time and is sure to be something you'll make often from now on!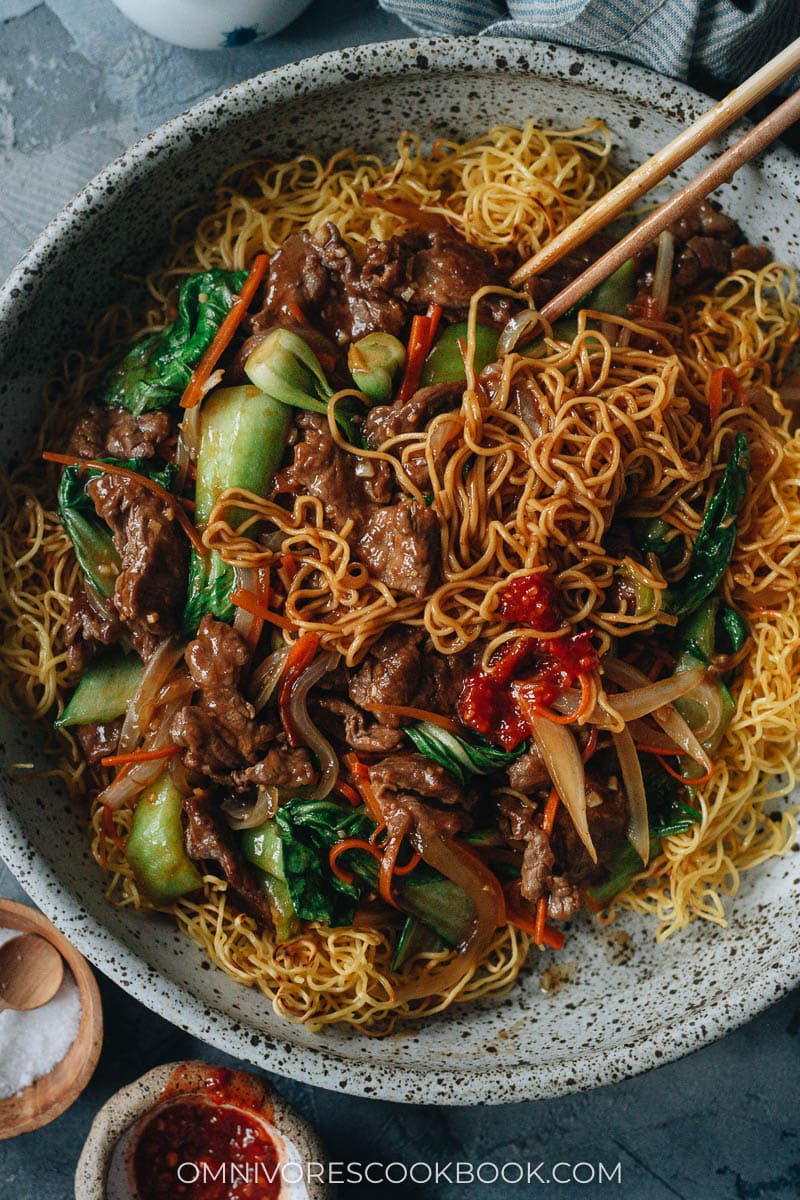 Want to learn more about Chinese Cooking? Sign up my newsletter to receive the 5-Day Chinese Cooking Crash Course and recipe update!
Want to Know More?
Receive our 5-Day Chinese Cooking Crash Course & Recipe Updates! Subscribe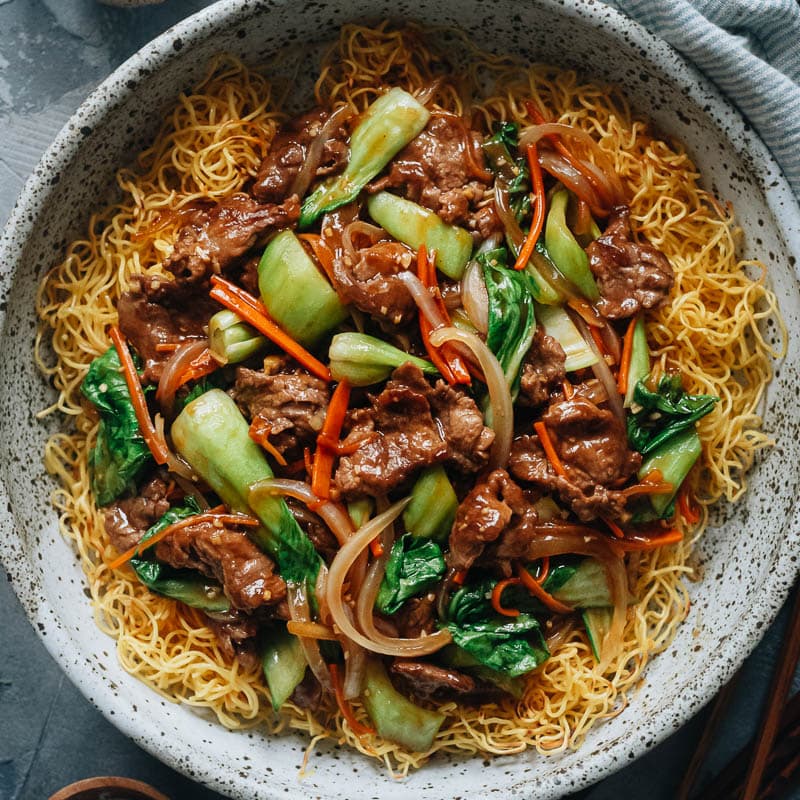 Beef Pan-Fried Noodles
Turn your kitchen into a Chinese restaurant by making crispy pan fried noodles with juicy beef in a rich and savory sauce that tastes too good to be true!
Ingredients
8

oz (225 g)

flank steak (or skirt steak)

, thinly sliced against the grain

8

oz (225 g)

fresh Hong Kong pan fry noodles

(or other type of thin noodles) (Footnote 1)
Meat & Marinade
2

tablespoons

Shaoxing wine

(or dry sherry)

2

teaspoons

cornstarch

1/4

teaspoon

salt
Stir-Fry
4

tablespoons

peanut oil

, divided

4

heads

baby bok choy

, quartered

4

cloves

garlic

, minced

1

inch (2.5 cm)

ginger

, minced

1/2

yellow onion

, sliced

1/2

carrot

, sliced into strips
Instructions
Combine the beef and the marinade ingredients in a medium-sized bowl. Toss with your hands to coat the beef evenly and let marinate while preparing other ingredients.

Combine the sauce ingredients in a medium-sized bowl and stir to mix thoroughly.

Prepare the noodles according to package directions (*Footnote 3). Drain and set aside in a colander to dry.

Heat a large heavy-bottomed pan (nonstick or carbon steel) with 2 tablespoons of peanut oil over medium-high heat until hot. Spread the noodles into a patty shape (*Footnote 4). Cook without flipping until the bottoms turn golden. Turn the noodles to fry the other side until golden. Drizzle in a bit more oil to help with the frying, if needed. Once done, transfer the noodles to a big serving plate.

Pour 1 tablespoon of oil into the same pan. Add the beef and spread it out in a single layer using a pair of tongs or chopsticks. Let cook undisturbed for 30 seconds or so, or until the bottom turns golden brown. Flip to cook the other side until browned. Stir a few times until the beef is cooked (it's OK if there's a hint of pink inside), transfer to a big plate, and set aside.

Add the remaining 1 tablespoon of oil to the pan. Add the onion and carrots. Quickly stir a few times to mix well. Add the ginger and garlic. Stir and cook for 30 seconds to release the fragrance.

Add the bok choy. Cook and stir for another minute, until the veggies start to soften.

Stir the sauce thoroughly to dissolve the cornstarch completely and pour the sauce into the pan. Stir and cook to bring the sauce to a boil, and cook until it starts to thicken.

Add the cooked beef back into the pan. Stir to mix everything well. Once the sauce reaches the desired consistency, pour everything over the fried noodles. (*Footnote 5)

Serve immediately as a main dish.
Notes
Hong Kong noodles will yield the best texture. The best alternative is vermicelli pasta, which yields a similar result. If you can't find either, you can also use ramen noodles (a bit thicker) or angel hair pasta (a bit thinner).
If you wish to add the dark brown color to your noodles (as shown in the photos), replace 1 teaspoon of soy sauce with dark soy sauce. It won't affect the taste either way.
Hong Kong noodles can have different preparation methods depending on the brand. Some don't require boiling and you can directly pan fry them. In such a case, you might need to pour in a small cup of water (1/4 cup or so) to steam the noodles in the frying pan so they are not too dry. If the package requires boiling but doesn't indicate a time, you should boil the noodles and keep a close eye on them so they will be al dente. I briefly cooked mine for under 1 minute. If you use pasta, cook it until al dente. If you use thin Asian noodles, cook them 1 minute less than the package indicates.
This recipe yields a big plate of noodles to share. If you wish to cook individual servings, you can fry the noodles in 2 to 3 batches to create smaller plates.
If you do not plan to serve the dish immediately, transfer the sauce into a big bowl and cover it to keep warm. Pour the sauce over the noodles right before serving so the noodles remain crispy.
Nutrition
Serving:
1
serving
,
Calories:
341
kcal
,
Carbohydrates:
28.1
g
,
Protein:
16.5
g
,
Fat:
18.3
g
,
Saturated Fat:
4
g
,
Cholesterol:
40
mg
,
Sodium:
651
mg
,
Potassium:
305
mg
,
Fiber:
1.8
g
,
Sugar:
4.9
g
,
Calcium:
54
mg
,
Iron:
2
mg
If you give this recipe a try, let us know! Leave a comment, rate it (once you've tried it), and take a picture and tag it @omnivorescookbook on Instagram! I'd love to see what you come up with.
More Chinese restaurant style recipes
Lilja Walter is a part of the Omnivore's Cookbook team and worked closely with Maggie to develop and test this recipe.