A popular classic Beijing dish, Zha Jiang Mian features ground pork and onion cooked in a rich savory brown sauce with a hint of sweetness, tossed with noodles and then served with crunchy cucumber. It takes no time to prepare, is easy to cook, and can be prepared ahead of time. It's a perfect one-bowl dish for hot days and is great for meal prep as well.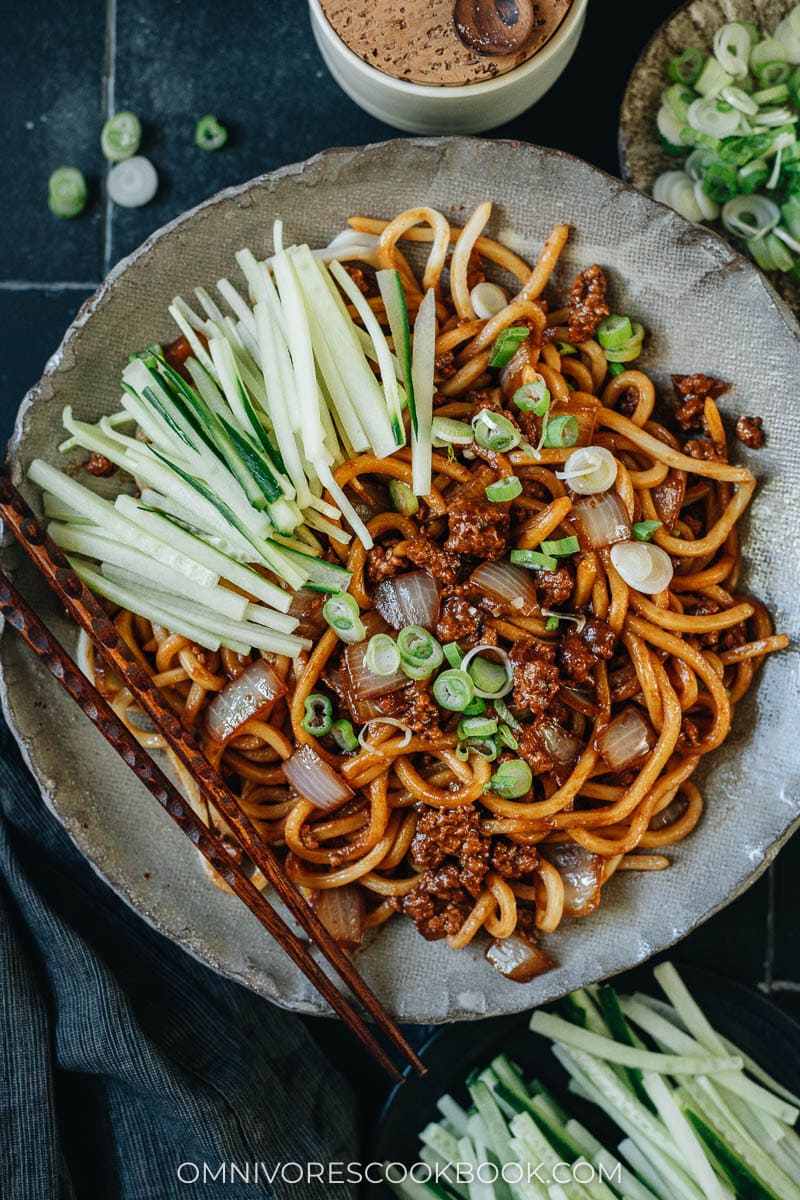 What is Zha Jiang Mian
Zha Jiang Mian (炸酱面), or translated literally, fried sauce noodles, is one of the most classic and famous dishes in Beijing cuisine. It's not as fancy or well-known as Peking Duck, but if you travel to Beijing, locals will always recommend this dish to you.
My parents told me that zha jiang mian was a dish for poor people. The traditional recipe uses a thick salty soybean paste to make the sauce, together with a bit of ground pork and sometimes lard. The sauce becomes so rich and flavorful that you only need a small amount of it to accompany a whole bowl of noodles. This way, people don't need to spend much to fill up their bellies.
Although it seems like a simple dish, it has a whole set of rules that govern how it's served in Beijing. It is called Old Beijing Fried Sauce Noodles here, and this is considered the most traditional and authentic way to prepare the dish. In addition to the sauce made from yellow soybean paste, the dish is often served with sliced cucumber, sliced red radish, boiled bean sprouts, and yellow soybeans. By adding all these things to the noodles, you can create a balanced and flavorful dish that is refreshing and has a good texture.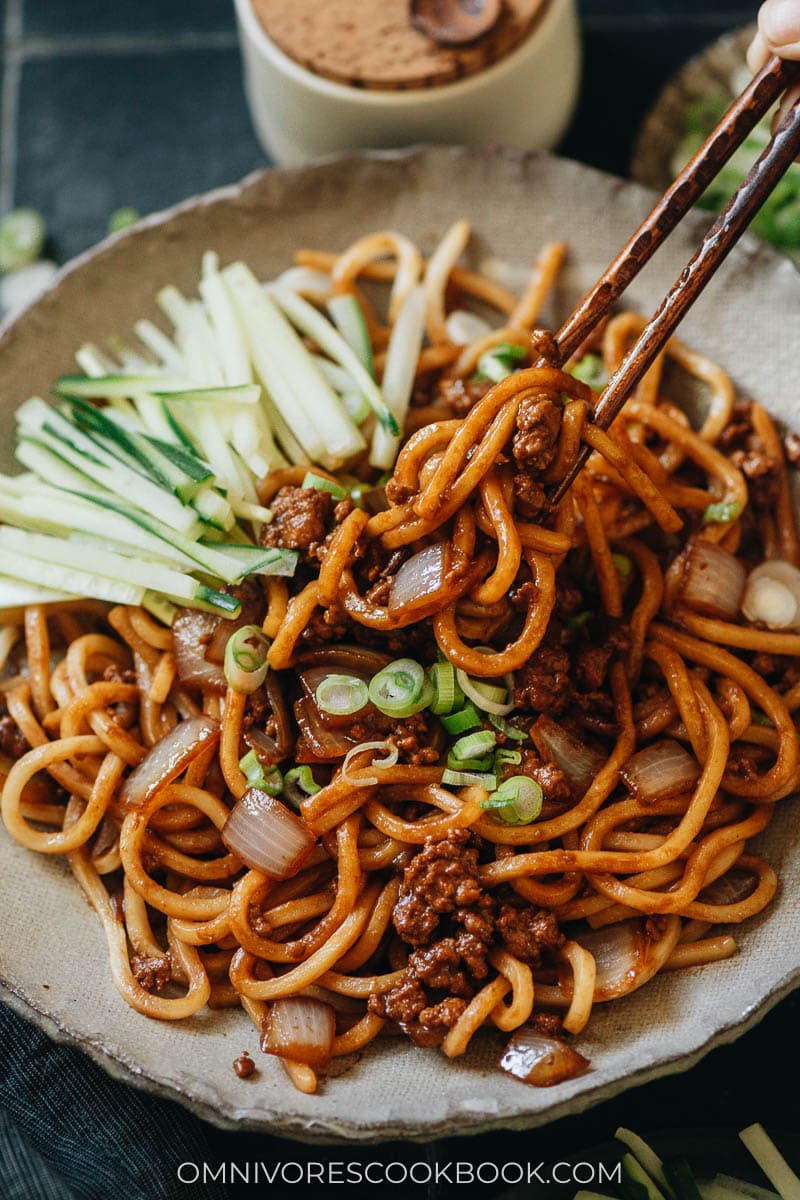 Why this recipe
However, the recipe I'm sharing today is different from the traditional way of cooking Zha Jiang Mian. This is a family recipe that was passed down from my grandma, and I think it tastes much better than the traditional one.
Secret Ingredient: Sweet Bean Paste
Instead of yellow soybean paste, my family uses sweet bean paste (Tian mian jiang, 甜面酱) to make Zha Jiang Mian. It is a thick dark brown sauce made from fermented wheat flour. Tian Mian Jiang is less salty than yellow soybean paste and has a slightly sweet flavor (It is the same sauce that accompanies Peking Duck and Moo Shu Chicken). It has a more delicate flavor and is less overwhelming than yellow soybean paste. Sometimes Chinese restaurants label it as hoisin sauce. But sweet bean paste is less sweet and has a deeper fermented umami than hoisin sauce.
You can find sweet bean paste at Chinese markets and many Asian markets. You can also purchase it on Amazon.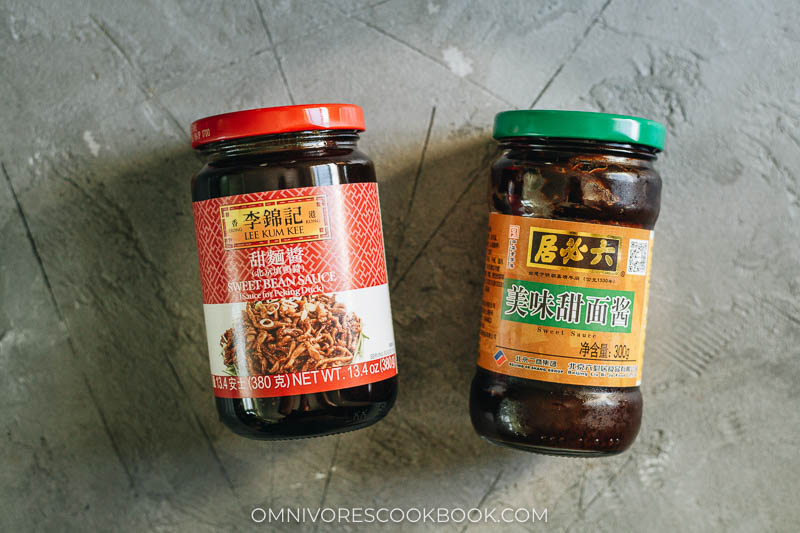 A more satisfying sauce
The traditional Zha Jiang Mian uses very little pork in the sauce. Because the dish is created for a budget meal, like I mentioned above.
For the homemade version, my mom uses much more pork and chopped onion to create a much better texture and more delicious sauce. Since sweet bean paste is less salty than soybean paste, you will also use more sauce per bowl of noodles, which makes the dish more balanced and satisfying.
My mom likes to chop a fattier block of pork into small cubes instead of using ground pork, to achieve a better mouthfeel. Here I used ground pork to make prep much easier. But feel free to use cut-up pork for your dish if you prefer.
Ingredients
When you're ready to cook, your counter should have:
Sweet bean paste and water
Sliced cucumber (and other toppings if you prefer)
Minced ginger
Shaoxing wine
Oil for cooking
Ground pork
Chopped onion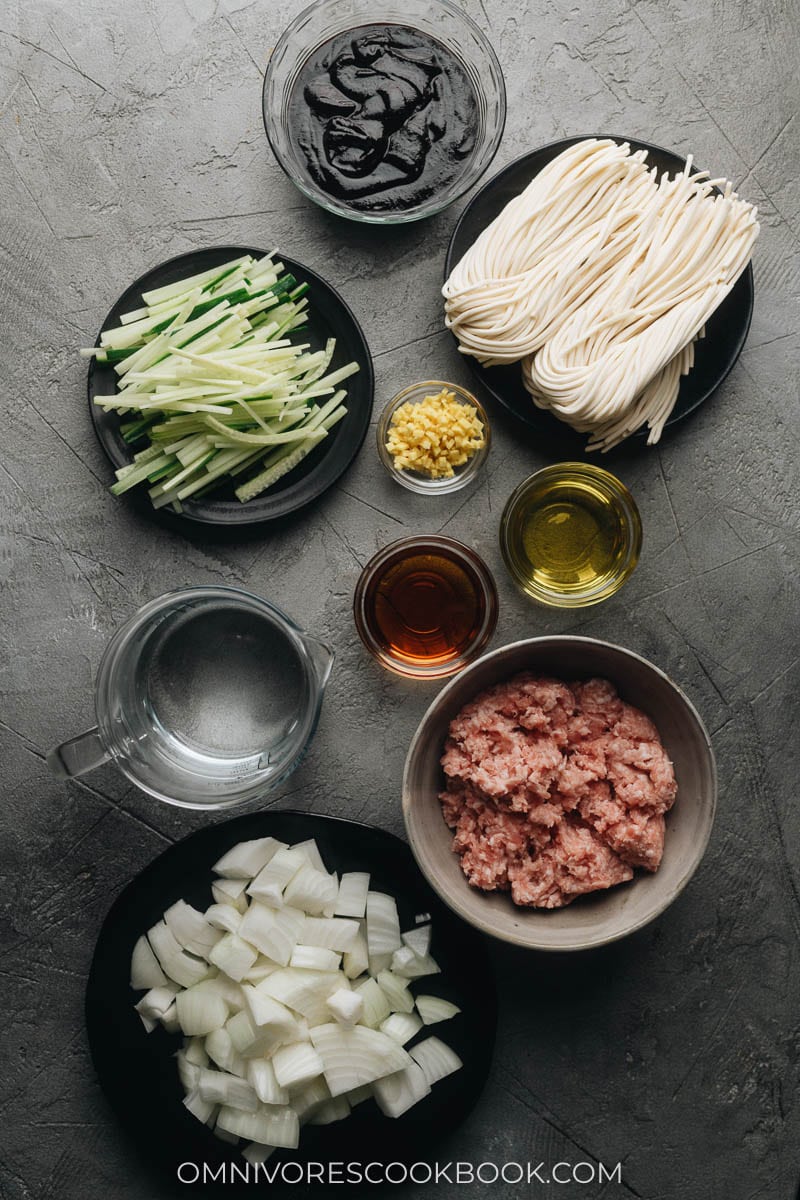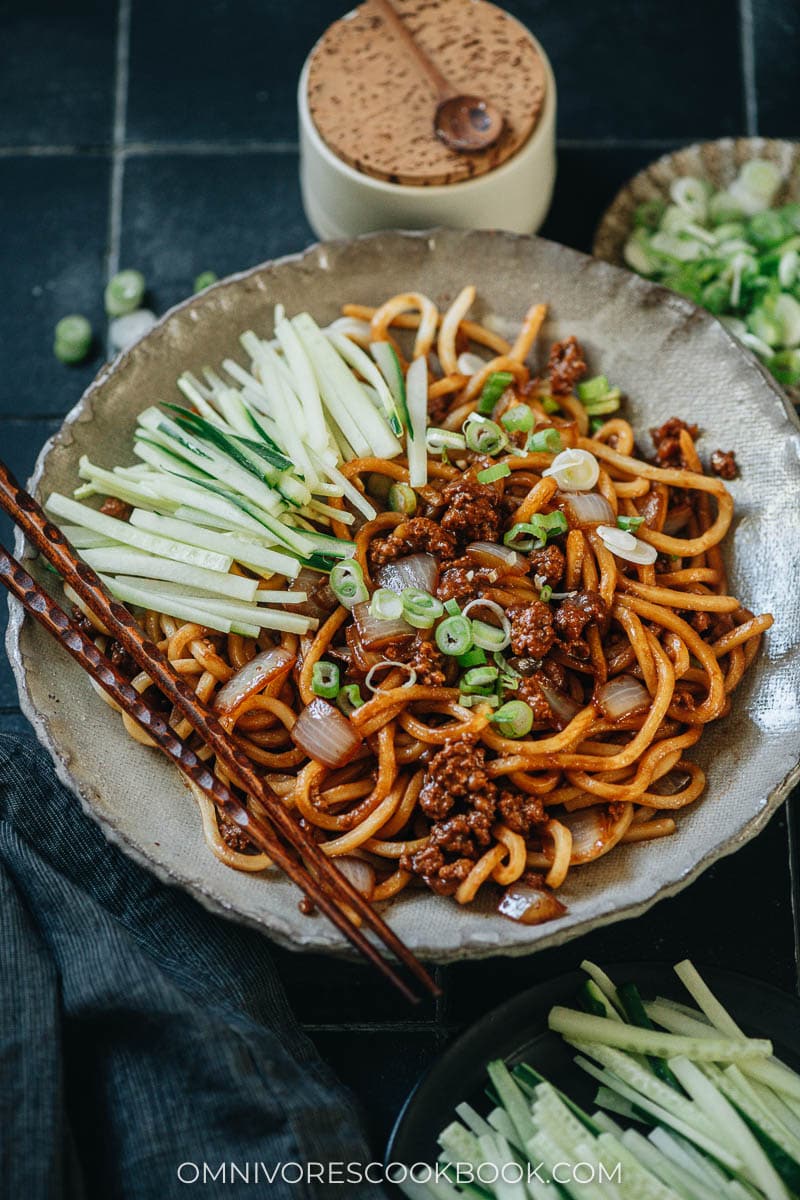 Type of noodles for Zha Jiang Mian
There are a few options for Zha Jiang Mian. Traditional Zha Jiang Mian uses a rather thick type of noodles. It's a bit similar to udon noodles in terms of thickness, but with a chewier texture.
If you have access to Asian market, try to find fresh noodles in the refrigerated section. The Lan Zhou Fresh Noodles or Da Xi Bei GunGun (my favorite) by HAVISTA, and the Plain Noodles from Twin Marquis are great options. You can freeze the portion you're not using for up to 6 months.
If you can only find dried noodles, that's totally fine. You can use either the thick type or thin types of noodles, depending on the texture you prefer. Make sure to use noodles made from wheat flour and water (there shouldn't be eggs or other ingredients).
If you're up for a fancier meal, check out my homemade hand pulled noodles for a more authentic experience.
Topping options
You can serve your Zha Jiang Mian with no toppings and the result will still be delicious. For a better texture, my favorite topping is sliced cucumber. Other crunchy vegetables such as sliced radish (red, daikon, or watermelon radish), blanched bean sprouts, and sliced carrots are great options as well. You can also add a small handful of salad greens to the dish.
TIP: If you find slicing vegetables too time consuming, use a julienne peeler to save time.
An untraditional topping
Unlike the traditional way of serving Zha Jiang Mian, my mom loves to add scrambled eggs and tomato as a topping. This is a family tradition and I've never seen other people serve Zha Jiang Mian this way. But I love how it tastes. The tender tomatoes and eggs add more volume to the noodles and balance out the rich brown sauce, making the dish so delicious and colorful!
How to cook zha jiang mian
Mix the sweet bean sauce
Sweet bean sauce is a thick paste that's easy to burn in a hot pan. So you will need to add water to it to thin it out before cooking. It's like the idea of miso paste, as you should dissolve it in water beforehand.
Cooking Zha Jiang Mian sauce
Gently cook the ginger
Pan fry the pork
Add the sauce
Simmer to bring the flavor out of the sauce
Add the onions and cook until tender
Stir and serve!
The sweet bean sauce needs to be cooked for long enough to bring out the best flavor. That's why you will start with a diluted sauce, and it will gradually thicken until it's done. Make sure to stir the sauce frequently during the cooking, so it won't burn on the bottom of the pan.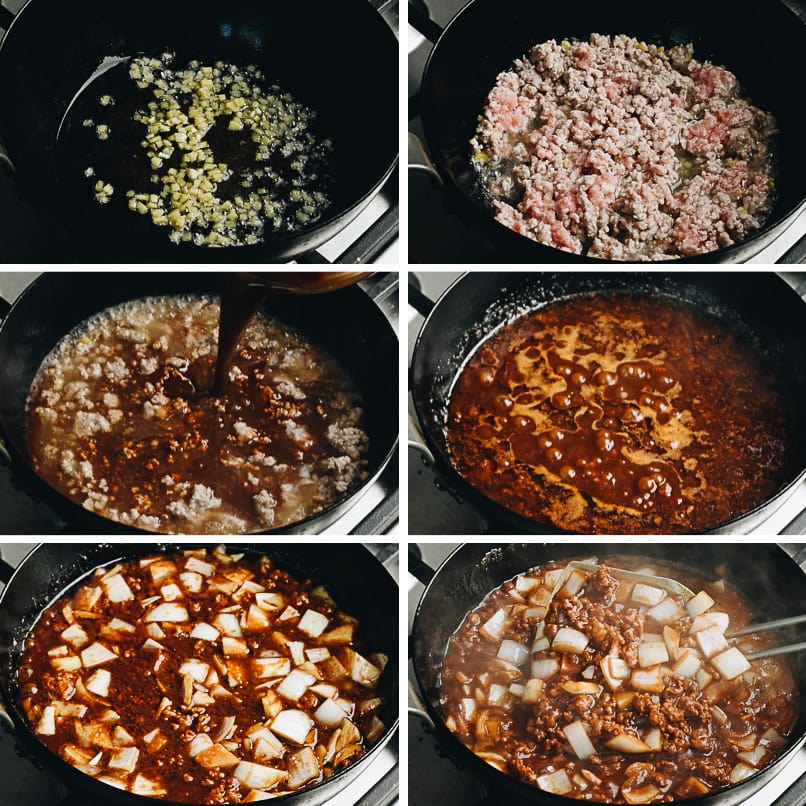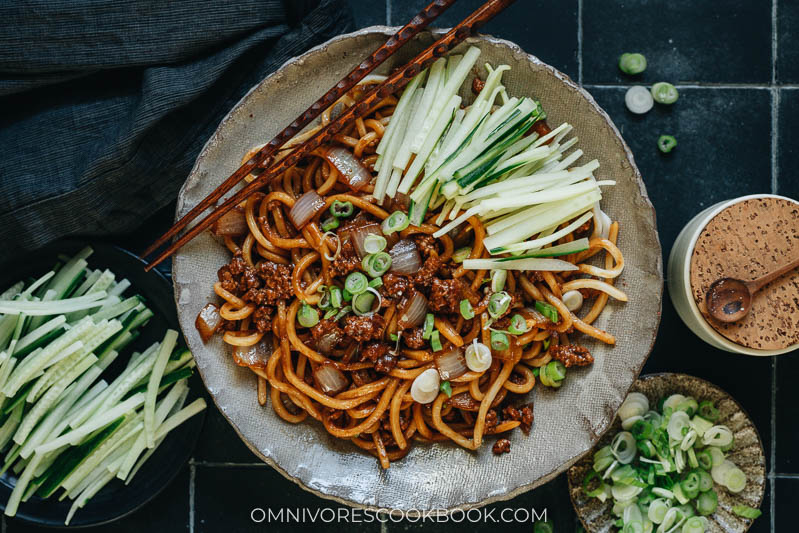 Cook the noodles and assemble
When the sauce is simmering, you can start a pot of water to cook the noodles. Because the Zha Jiang Mian sauce will be piping hot once it's done, you can boil the noodles at the end, when the sauce is almost ready.
To assemble, transfer noodles to individual bowls and add a spoonful of the sauce. And top it with vegetables as you like. Then you can mix it all together and eat it.
My family's recipe not only preserves all the deliciousness of a bowl of traditional Zha Jiang Mian, but also tastes better and is super comforting. Add a spoonful of sauce to the noodles and gently mix them; you will smell the pungent aroma and be unable to resist picking up the chopsticks and digging in.
Ready to cook yet? If you make this dish, leave a comment below! I can't wait to hear your thoughts.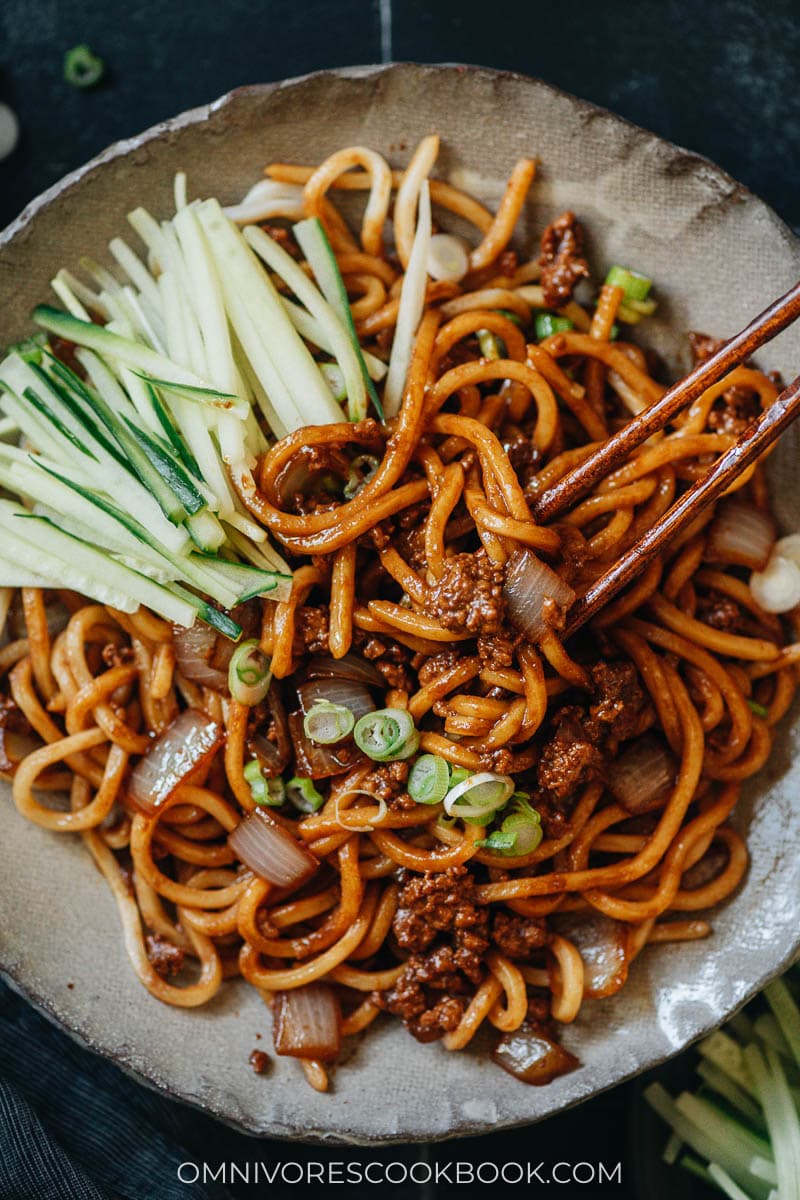 More delicious noodle recipe
Want to Know More?
Receive our 5-Day Chinese Cooking Crash Course & Recipe Updates! Subscribe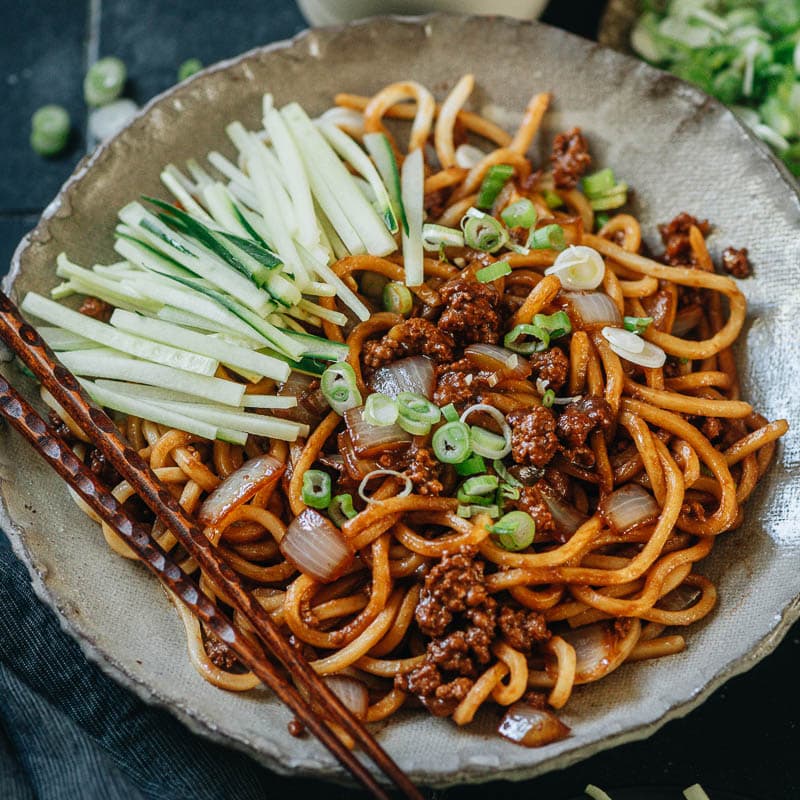 Zha Jiang Mian (Old Beijing Fried Sauce Noodle, 炸酱面)
A popular classic Beijing dish, Zha Jiang Mian features ground pork and onion cooked in a rich savory brown sauce with a hint of sweetness, tossed with noodles and then served with crunchy cucumber. It takes no time to prepare, is easy to cook, and can be prepared ahead of time. It's a perfect one-bowl dish for hot days and is great for meal prep as well.
Ingredients
Sauce
12

oz (340 g)

ground pork

(*Footnote 1)

1

tablespoon

minced ginger

2

tablespoons

Shaoxing wine

3/4

cup (200 g)

sweet bean paste

(Tian Mian Jiang)

1 1/2

cup (340 ml)

water

4

tablespoons

peanut oil

(or vegetable oil)

1

white onion

, diced

12

oz (340 g)

fresh wheat noodles

(or 9 oz / 240 g dried wheat noodles) (*Footnote 2)
Instructions
Add sweet bean sauce to a large bowl. Slowly blend in water and stir constantly, until water is fully incorporated.

Heat a large skillet or a wok over medium-high heat until hot. Add the oil and the ginger. Stir a few times to release the fragrance.

Add the pork. Cook, stir and chop, until the pork turns to small pieces and has browned. Pour in the Shaoxing wine. Stir and cook for 1 minute.

Add the sweet bean sauce and turn to medium heat. Stir constantly, until the sauce thickens and turns darker, about 10 mins. If the sauce thickens too quickly and starts to feel like it's sticking to the bottom of the pan, turn to medium-low heat and slowly blend in more warm water, 2 tablespoons at a time. Reduce the heat if the pan gets too smoky.

Add the onion. Cook and stir for 3 to 5 minutes, until the onion has softened but remains crispy. Turn off heat and transfer the sauce to a large bowl.

While cooking the noodle sauce, bring a large pot of water to a boil and cook noodles according to instructions. Once done, drain the noodles immediately and rinse with cold tap water to stop cooking. Drain again.

Add noodles to individual serving bowls. Top noodles with sauce, cucumber, and stir fried tomato and egg if using. Garnish with cilantro or green onions. Serve as a main dish.
Notes
My mom likes to use small diced pork instead of ground pork for a chewier texture. However I found ground pork easier to cook with and the result is great. You can try either way.
This dish is usually served with chewy wheat noodles that are round and fatty, similar to udon noodles. The wide type of noodles also works well. If you cannot find fresh noodles, any dried noodles made from wheat flour will work.
Serving Zha Jiang Mian with tomato and egg stir fry is my family's favorite and an unconventional way to serve the dish. The soft eggs and tomato balance out the rich pork sauce and make the dish more balanced, in my opinion. Please feel free to leave this part out.
Nutrition
Serving:
1
serving
,
Calories:
311
kcal
,
Carbohydrates:
21
g
,
Protein:
22.9
g
,
Fat:
14.6
g
,
Saturated Fat:
2.9
g
,
Cholesterol:
52
mg
,
Sodium:
1617
mg
,
Potassium:
453
mg
,
Fiber:
2.6
g
,
Sugar:
10.3
g
,
Calcium:
54
mg
,
Iron:
2
mg
The recipe was published on July 14, 2013 and updated by June 14, 2022 with new videos and images.