Tired of your usual meatball recipe? Try these Mongolian meatballs in a sweet, savory sauce that makes a quick and super-satisfying meal!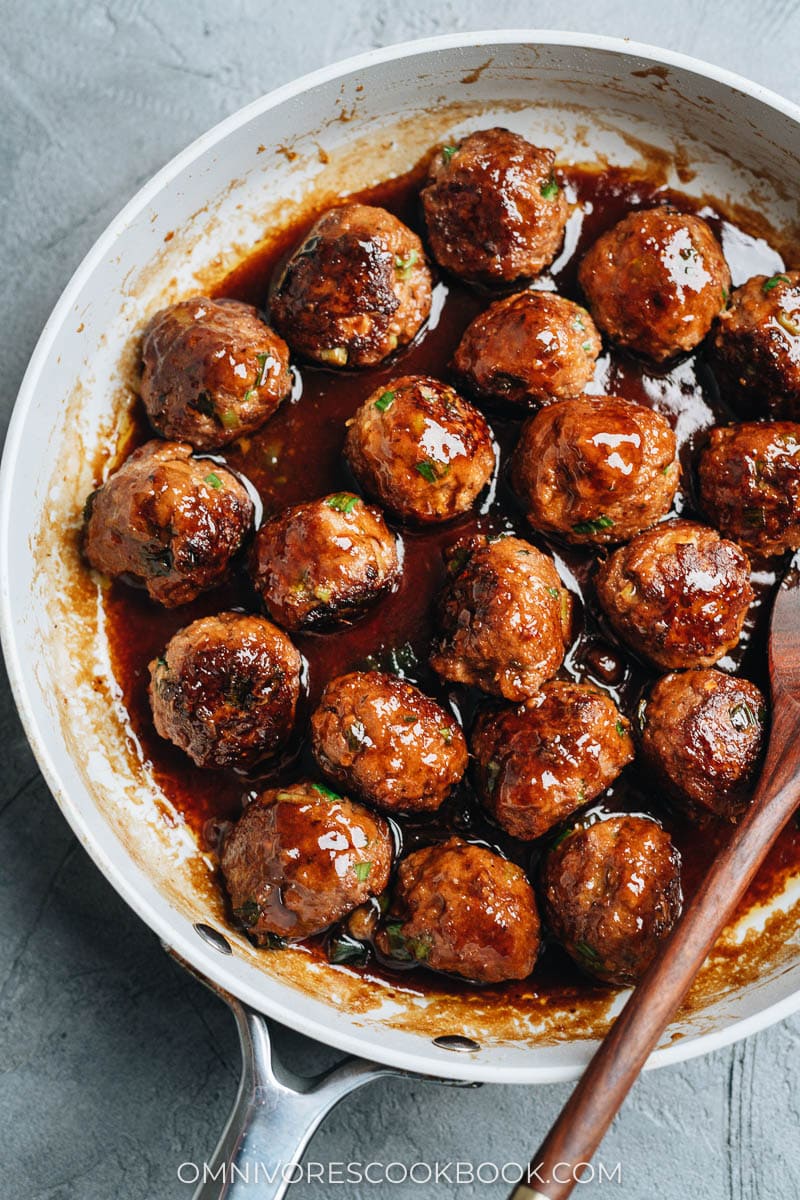 A New Kind of Meatball
I think everyone loves meatballs. Most people eat them Italian-style or get the Swedish ones from IKEA. They're each delicious in their own way. But if your family is getting tired of meatballs on the menu every week, it's time to jazz things up with these Mongolian meatballs.
Combine Two Classics for an Easy Pleaser
If you like ordering Mongolian beef at your favorite Chinese restaurant, this dish is a fun twist – both on the Chinese dish and on traditional meatballs. This dish uses that same sweet yet savory sauce and marries it with the tender and meaty bite of a Western-style meatball.
For this reason, it's a pretty low-risk dish – using the two time-tested techniques, you're sure to please any audience by making it – just take care to brown the meatballs properly.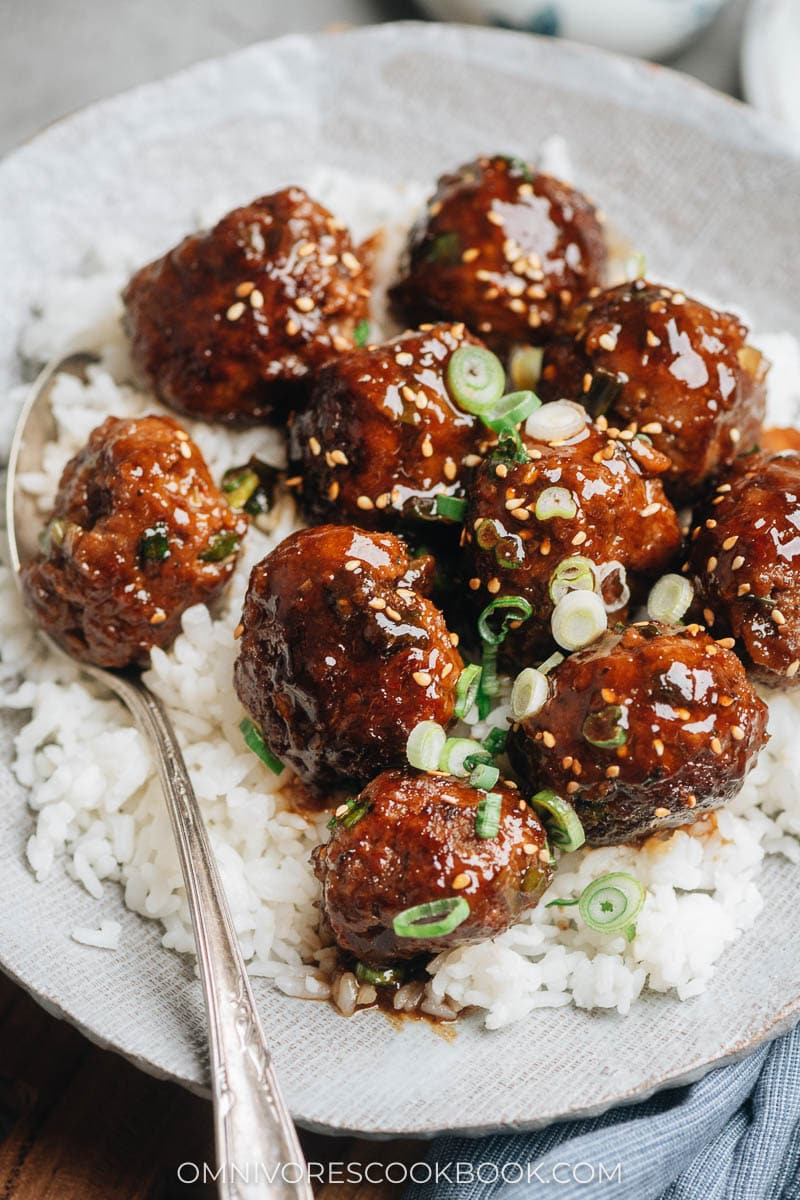 Cooking tips
Browning is the Key
It's important to brown the meatballs properly here for a couple of reasons:
It makes a huge difference in flavor development. Browned meat tastes better than steamed meat. It's just a fact. Aim for an even, brown color on most sides.
It helps the meatballs stay together. These meatballs do have egg and breadcrumbs, which help a lot to bind the meat together, but they're more likely to fall apart if you don't brown them.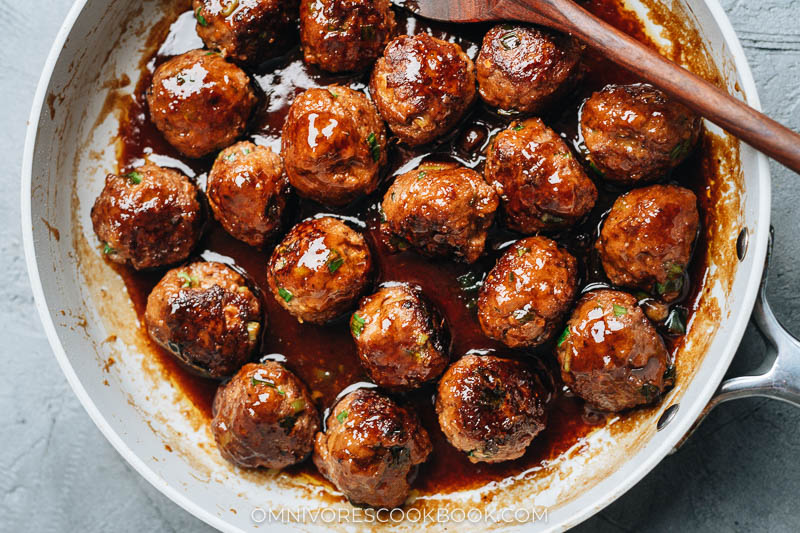 The Best Meats for Mongolian Meatballs
With my Mongolian meatballs recipe, I've used ground beef but you can also use ground chicken, ground pork, or ground turkey. Whatever you use, make sure you use a slightly fattier blend instead of super lean meat so your meatballs will be juicier. If you've ever experienced dry meatballs before, the secret is in the fat content of the meat you use.
A Time-Saving Shortcut
And it's so easy to put together from scratch, though if you're in a rush, you can use store-bought meatballs to get dinner on the table even faster.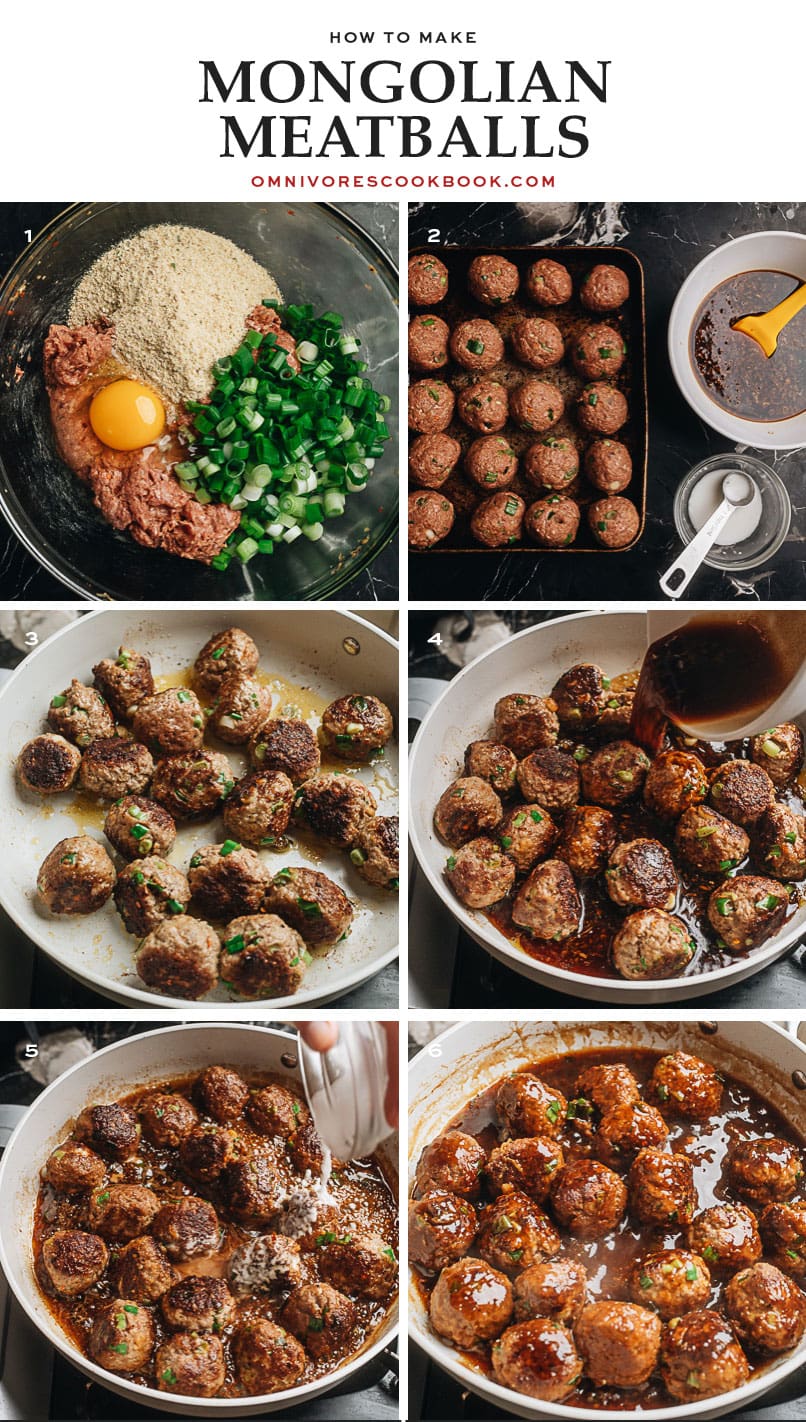 How to Pair Mongolian Meatballs
On Good Ol' Steamed Rice
Just like Mongolian beef, Mongolian meatballs are perfect to serve on top of steamed rice. That sauce! It is so amazing on rice! It's an obvious pairing, but also one of the best.
Pair Them with Veggies
I also like to serve it with some roasted or blanched vegetables. Things like asparagus, broccoli, or cauliflower go quite well with this dish. You can cook them in the oven while the meatballs are in progress on the stove. Don't forget to get lots of sauce on the veggies!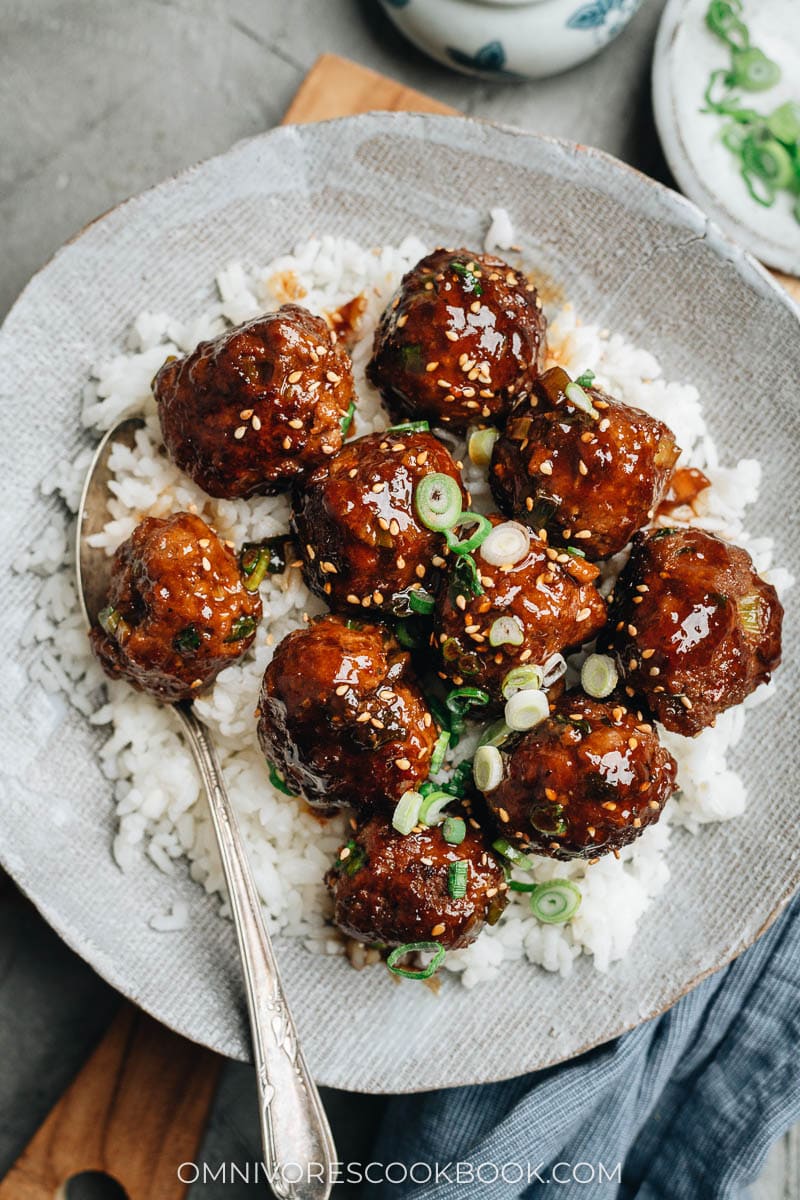 The MMS: Mongolian Meatball Sub
It may be a bit unconventional, but I love a good meatball sub and these Mongolians are great in a sandwich. Use a hoagie or hot dog roll and try it with my Chinese Coleslaw, Pickled Shallots, or any other (pickled) veggie you like, and get prepared for a next-level meatball sub!
A Great Option for Meal Prep
Do you meal prep? If so, Mongolian meatballs could be your next favorite meal prep item. Because it's so easy and packs so well, you'll always have something delicious when you've got Mongolian meatballs.
Even on a busy night, you can get this one on the table in less than 30 minutes. Yes, even if you make the meatballs yourself. But if you're crunched for time, use the store-bought ones. Once it's done, you'll have plenty of leftovers to pack up and enjoy later too!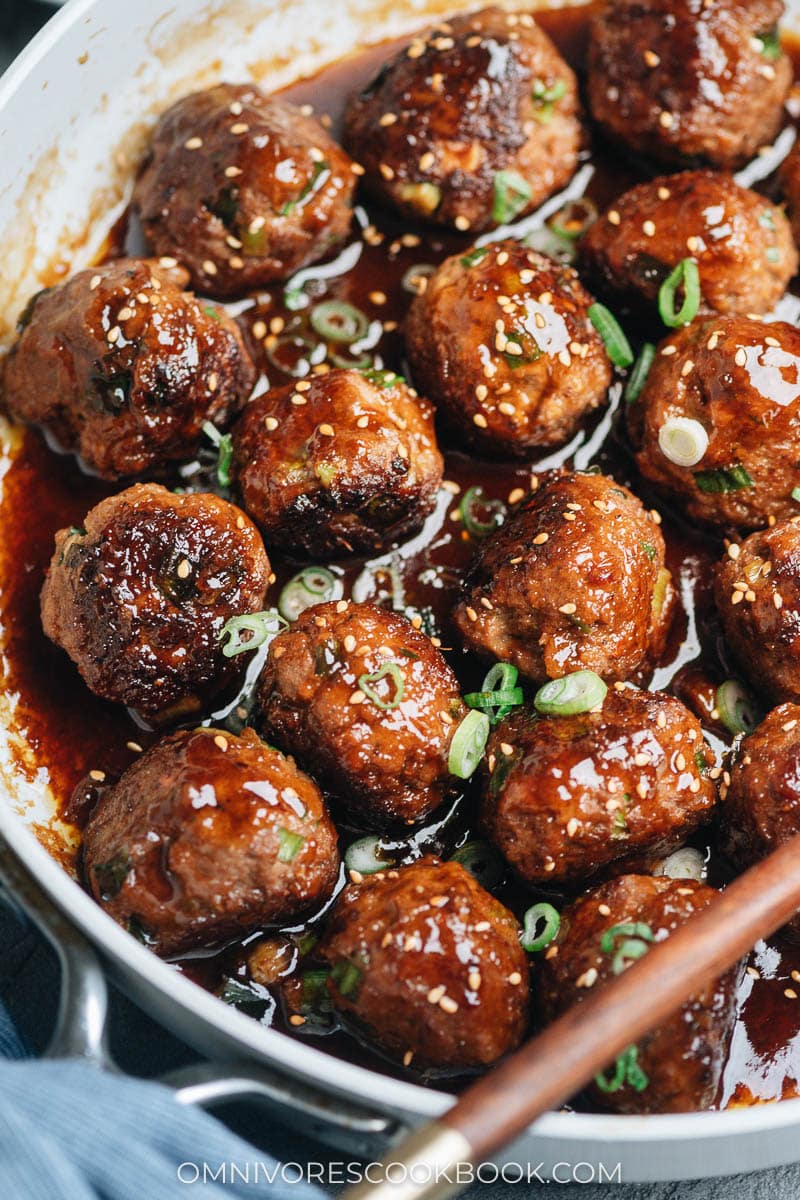 Want to Know More?
Receive our 5-Day Chinese Cooking Crash Course & Recipe Updates! Subscribe
Mongolian Meatballs
Tired of your usual meatball recipe? Try these Mongolian meatballs in a sweet, savory sauce that makes a quick and super-satisfying meal!
Ingredients
Meatballs
1

lb (450 g)

beef

2

tablespoons

Shaoxing wine

(or dry sherry)

1

tablespoon

soy sauce

1

teaspoon

chili flakes

1/4

teaspoon

brown sugar

2

cloves

garlic

, grated

1

teaspoon

ginger

, grated

1/2

cup

breadcrumbs

1

egg

4

green onions

, chopped
Sauce
1/4

cup

brown sugar

1/4

cup

soy sauce

1/3

cup

water

4

cloves

garlic

, grated

2

teaspoons

ginger

, grated
Slurry
1

teaspoon

cornstarch

2

teaspoons

water
Cooking
1

teaspoon

canola oil

1

green onion

, sliced, for garnish
Instructions
In a medium-size bowl combine ground beef, Shaoxing wine, soy sauce, chili flakes, brown sugar, garlic and ginger. Beat until the meat starts to fill sticky and bouncy. Add the breadcrumbs, egg, and green onions. Mix incorporated fully.

Form the mixture into 24 heaping tablespoon sized meatballs using your hands. For easy forming, grease your palm with a bit of oil to prevent the meat from sticking too much.

Add the sauce ingredients to a small bowl. Mix to dissolve the sugar completely.

Combine the slurry ingredients in a small bowl and mix well.

Heat a large skillet over medium high heat with 1 teaspoon of oil until hot. Add the meatballs with some space in between. Cook without touching until the bottom turns brown. Flip the meatballs 2 to 3 times, until most of the sides turn golden brown.

Turn to medium heat. Move the browned meatballs to one side of the pan. Use a spoon or a few layers of kitchen paper towel attached to a pair of tongs to remove some of the excess fat that collects in the pan.

Pour the sauce into the pan. Cook for 2 minutes while stirring the meatballs to coat them in the sauce evenly.

Turn to medium low heat. Stir the slurry again to dissolve the cornstarch completely and swirl into the pan. Stir immediately and let cook until the sauce thickens. Remove the pan from the heat.

Garnish with sliced green onions.

Serve hot over steamed rice as a main dish.
Nutrition
Serving:
1
serving
,
Calories:
306
kcal
,
Carbohydrates:
26.5
g
,
Protein:
32.2
g
,
Fat:
7.6
g
,
Saturated Fat:
2.6
g
,
Cholesterol:
122
mg
,
Sodium:
1147
mg
,
Potassium:
514
mg
,
Fiber:
1.3
g
,
Sugar:
12.4
g
,
Calcium:
59
mg
,
Iron:
19
mg
More Takeout-style inspiration
Lilja Walter is a part of the Omnivore's Cookbook team and worked closely with Maggie to develop and test this recipe.