Make Hokkaido style milk bread rolls with this simple recipe. These milk bread rolls are super soft, airy, moist, and slightly sweet. They're very easy to put together and hold up well when made ahead. They're perfect for your holiday dinner party and simple enough to make as an everyday recipe.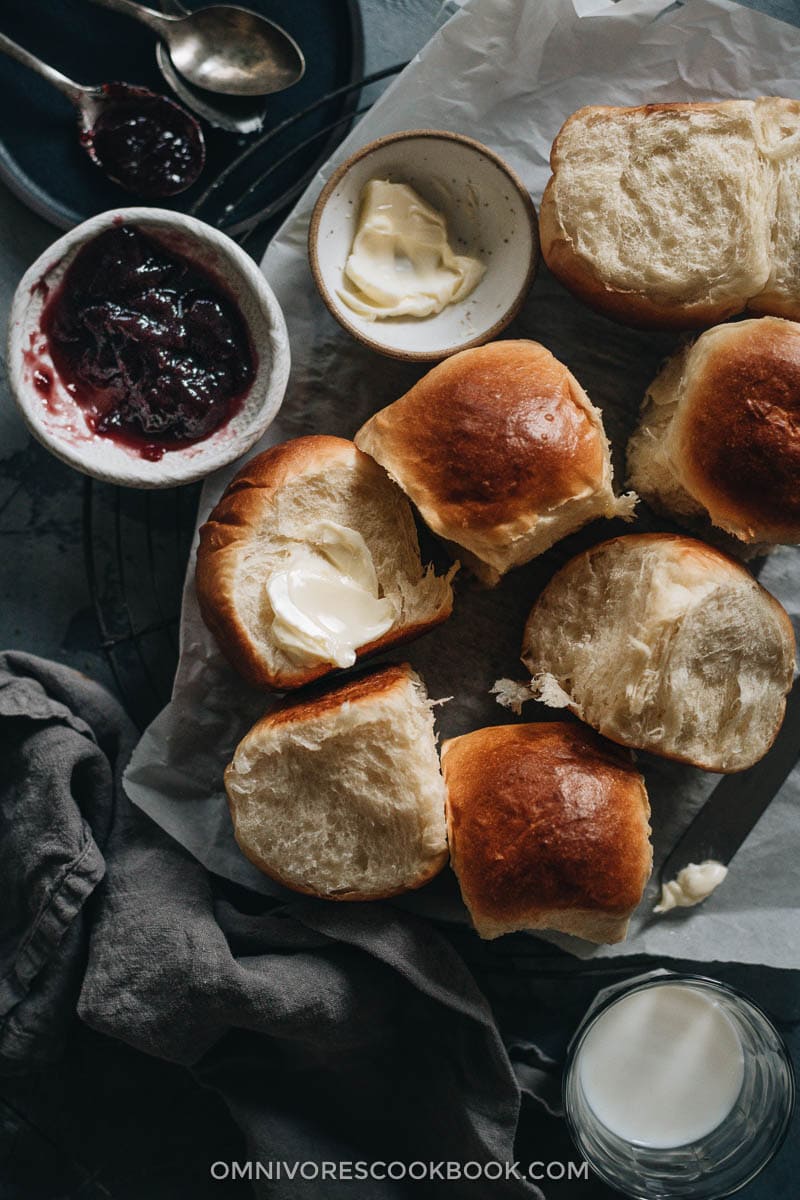 I had the softest bread when I was living in Japan, back when I was in school. Not just the freshly baked bread from the bakery, but even the mass-produced sliced white bread in Japan has a super fluffy and fine texture. You could easily smash a 1" (2 cm) thick piece of bread until paper-thin and it would still bounce back. My taste for milk bread heightened after I enjoyed it for two years in Japan. Fast forward to 10 years later, I still crave that soft bread slathered with a dollop of butter and jam.
Now that the weather has turned cold and the holiday season is around the corner, I want to bring these soft and fluffy bread rolls to your Thanksgiving dinner table. My goal was to develop a very easy recipe that requires minimal hands-on time and yields the best result. After much testing and refinement, my teammate Lilja and I finally settled on this easy milk bread roll recipe.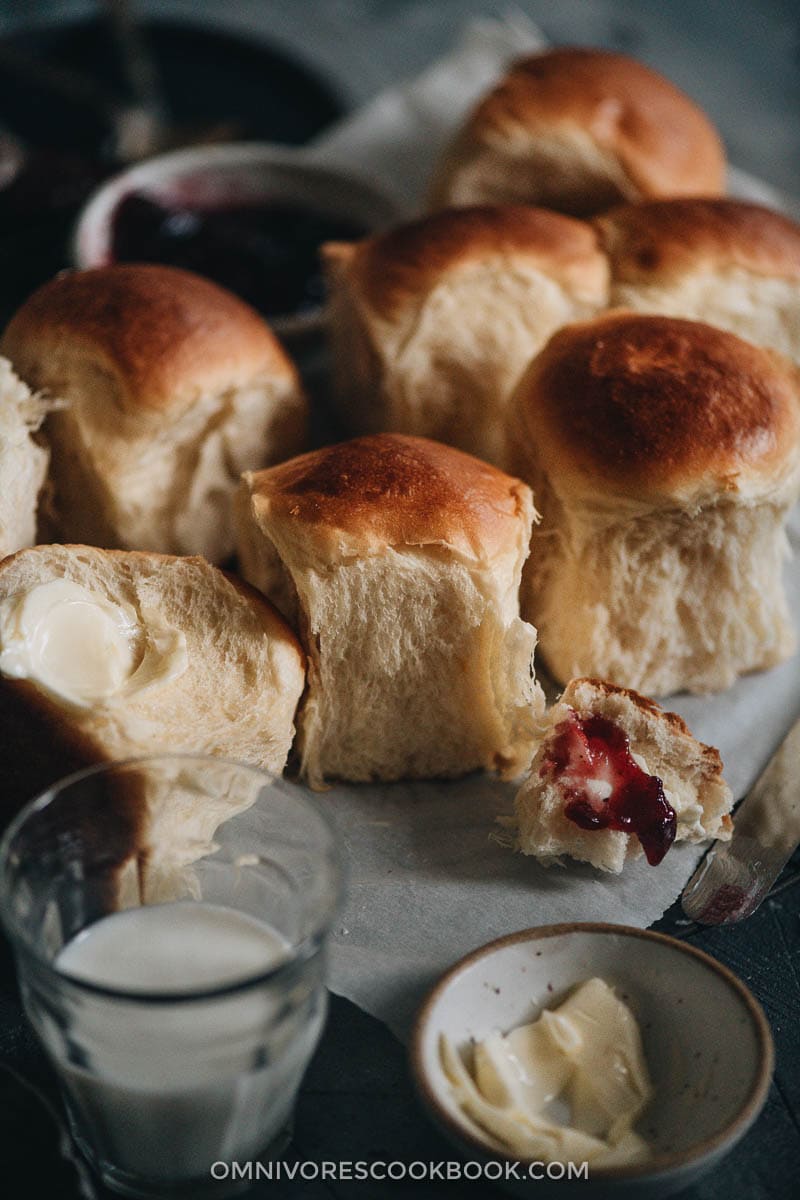 Why this recipe
Easy ingredients. It's likely that you have most of them in your pantry and you can find everything in regular grocery store.
The recipe doesn't require a starter (a.k.a Tangzhong). This makes the process easier.
Let the mixer do all the work. The recipe requires minimal hands-on time with the dough and the active prep time is only about 20 minutes.
Outstanding result with a soft, springy texture and tiny air bubbles.
Foolproof process that any beginner baker can easily follow.
One word on the ingredients. We tested multiple formulas with different combinations such as milk, heavy cream etc. We finally settled on this one using condensed milk. It gives the bread a sweetness like the bread from an Asian bakery.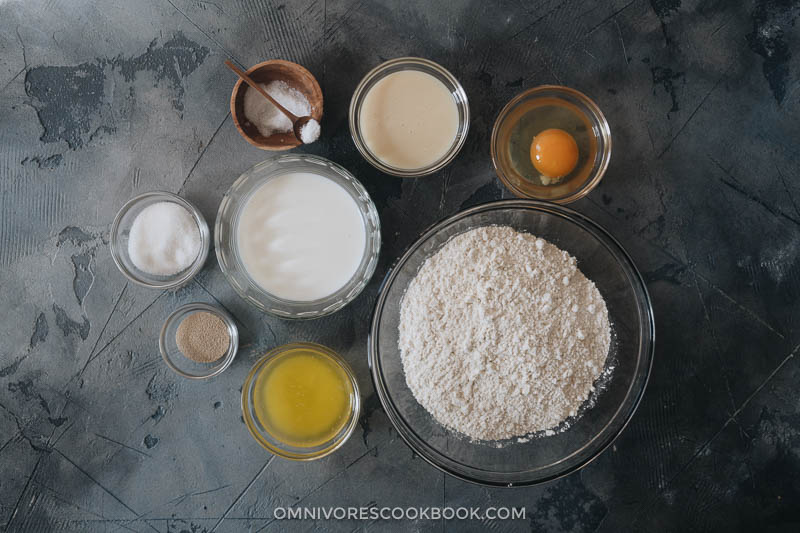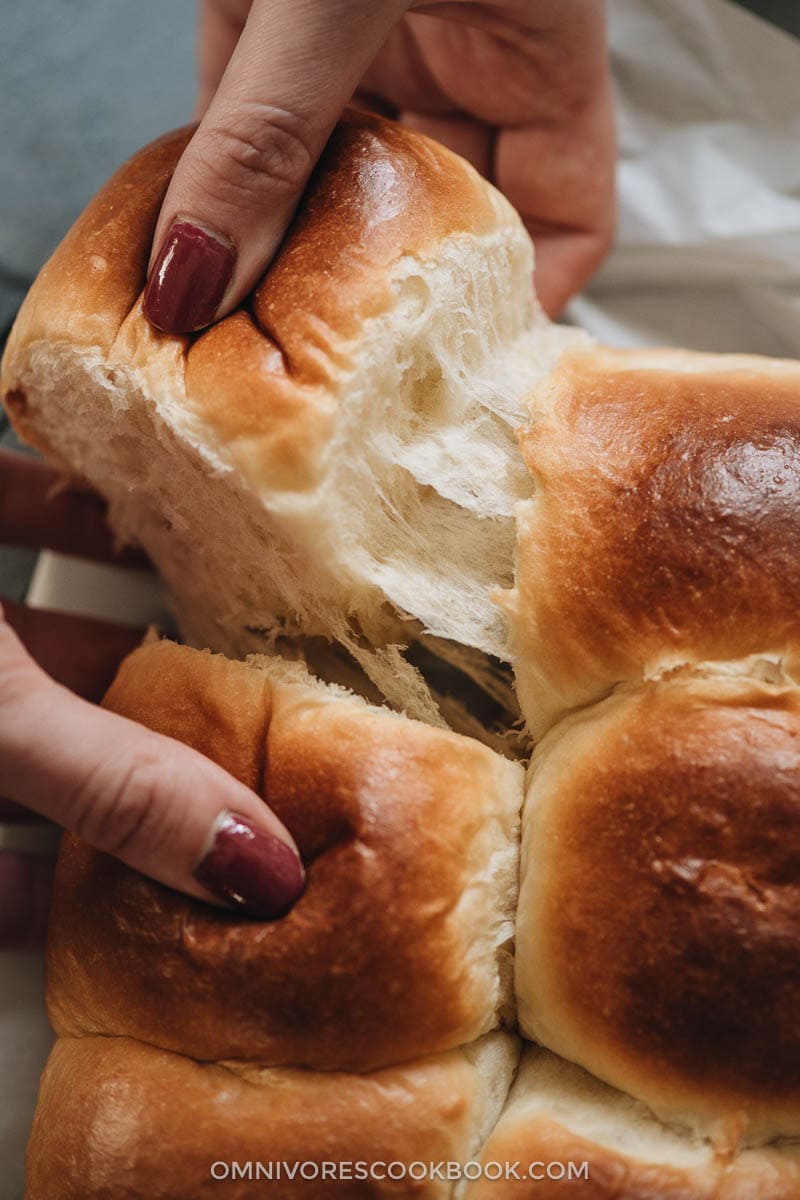 Cooking process
1. Prepare the dough – 1st rise
The recipe starts by activating the yeast. Even though you can get away without this step, I feel that it's quite necessary to make sure your yeast is fresh and will work properly. So you don't end up wasting a lot of time and ingredients with expired yeast.
Once you mix the ingredients together, let the dough mass sit for 20 minutes to let the yeast do its work.
Then knead it with a mixer until the dough is smooth. Once the dough is ready, it will be very wet and a bit sticky, but you should be able to handle it with your hands.
Rest the dough for about 1 hour.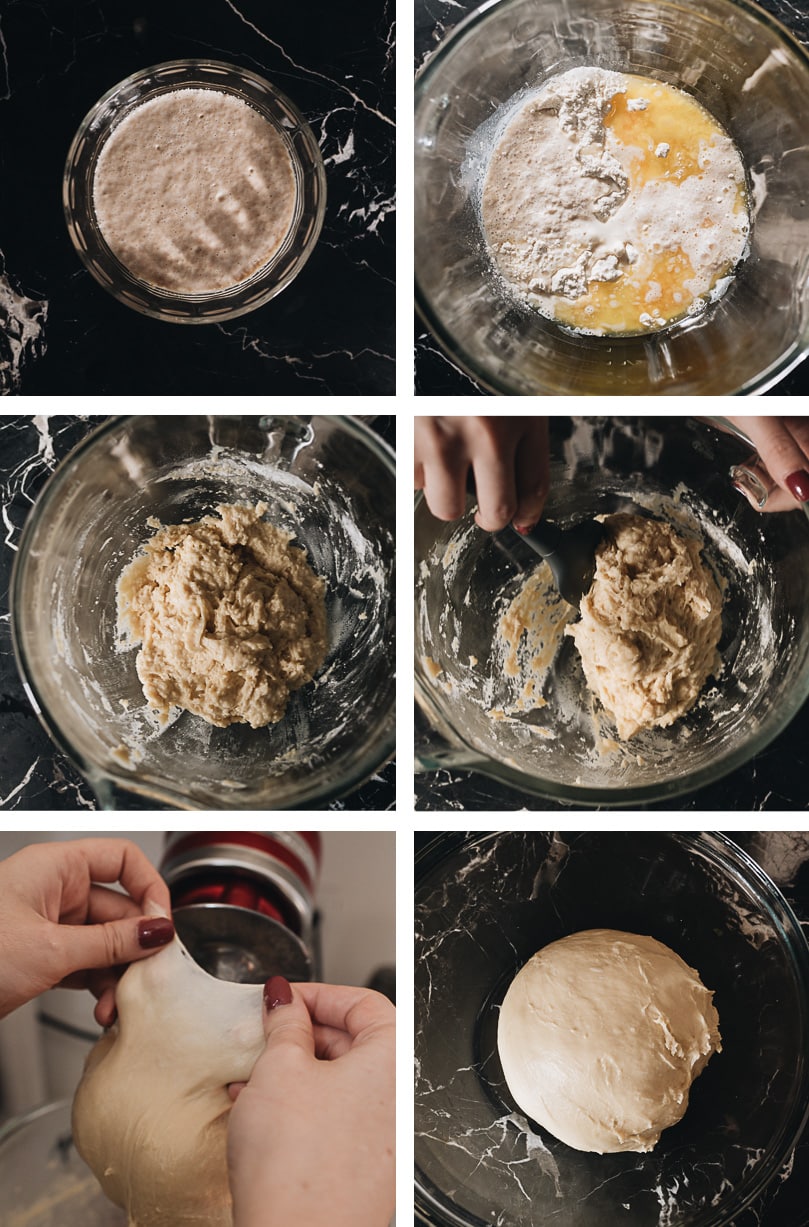 3. Assemble – 2nd rise
The dough will double in size once rested, as well as become springy and less sticky. You'll need to punch the dough to squeeze out the air, so the end result will have an even texture.
Divide the dough into nine even pieces. To ensure even baking and consistent size, you can measure out the dough balls with a scale.
Once you've placed the dough balls onto the baking sheet, let the dough rise again, for 35 to 45 minutes.
Then brush a very thin layer of milk onto the bread so it will yield a beautiful golden brown color after baking. We chose to use a milk wash instead of an egg wash, so the bread rolls' outer texture would be similar to that of traditional dinner rolls.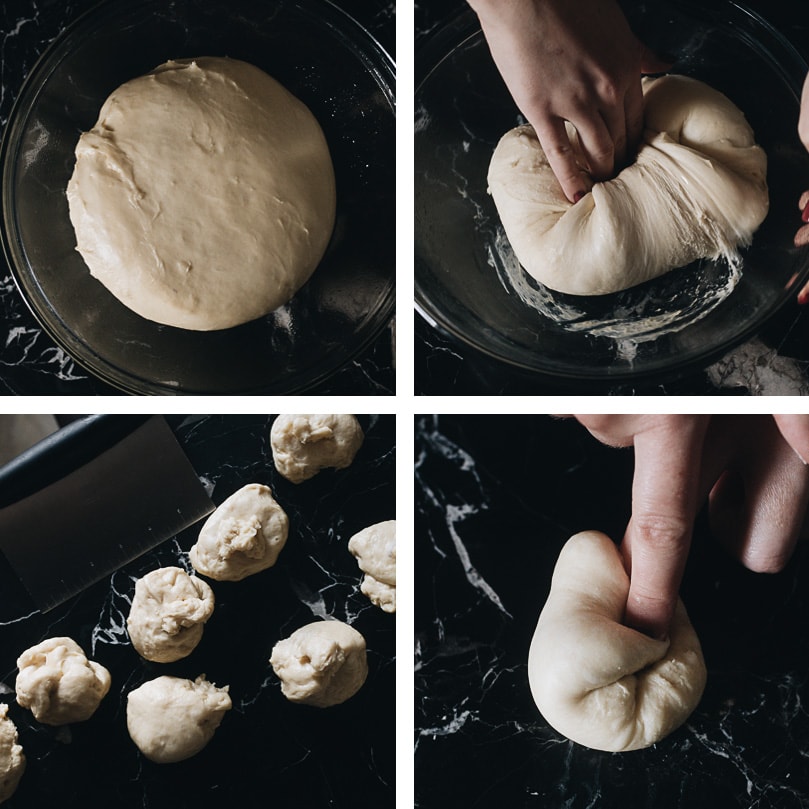 4. Bake and serve
The rest is easy. Simply bake the milk bread rolls at 350° F (176° C) for 20 to 25 minutes until golden brown.
The dinner rolls will come out fluffy, airy, and slightly sweet. When you pull them apart, you'll see the stringy texture with even, tiny air bubbles.
These milk bread rolls taste best when fresh. But the best part of this recipe is, you can store them at room temperature for a day and they will stay soft and moist.
You can store the bread in the freezer for longer storage, but it's very unlikely they will last that long!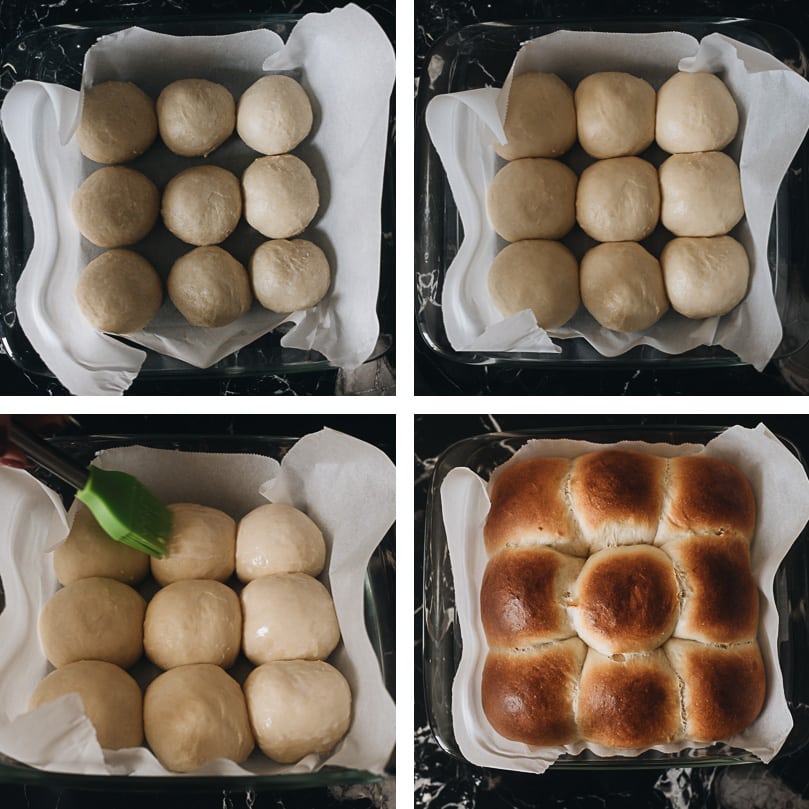 Afterthoughts
It's true that it takes a bit of time and patience to make bread at home. But this recipe is so simple that it can totally become one of your everyday recipes. These rolls taste great by themselves, but you can use your favorite spread on them, such as butter, jam, or peanut butter.
The recipe is also perfect for the holiday season and any dinner party, because it requires very little active cooking time. You can prepare them in advance and they hold up well.
I hope you enjoy them as much as I do!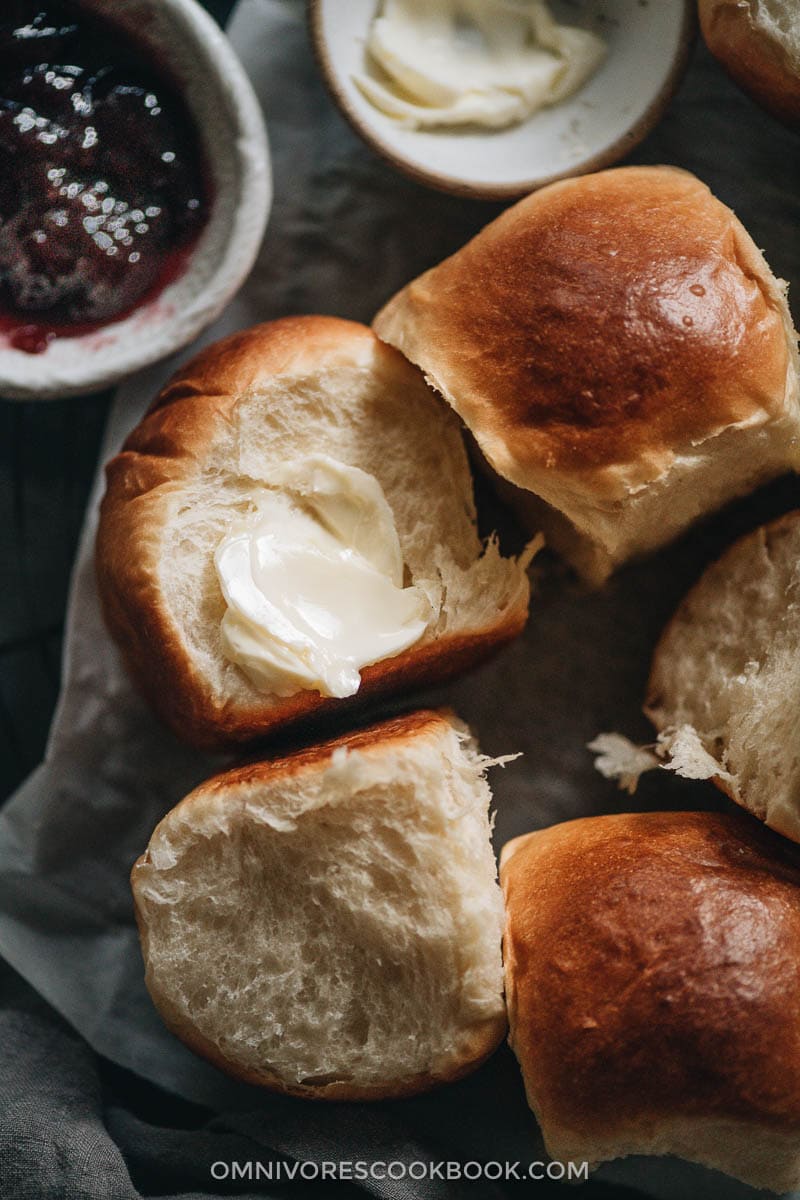 Serve these milk bread rolls with
If you give this recipe a try, let us know! Leave a comment, rate it (once you've tried it), and take a picture and tag it @omnivorescookbook on Instagram! I'd love to see what you come up with.
Want to Know More?
Receive our 5-Day Chinese Cooking Crash Course & Recipe Updates! Subscribe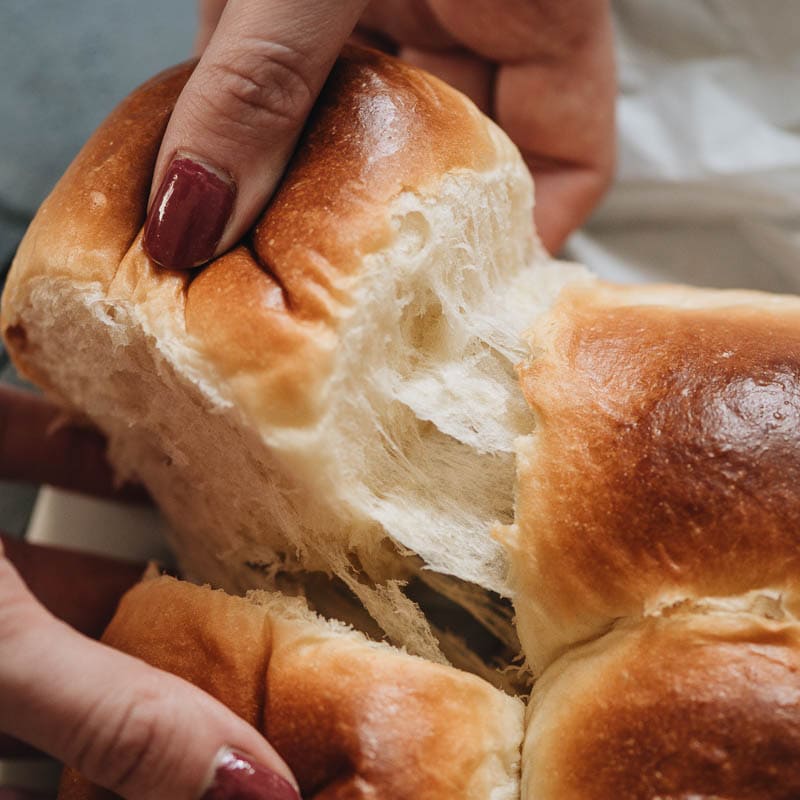 Easy Milk Bread Rolls
Make Hokkaido style milk bread rolls with this simple recipe. These milk bread rolls are super soft, airy, moist, and slightly sweet. They're very easy to put together and hold up well when made ahead. They're perfect for your holiday dinner party and simple enough to make as an everyday recipe.
Ingredients
300

g (2 1/2 cups)

bread flour

140

ml (1/2 cup )

whole milk

, and extra for brushing onto the bread

7

g (1 packet / 2 teaspoons)

yeast

30

g (2 1/2 tablespoons)

sugar

5

g (1 teaspoon)

salt

80

g (1/4 cup)

sweetened condensed milk

4

tablespoons

unsalted butter

, melted

1

large egg
Instructions
1st rise
Add the milk into a small bowl and warm to approximately 100-110°F (38°C), about 30 seconds in the microwave. The milk should be warm, just a bit above body temperature. Add a pinch of sugar and the active dry yeast. Let sit for 5 minutes so the yeast will activate.

While the yeast activates, add the rest of the ingredients into your mixer bowl.

Once the yeast is activated, you should see bubbles on the surface of the mixture. Pour it into the mixer bowl. Mix with a spatula until the dough just comes together. Cover with plastic wrap and let rest for 20 minutes.

Install the dough hook on your mixer (I used a KitchenAid). Start at low speed, then gradually increase to setting 8 out of 10. Knead for 10 to 12 minutes, until the dough is very smooth. Stop the mixer in the middle and scrape the dough from the sides of the bowl. Test the dough by pulling a piece of it using both of your hands. It should stretch into a very thin and translucent sheet. The dough should be wet and a bit sticky.

Grease a big bowl with a thin layer of oil. Place the dough into the bowl. Cover with plastic wrap. Let rise until the dough doubles in size, about 1 hour.
2nd rise
Line a 9" x 9" (23cm x 23 cm) baking pan with parchment paper.

Punch the air out of the dough. Transfer it onto a lightly oiled working surface. Divide the dough into 9 even pieces by cutting it into 3 even strips, then further cutting each strip into 3 small pieces. Each piece of dough should weigh 68 to 70 grams.

Shape the dough one piece at a time. Tuck the dough onto itself by pinching the dough from all sides into the center using your fingers, creating a round shape. Then roll the dough in a circular motion with your palm against the table, until it forms a round ball. Place the dough balls onto the parchment paper, evenly spaced, in a 3-by-3 array.

Cover the baking pan with plastic wrap. Let rest again for another 35 to 45 minutes, until the size has doubled.
Bake
Preheat the oven to 350° F (176° C) while resting the shaped bread rolls.

Right before baking, gently brush a thin layer of milk onto the tops of the bread rolls.

Bake the milk bread rolls on the middle rack for 20 to 25 minutes, until the top turns golden brown. You can also test the doneness by inserting an instant-read thermometer into the middle of the center bun. It should register at least 190°F.

Let the bread rest in the pan for 5 minutes, then transfer it onto a cooling rack.

Serve warm or at room temperature.
Store
Once the milk bread rolls have cooled completely, you can store them in an airtight container on your kitchen counter for up to 2 days. The rolls will stay very soft at room temperature. You can also warm them up in the microwave it for 10 seconds or leave them in a 350° F (176° C) oven to warm up before serving.

For longer storage, place the dinner rolls in a ziplock bag, squeeze out as much air as possible, and store them in the freezer for up to a month. To reheat, bake the rolls at 350° F (176° C) without thawing, until warm throughout, 10 minutes or so.
Nutrition
Serving:
1
roll
,
Calories:
226
kcal
,
Carbohydrates:
34.7
g
,
Protein:
5.6
g
,
Fat:
7.3
g
,
Saturated Fat:
4.2
g
,
Cholesterol:
36
mg
,
Sodium:
279
mg
,
Potassium:
115
mg
,
Fiber:
1.1
g
,
Sugar:
9.1
g
,
Calcium:
53
mg
,
Iron:
2
mg
Lilja Walter is a part of the Omnivore's Cookbook team and worked closely with Maggie to develop and test this recipe.