An authentic spicy wonton in chili oil recipe that yields tender wontons smothered in the most scrumptious sauce that is spicy, savory and sweet, just like the street food you'd get in Sichuan.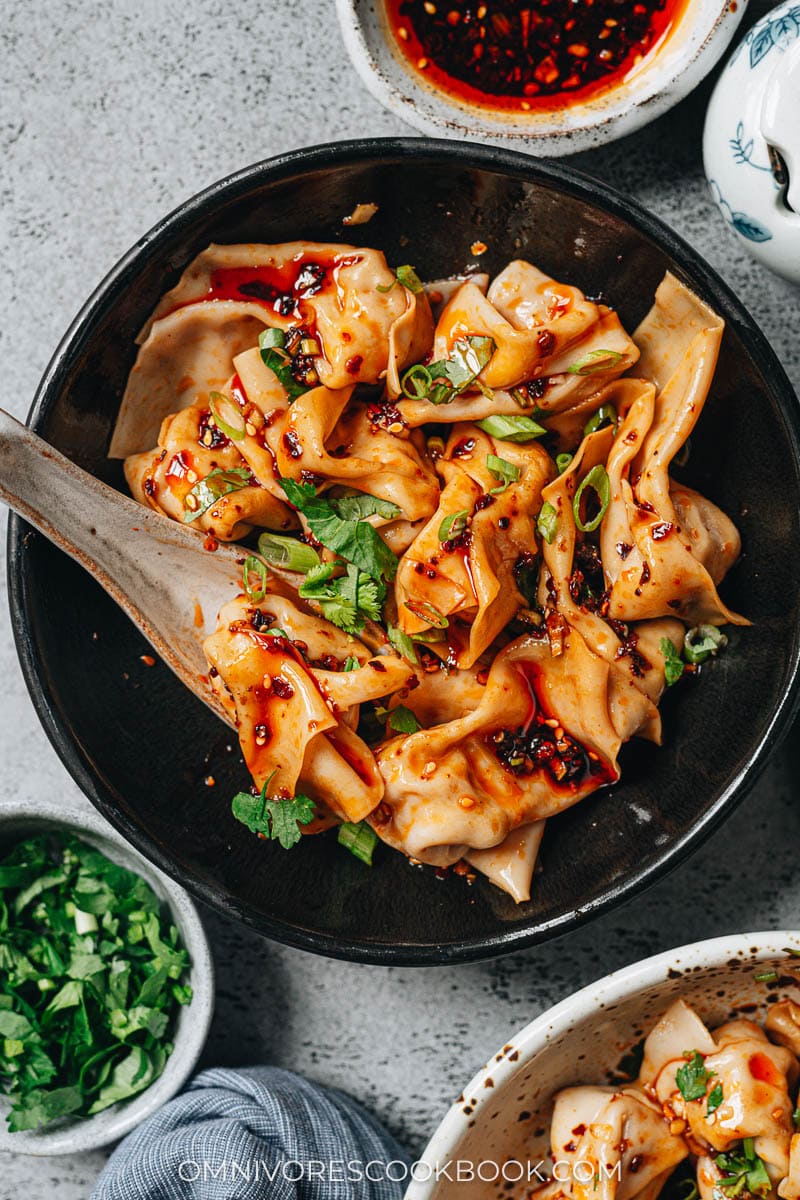 Spicy wonton in chili oil, also known as Hong You Chao Shou (红油抄手) in Chinese, is a traditional dim sum from Sichuan. It features small wontons with a simple pork filling, served with a rich and thick sauce that uses chili oil as the main ingredient.
If you're looking for red oil wontons like you'd eat in a small hole-in-the-wall diner in Sichuan, you've come to the right place. After my gourmet trip to Chengdu, Sichuan, I was hooked on this dish and determined to recreate it at home.
This recipe is different from many spicy wonton recipes out there. There are no shortcuts used. And it guarantees maximum satisfaction with that real-deal Sichuan flavor.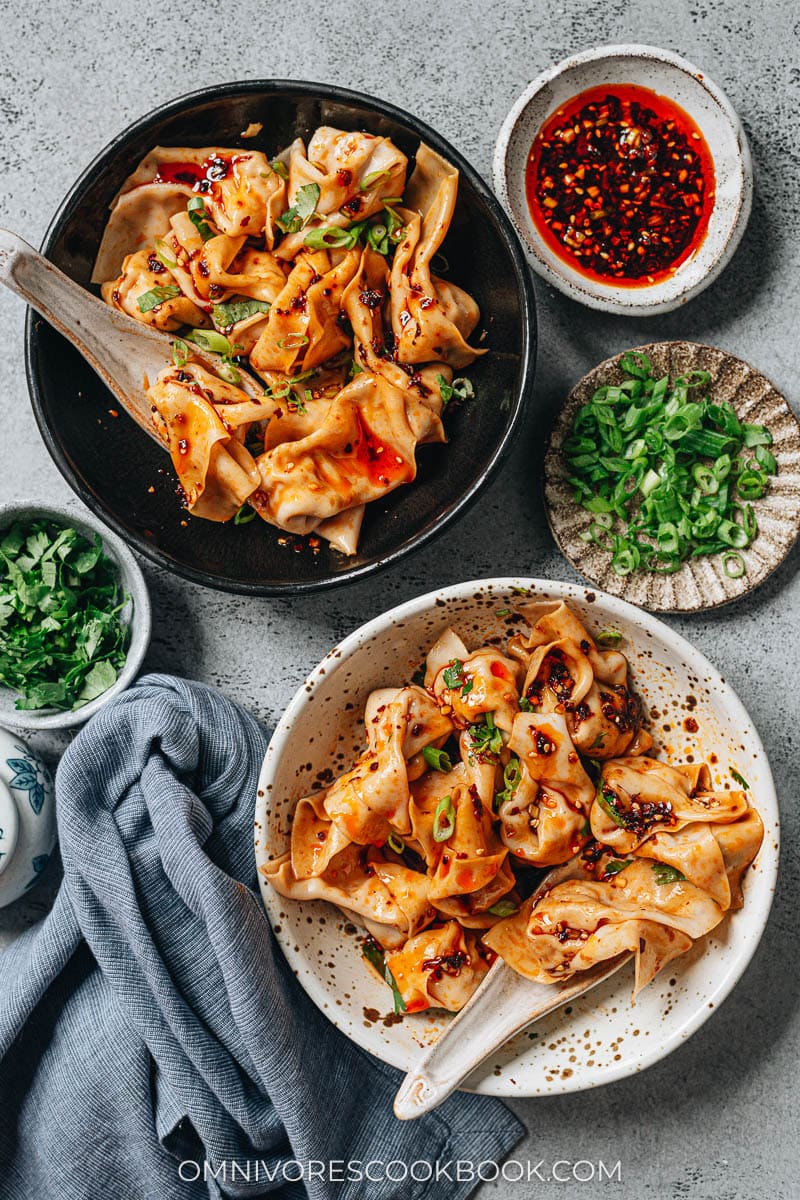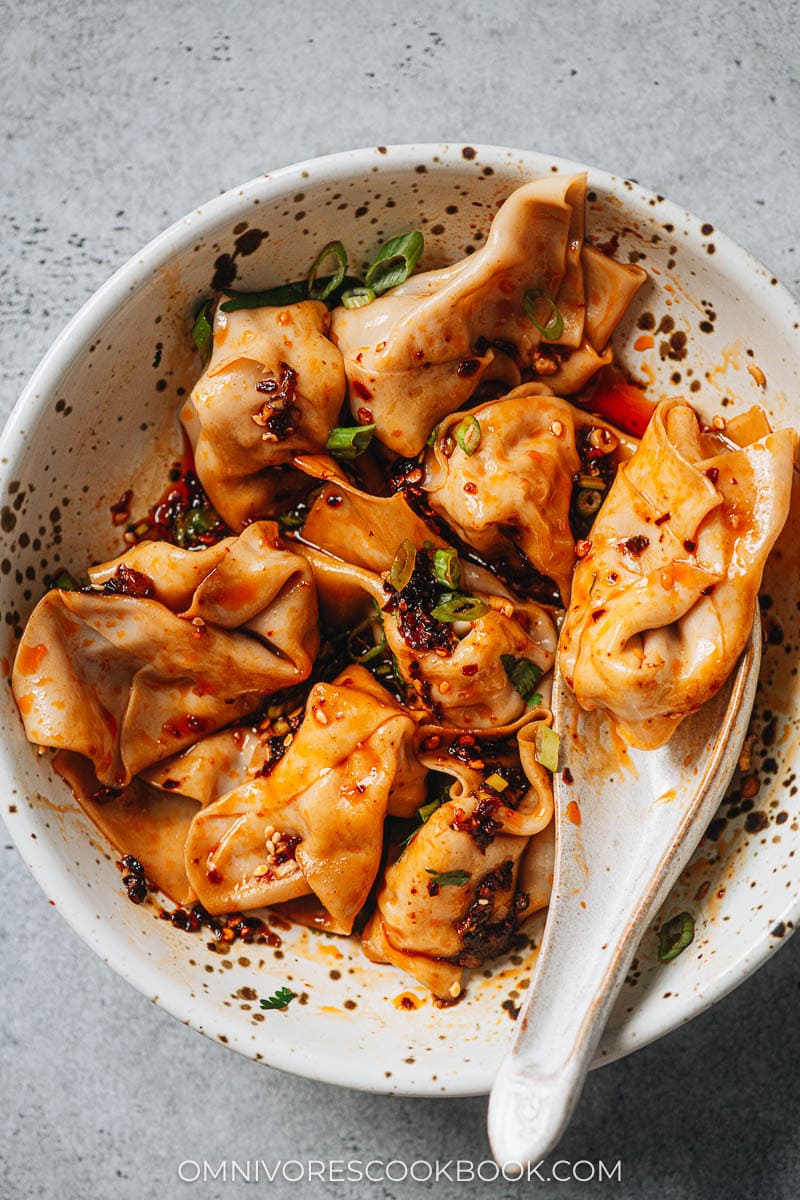 Ingredients for wonton in chili oil
A good chili oil
It is the number one ingredient in Sichuan cooking and probably the most commonly used homemade ingredient. I always recommend the homemade one because it's the most fresh, and you can find my recipe here. It requires a mere 10 minutes to make and will last practically forever in your fridge. Once you make this ingredient, you can start to cook Dan Dan Noodles and Bang Bang Chicken like a pro.
If you prefer to purchase your chili oil rather than make it, I highly recommend the Chili Crisp Oil from The Mala Market. It tastes fresh, contains no additives or preservatives, has a good ratio of oil and chili crisp, and a balanced flavor without being too spicy.
Seasoned sweet soy sauce
Seasoned sweet soy sauce is another ingredient that makes the wonton in chili oil taste authentic.
In this recipe, I use my homemade soy sauce. It is a thick, rich sauce reduced from soy sauce, sugar, aromatics, and tons of spices. It is much more fragrant than the type you purchase from a store.
If you prefer to use a bottled sauce, Lee Kum Kee Sweet Soy Sauce is a good choice. It is not as aromatic as the homemade version but it's a good replacement.
Another option is to use regular soy sauce plus sugar. But note, in this case, the sauce will come out thinner and have a slightly different flavor.
NOTE: the Chinese style sweet soy sauce is different from Kecap Manis (the type of sweet soy sauce usually used in Southeast Asian cooking), which is much sweeter. If you use Kecap Manis for this recipe, reduce the amount by half.
The type of wonton wrapper to use
I used Shanghai Wonton Skin wrappers in my recipe, but you can use any wonton wrappers that use wheat flour and water as the main ingredients.
How to make spicy wonton in chili oil
Make the wonton filling
Make aromatic water
Drain the aromatic water into the ground pork
Add the other seasonings
Mix well until it forms a sticky paste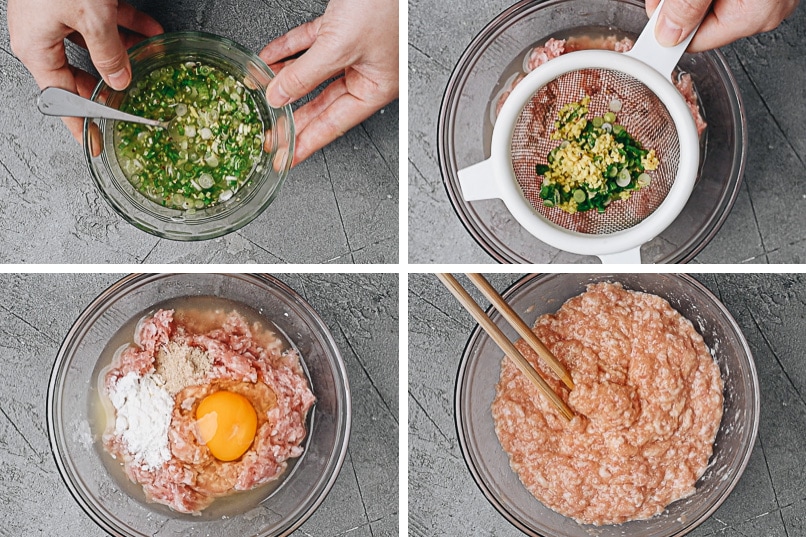 NOTE:
Instead of chopping aromatics to be included in the filling, using aromatics-infused water will create a silky texture with no risk of accidentally biting into a piece of ginger or garlic. It is simple to make and makes your wontons taste much better.
Fold the wontons
Add a small amount of filling onto the wrapper
Roll up the wrapper to fold in the filling
Wet the wrapper with some water
Fold up the two sides of the wrapper and press to seal the filling
If you're not familiar with making wontons, make sure to check out my video below the recipe to see the folding in action!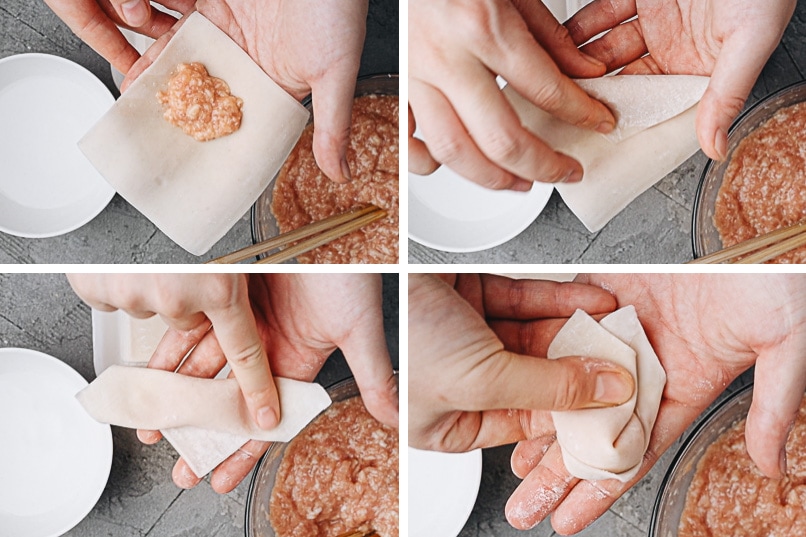 Cook and assemble
Once you finish wrapping the wontons, all you need to do is to boil them. Then add the wonton sauce to the wontons and mix them together.
How to store and reheat
Uncooked wontons freeze well and you don't need to thaw them before boiling. This recipe makes quite a few servings. So I highly recommend freezing the portions that you won't consume immediately, so you can enjoy them later.
To cook frozen wontons, simply follow the same steps. The frozen wontons require a bit longer to cook through, but not by too much.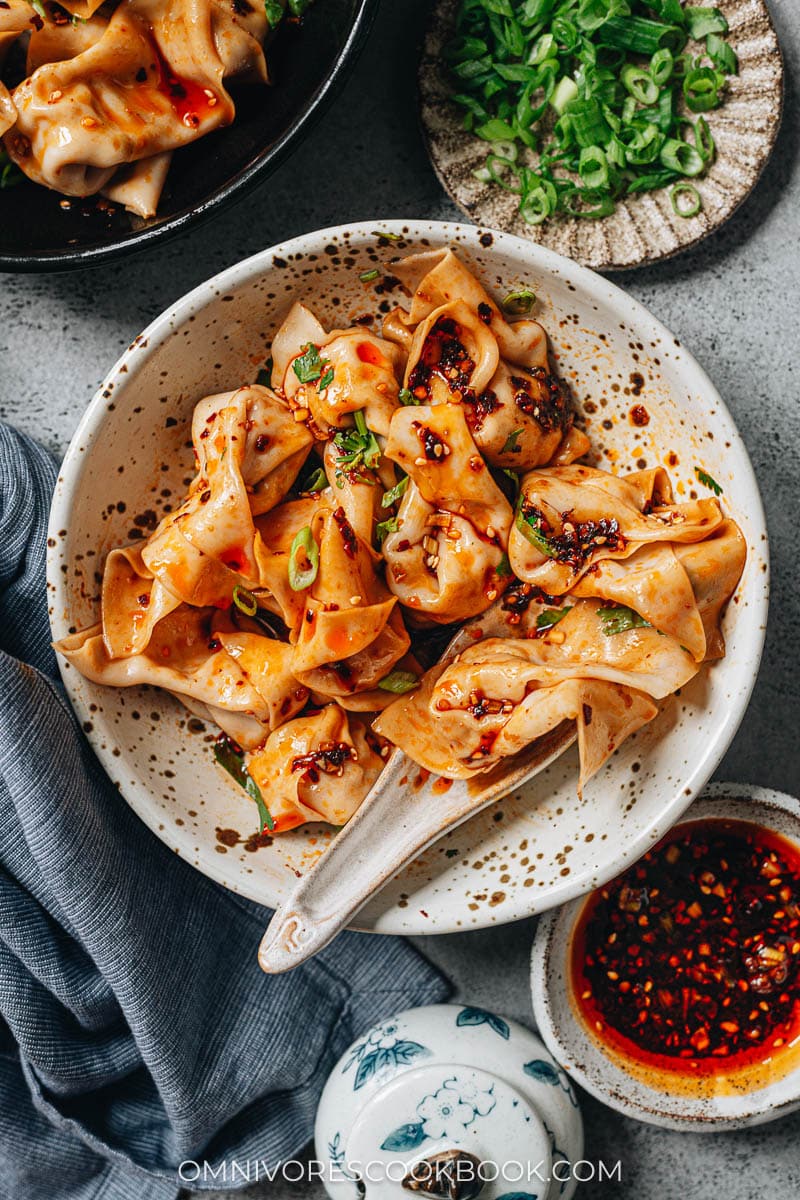 More Sichuan recipes
Want to Know More?
Receive our 5-Day Chinese Cooking Crash Course & Recipe Updates! Subscribe
Sichuan Spicy Wonton in Chili Oil (红油抄手)
An authentic spicy wonton in chili oil recipe that yields tender wontons smothered in the most scrumptious sauce that is spicy, savory and sweet, just like the street food you'd get in Sichuan.
The recipe yields 4 servings as a main dish, or 8 small servings as an appetizer.
Servings:
4
to 8 servings
Ingredients
Aromatic water
2

tablespoons

boiling water

1/4

teaspoon

salt

2

green onions

, sliced

1

tablespoon

minced ginger

1

teaspoon

Sichuan peppercorns
Filling
1/2

lb (225 g)

ground pork

1

large

egg

2

teaspoons

cornstarch

1/8

teaspoon

white pepper powder
Sauce
8

tablespoons

homemade chili oil

(including the chili crisp)

4

tablespoons

seasoned sweet soy sauce

(*Footnote 1)

1 1/2

tablespoons

Chinkiang vinegar

2

teaspoons

grated garlic

2

green onions

, sliced

Optional Chopped cilantro, toasted ground Sichuan peppercorn flakes, and toasted sesame seeds for garnish
Instructions
Prepare the aromatic water
Combine all the ingredients for the aromatic water in a small bowl. Stir to mix well and let infuse for 15 minutes while you prepare the other ingredients. Strain and discard all the solid ingredients.
Prepare the chili oil sauce
Combine the chili oil, sweet soy sauce, vinegar, garlic, and white part of the green onion in a medium-sized bowl. Stir to mix well.
Make the wontons
Add the minced pork into a medium-sized bowl. Add the aromatic water, egg, cornstarch, and white pepper powder. Mix until it forms a smooth and sticky paste.

Work on the wontons one at a time. Place about half a teaspoon of filling (or 1 teaspoon for bigger wontons) on the lower third of the wrapper. Fold the bottom side over the filling, then roll the filling all the way across to the other side of the wrapper. Brush a thin layer of egg white on one end of the wonton wrapper. Bind both ends and press them together to lock the filling inside the wrapper. Place on a big plate, a finger's width apart.

When you've finished 10 to 15 wontons, cover them with a wet paper towel to prevent them from drying out.
Cook and assemble
Bring a large pot of water to boil. Add the wontons, 20 at a time. Stir gently with a spatula constantly, to prevent them from sticking to the bottom. Cook until the wontons are floating on top, about 2 to 3 minutes. Transfer 7 to 8 wontons into each bowl. Pour 2 tablespoons of the sauce, and 1 to 2 tablespoons of the hot broth used to boil the wontons, garnish with the green part of the green onion, and serve.

Mix the wontons well to coat them with sauce. Enjoy!
Store
If you are not going to cook and serve the wontons immediately, you can store them in the fridge for a day, or freeze them for up to a month. Seal the tray of wontons with plastic wrap and place it in the freezer. When the wontons are completely frozen, you can transfer them to an airtight ziplock bag to free up freezer space.
To cook frozen wontons
Bring a large pot of water to a boil over high heat. Add wontons. Stir gently to prevent it from sticking. Cook until the water reaches a boil again. Turn to medium-low heat. Cover the pot with a small gap on one side, to prevent it from boiling over. Continue boiling for 2 minutes (3 minutes for larger wontons). Stand beside the pot the entire time and monitor the broth. If the broth starts to boil over, uncover and stir, then replace the cover. Uncover, continue cooking for another minute, or until the wontons are cooked through.
Notes
If you do not have sweet soy sauce, use 4 tablespoons of soy sauce plus 2 teaspoons sugar. You can use Lee Kum Kee Sweet Soy Sauce to replace the homemade version. If you use Kecap Manis, reduce the amount by half.
Nutrition
Serving:
1
serving
,
Calories:
162
kcal
,
Carbohydrates:
19.8
g
,
Protein:
14.8
g
,
Fat:
2.2
g
,
Saturated Fat:
0.7
g
,
Cholesterol:
59
mg
,
Sodium:
1220
mg
,
Potassium:
238
mg
,
Fiber:
0.7
g
,
Sugar:
1.4
g
,
Calcium:
16
mg
,
Iron:
1
mg