This is one of the most versatile Chinese sauces that goes well with almost any ingredients, and is also suitable for stir frying, baking, grilling, and steaming.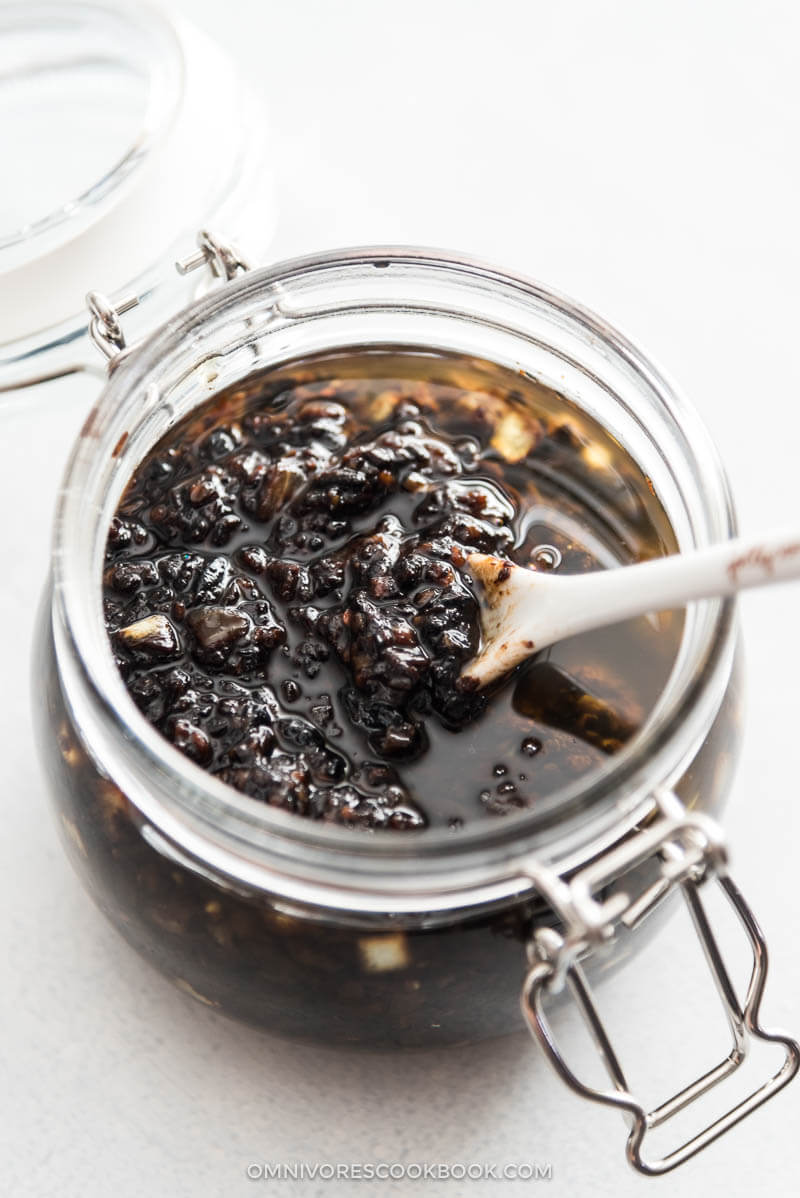 I recommend that everyone who loves Chinese food have a jar of pre-made black bean sauce in their fridge. Here are the reasons:
The sauce is extremely versatile. You can view it as soy sauce alternative, only more flavorful.
The sauce is healthier than many other Chinese sauces because it contains less sugar.
The sauce has a bit of thickening powder by itself, so you don't always need to use extra cornstarch to thicken the sauce. One more prep step eliminated!
Not only can you make stir-fried dishes with it, you can also use it to bake or steam food, marinate meat, or serve it as dipping sauce or noodle salad dressing.
Sound amazing?
Introducing Homemade Black Bean Sauce
Yes, you can buy bottled black bean sauce from the grocery store, but the homemade version contains more fresh aromatics, does not use additional starch to thicken the sauce, and contains no additives. I always suggest that you make your own for a more delicious and healthier option.
Basic ingredient – fermented black beans
The most important ingredient is fermented black bean. It has a deep umami flavor that is similar to soy sauce, but different in flavor and even richer. This is the base of the sauce.
Thanks to almighty Amazon, you can even purchase the fermented black beans online without a trip to grocery store. However, if there is an Asian market nearby, I highly recommend you to get your ingredients there because it will be way cheaper. These black beans can stay in your fridge forever, so you can store them if you don't have time to use them immediately.
Once you get the fermented black beans, the rest of the ingredients are quite easy to find and it's more likely that you will already have them at home.
How to prep fermented black beans
(1) To use the fermented black beans, always rinse them with water and drain before using, so they won't be too salty. Plus, the water will soften them to make the chopping.
(2) I always chop the beans on a cutting board so I can control the texture. I like my bean paste a bit coarse, with bits of black bean chunks to add texture. You can do this step in a food processor as well.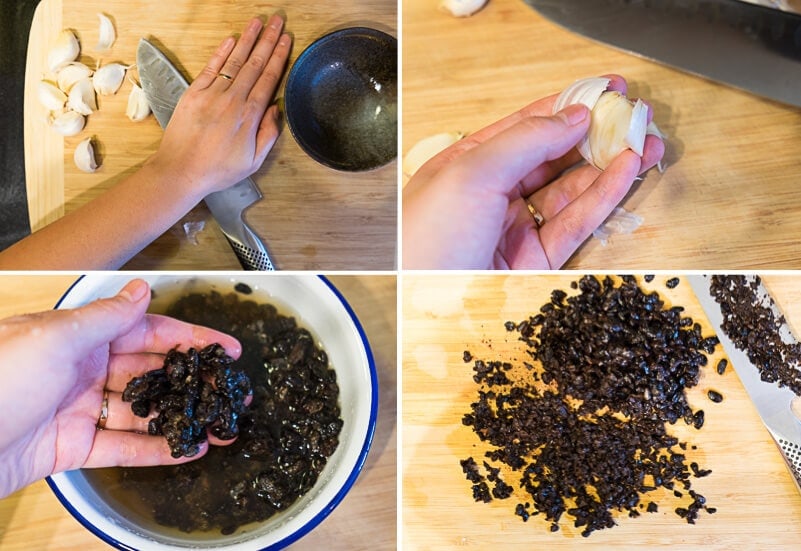 *Tip on peeling garlic faster: Lightly crush it with your chef's knife by holding it with one hand, and press the flat side with the palm of your other hand. After this simple procedure, you only need 2 seconds to peel a clove.
Once you get all the ingredients ready, slowly roast them in a skillet. It will take 20 to 30 minutes. Please be patient and use low heat, so you won't burn anything.
The sauce will be ready to use once it's cooked, but it gets better after storing it for a few days.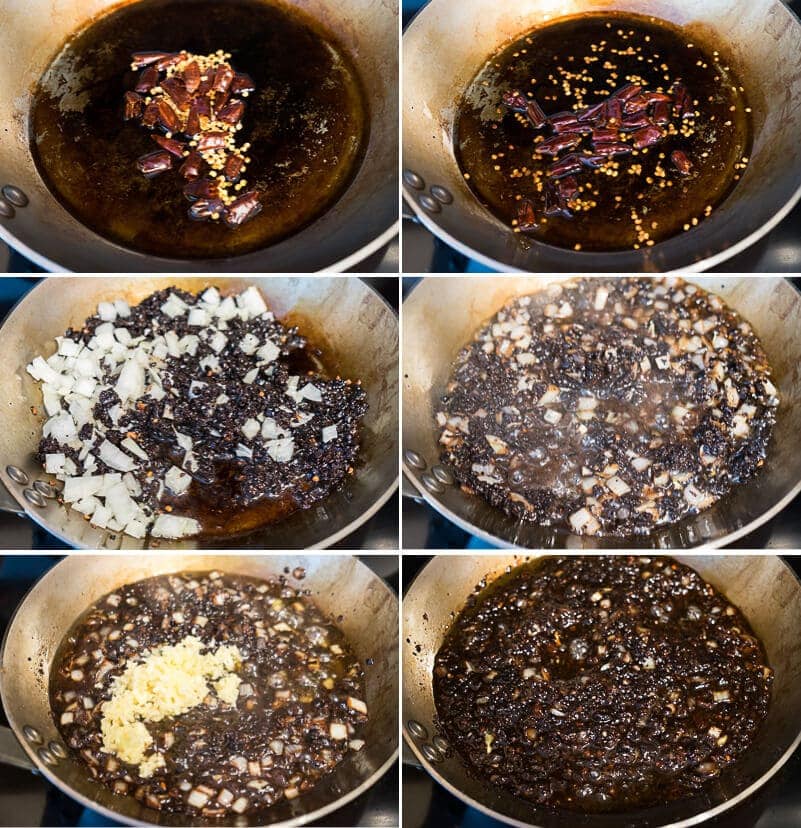 How to use homemade black bean sauce
You can use the sauce for cooking, as a marinade, a dipping sauce, or you can use it to make noodle salad. The sauce uses oil to cover the rest of the ingredients, so it will be preserved for longer time in the fridge. To use the sauce, simply scoop out the portion you need with a bit of oil. The sauce has some thickening power from the bean starch, so it's not always necessary to add cornstarch slurry like other stir fry sauces.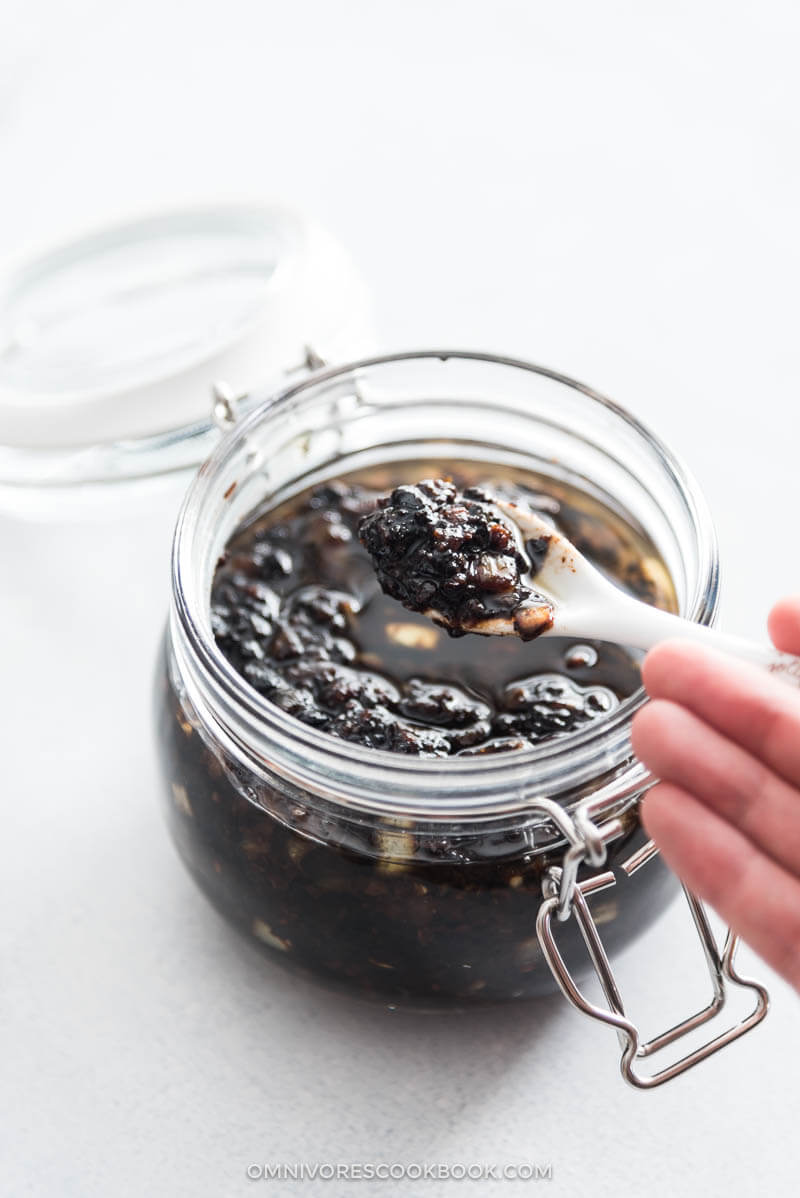 Assuming that you are going to cook 2 servings – you will need about 450 grams (1 pound) protein, or 6 to 8 cups vegetables, or 220 grams (1/2 pound) protein and 3 cups vegetables. You will need 3 to 4 tablespoons sauce.
(1) Pick 1 to 2 aromatics. Prep according to the list below. (Optional)
Since the black bean sauce contains aromatics already, you can skip this step when you're in a hurry. However, if you have time, some extra aromatic ingredients will always make the dish taste better.
Recommended aromatics
Ginger – 1 large piece minced (yields 2 teaspoons to 1 tablespoon)
Green onion – 2 to 3 green onions, coarsely chopped
Dried chili pepper – 2 to 4 peppers, torn into 3 to 4 pieces. (Or, keep whole for less spiciness.)
Sichuan peppercorns – 1 to 2 teaspoons. Use it to infuse the hot oil, then discard them before adding other ingredients. (See this recipe to learn how to use them.)
Shallot or onion – 1 shallot or 1/2 onion, thinly sliced or diced
(2) Choose and cut the protein.
Recommended Protein
Beef (flank steak or short ribs) – Thinly sliced (1/8 to 1/4-inch thick), or cut to strips for stir fry.
Chicken (skinless boneless breast or thigh) – Diced to 1-inch pieces, or sliced to 1/4-inch thick pieces for stir fry. Use whole pieces for grilling or baking.
Pork (tenderloin or loin) – Thinly sliced (1/8 to 1/4-inch thick), or cut to strips for stir fry. Use larger cuts, such as pork chops, for baking, pan searing, or grilling.
Shrimps – Peeled and deveined for stir fry or grilling.
Fish fillet – Grilled, baked, or steamed with the sauce.
Tofu (firm or extra firm) – Diced to 1/2 to 2/3 inch pieces for stir fry or braising.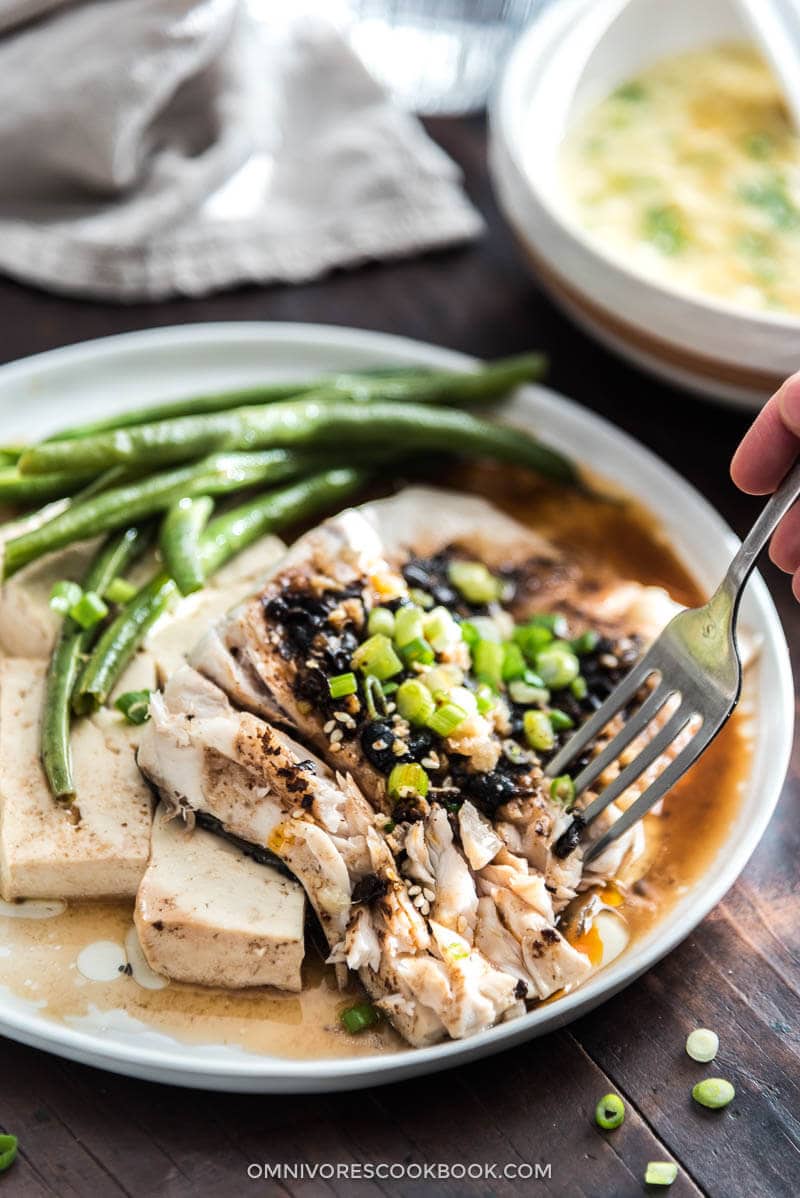 (3) Marinate and prep the protein.
For each pound of meat or seafood (for stir fry), mix with 1 tablespoon vegetable oil (or peanut oil), 1/2 teaspoon salt, and 1 tablespoon cornstarch. Let it marinate for 5 to 10 minutes. Skip this step if you're using the sauce to bake, grill, or pan fry.
For tofu (for stir fry), marinate with 2 tablespoons soy sauce and 1 tablespoon syrup (or honey) for 10 to 15 minutes. Drain and coat with a thin layer of cornstarch. See this post to learn how to cook crispy tofu without deep-frying. Skip this step if you use the sauce (and stock) to braise tofu.
(4) Cut and prep the vegetables.
To make a quick dinner, my favorite method is to only use one type of vegetable. You can use two, but no more.
Recommended vegetables
Asparagus – Chopped to 1-inch pieces
Baby bok choy – Tear off large leaves and halve lengthwise, halve or quarter the rest.
Bamboo shoots – Sliced
Bell peppers – Sliced or chopped
Broccoli (fresh) – Divide to small florets; steam or blanch. (See this post to learn how to blanch the broccoli quickly in the same stir fry pan).
Broccoli (frozen) – Microwave for 2 to 4 minutes (depending on the quantity), so the broccoli is thawed and luke warm, but not heated up.
Brussels sprouts – Halved and roasted (See this post for how to roast Brussels sprouts).
Cabbage (green and red) – Coarsely chopped
Cauliflower (fresh) – Divide to small florets; steam, blanch, or roast.
Cauliflower (frozen) – Microwave for 2 to 4 minutes (for stir fry), or roast (see this post to learn how to crisp up frozen cauliflowers in the oven).
Carrot – Sliced into pieces or strips (by using a julienne peeler); or cut to chunk and roast.
Celery – Sliced or diced
Eggplant – Sliced. (See this post to learn how to prep eggplant so it crisps up during stir frying.)
Green peas (fresh or frozen)
Kale – Stalk chopped to small pieces, leaves coarsely chopped
Mustard greens – Chopped
Mushrooms – Sliced or quartered
Okra – Sliced
Onion – Sliced
Spinach – Roughly chopped for larger spinach. No need to chop baby spinach.
Snow pea
Zucchini – Seeded and sliced
(5) Make the stir fry, or use the stir fry sauce for baking, grilling, or steaming
Read this post to learn the basic steps of making Chinese stir fry.
To learn how to use Black Bean Sauce now, go to: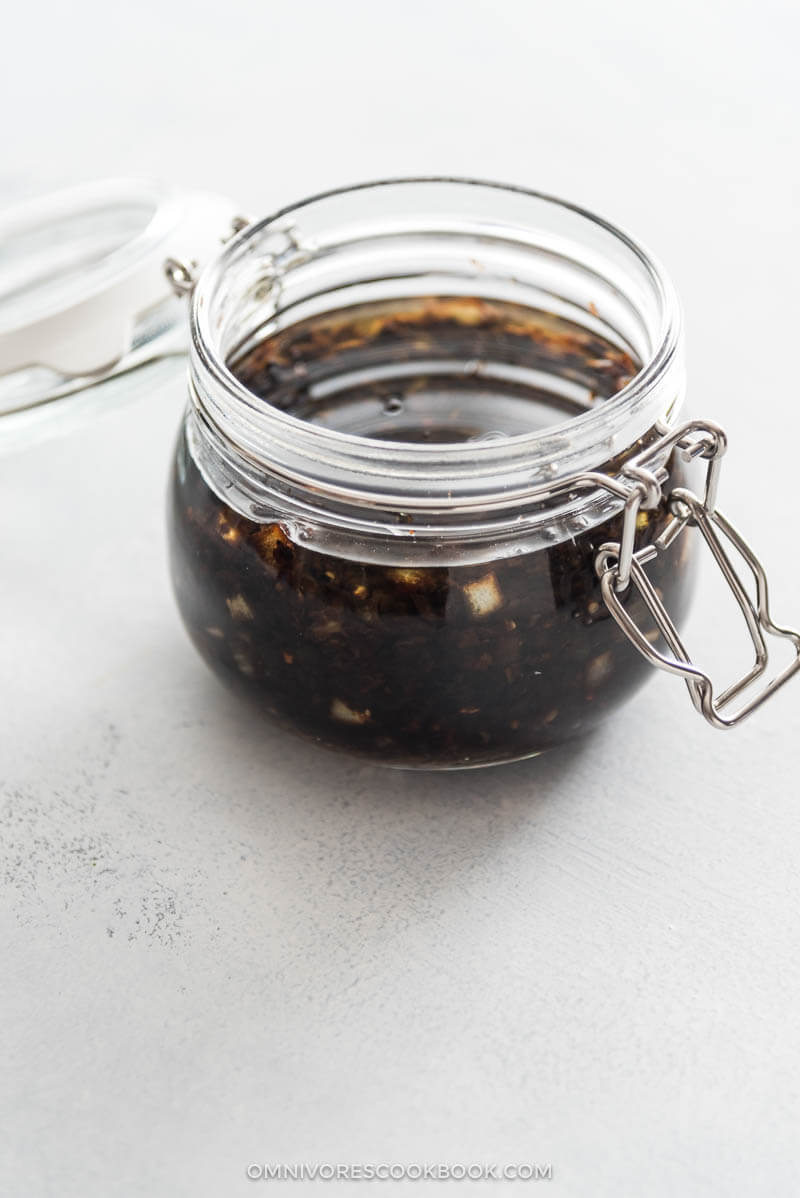 More Chinese sauce recipes
If you give this recipe a try, let us know! Leave a comment, rate it (once you've tried it), and take a picture and tag it @omnivorescookbook on Instagram! I'd love to see what you come up with.
Want to Know More?
Receive our 5-Day Chinese Cooking Crash Course & Recipe Updates! Subscribe
Homemade Black Bean Sauce
This is one of the most versatile Chinese sauces that go well with almost any ingredients, and is also suitable for stir frying, baking, grilling, and steaming.
Ingredients
1

cup

fermented black beans

1/3

cup

vegetable oil

1/4

white onion

, minced

4

to 6

dried chili peppers

, torn to small pieces (*Footnote 1)

1/4

cup

Shaoxing wine

(or dry sherry, or Japanese sake) (*Footnote 2)

1/4

cup

light soy sauce

(or soy sauce, or tamari for gluten-free option)

1/4

cup

sugar

(or brown sugar)

1

head garlic

(8 to 10 big cloves, minced (*Footnote 3)

1

thumb ginger

, minced (*Footnote 4)
Instructions
Rinse fermented black beans with tap water, drain, and coarsely chop them. I like to leave some bigger pieces of the beans, to give the sauce more texture.

(Optional) You can use a food processor to mince all the ingredients. Add black beans, onion, and garlic into a food processor. Blend until both ingredients are minced, but not a fine paste.

Heat oil and dried chili peppers in a saucepan over medium heat until warm. Turn to medium low heat. Cook until the chili peppers turn dark, but not black. Stir occasionally. Scoop out the chili peppers and discard them.

Add the black beans and onion. Cook and stir, until the sauce looks a bit dry. (The beans will absorb oil at first, but release the oil once they're cooked.)

Add Shaoxing wine, light soy sauce, and sugar. Simmer and stir until the onion turns tender. It takes about 10 minutes or so. The sauce can be easily burned, so make sure to keep the heat low and stir the sauce constantly to ensure even cooking.

Add garlic and ginger (if you're using these ingredients). Continue to cook and stir the sauce until the onion turns very tender. You should see oil floating on top of the sauce.

Transfer the sauce to a large bowl to cool off completely.

Store the sauce in an airtight jar in the fridge for 2 weeks to a month.
Notes
1. Unless you use very powerful chili peppers (such as Thai chili peppers), the sauce won't become spicy. I only use this step to infuse more aroma to the sauce. I used Chinese dried chili peppers in this recipe, but Korean and Mexican dried chili peppers work too. If you do want a spicy sauce, consider blending in homemade chili oil to the cooked sauce, or add cayenne powder during cooking.
2. If you do not want alcohol in the sauce, you can skip this ingredient. I would not recommend using stock here because it shortens the shelf life. However, you can use 2 to 3 teaspoons of chicken bouillon powder if you want to add extra flavor to the sauce.
3. You can use a garlic press to mince garlic faster.
4. Ginger is not a must-have ingredient, but if you happen to have it on hand, definitely use it. It adds nice aroma to the sauce.
Use black bean sauce to make these recipes