Since I started this blog, I've received many readers' questions about stir fry equipment. For example, should I consider purchasing a wok? Which is the best wok pan to buy? What is the best stir fry pan to choose when cooking with an electric stove? What's the best setup to cook authentic Chinese stir fry?
Throughout this post I hope to answer all the above questions to clear up any stir fry doubts.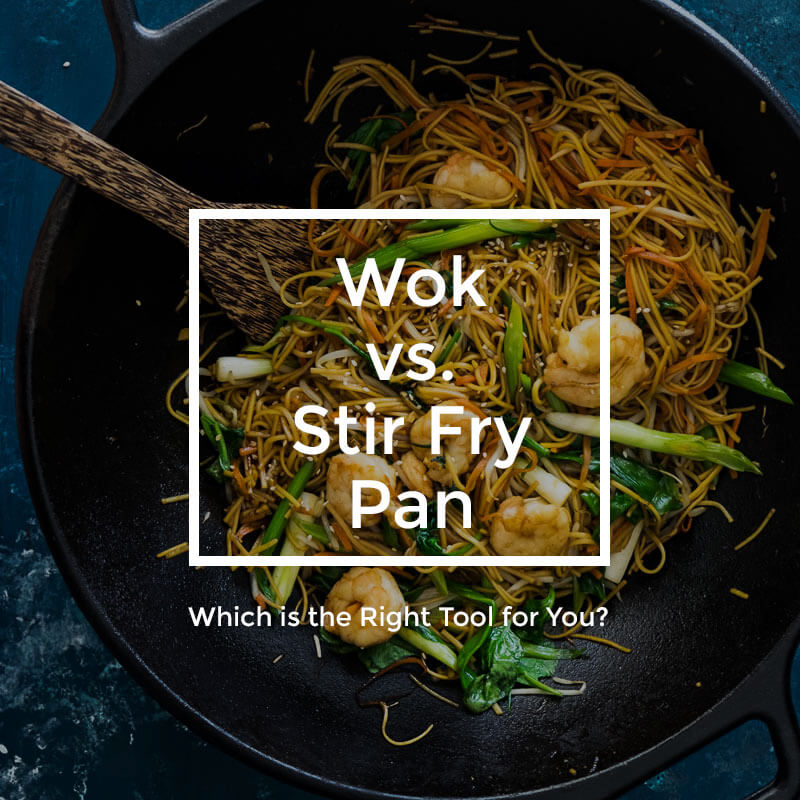 To cover most scenarios, I divided setting up a stir fry station into 3 major categories.
The easiest setup for most home kitchen and beginners.
The authentic setup that mimics a Chinese restaurant.
A setup for serious cooks who do not have the equipment of a commercial kitchen.
Before jumping into the discussion of which wok to buy, let's firstly look at how to properly set up a wok station and why a wok might not actually be the perfect tool for you.
Commercial Kitchen vs. Home Kitchen
Chinese restaurants use high power gas stoves that generate much hotter flames than a home kitchen. Different from the household gas range, a restaurant stove sits inside of a pit to hold a round bottom wok. When you turn on the heat, the flame can cover at least two thirds, sometimes eighty percent, of the wok. The wok will heat up in a few seconds on the flames and cool down immediately once the wok is removed from the stove. Watch the video below to see the Chinese restaurant setup.
So what's the output difference between a powerful gas burner like this versus an average gas burner in the home kitchen?
The output of a commercial gas burner can be anywhere between 50,000 BTU to 160,000 BTU. A home kitchen gas burner is about 12,000 BTU or less. An electric stove is less powerful and takes a lot longer to heat up.
Home cooks rarely have a luxury setup like a commercial kitchen. So most of the Chinese cookbooks recommend:
Carbon steel wok + wok ring + home kitchen gas stove => The wok will be far away from the flame, which makes a less powerful gas burner even weaker.
Carbon steel flat bottom wok + electric stove /  home kitchen gas stove => Only a small bottom area is in contact with a small heat source.
In either scenario, you cannot heat up your wok as thoroughly and fast as in a restaurant.
That's why I've been recommending using a flat stir fry pan in many of my stir fry recipes. When you're using a flat skillet, the pan is in contact with a larger heat source, and the whole bottom of the pan will heat up relatively fast and evenly. This directly translates to shorter cooking time and better tasting food.
Does cooking with a wok make a difference?
The answer is yes and no.
For dishes using a lot of sauce, for example American Chinese takeout dishes such as Orange Chicken or Kung Pao Shrimp, wok cooking only makes a small difference. For these dishes, as long as you make a nice and flavorful stir fry sauce, the outcome will be as good as, or even better than the ones you order from a takeout restaurant.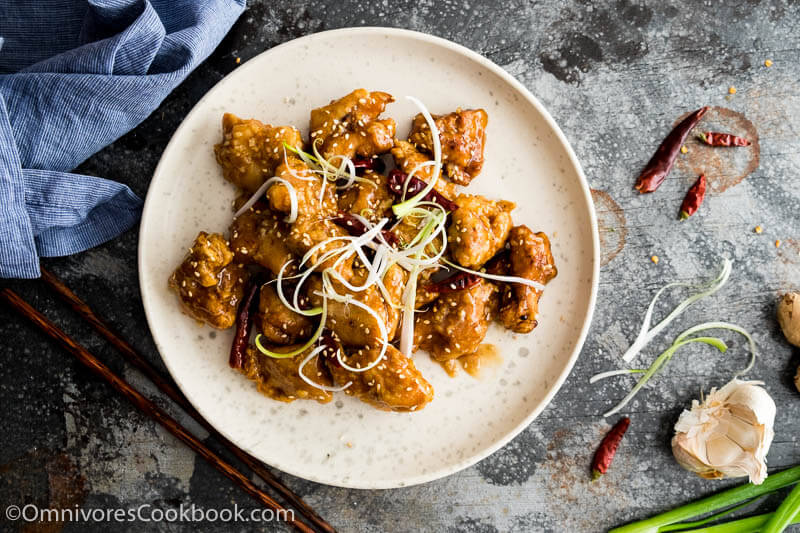 Unlike the Cantonese-style food you see in most overseas Chinese restaurants, there are many other ways to cook stir fry without a thick glossy sauce. For stir fries with little sauce (or "dry stir fry"), which is actually the case for many authentic Chinese dishes, wok cooking has more advantages.
These are the type of dishes that emphasize seasonal produce and spices and aromatics, such as broccoli cooked in a few spoonfuls of chicken stock and garlic, cabbage cooked in chili pepper infused oil, or green beans cooked with minced pork and splash of soy sauce. These dishes require higher heat and faster cooking. The fresh herbs and minimal seasonings have a synergistic effect with the wok air, which impart a heavenly smokiness and deep umami flavor to the dish. When you're making these dishes with a flat skillet, they will still turn out very tasty, but their flavor risks falling flat compared to the ones cooked in a wok.
Wok vs. Stir Fry Pan – Three best ways to set up your stir fry station
Having lived in China and the US, I've cooked in many home and professional kitchens with different setups. I've used various utensils to conduct experiments and to find out the perfect combinations to cook stir fry at home.
Here I designed 3 kitchen setups for:
The majority of home cooks and beginners.
Hardcore Chinese cooking fans who have an outdoor cooking space.
Serious cooks who want to cook better food but do not own an outdoor cooking space.
Let's look at them one by one.
1. The easiest setup
This setup works for most home cooks.
Nonstick skillet + gas / electric stove
Pros:
For beginners, it's much easier to learn and master
You can cook with an electric stove
The pan requires less oil for cooking
The food won't stick to the pan easily
The pan is easy to clean up
The pan does not require extra care
Cons:
You cannot heat the pan up very hot, because high heat can destroy the nonstick coating
Ingredients may spill onto the counter since the pan is shallow
Certain dishes might not turn out as great as the ones cooked in a wok
Overall, a nonstick skillet is the easiest pan to start with. It heats up well even on an electric stove top and requires less oil. When it comes to fried rice and fried noodles, or any ingredients with a lot of starch (such as marinated meat), your pan won't become a big mess that requires 30 minutes of scrubbing.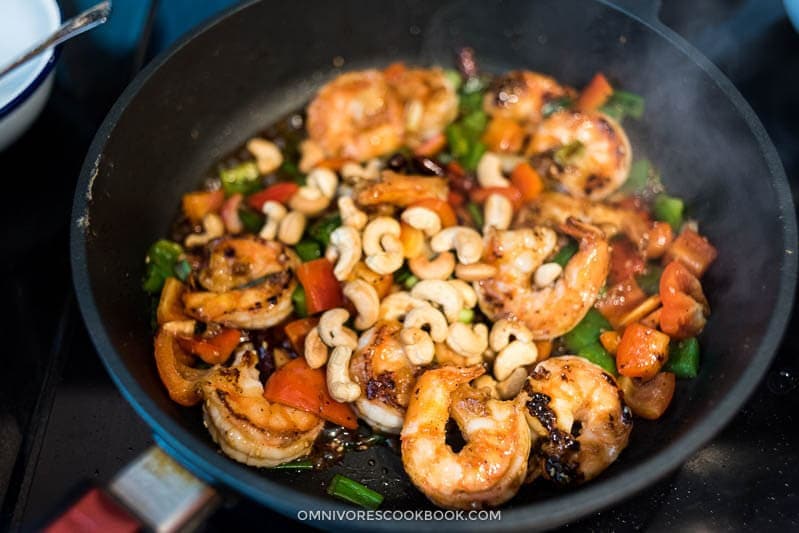 Recommended nonstick pans
Calphalon Nonstick 12-inch Deep Fry Pan – A large, deep skillet at an affordable price. Its bottom sits on the largest element of your electric stove, and it's tall enough for the stir frying movement. It allows you to heat up the pan to 200 C (400 F).
Woll Diamond Lite 11-Inch Sauté Pan or Woll Titanium 11-Inch Sauté Pan – If you have a bigger budget, I highly recommend this brand. I own the latter pan and it's one of my favorites for stir frying or pan frying. It's heavier than most nonstick pans, so it holds heat very well. It is PFOA-free, and its super hard coating lasts longer and also allows you to cook at a higher temperature – 260 C (500 F).
[one_half padding="0 0 0 2px"]
[/one_half]
[one_half_last padding="0 0 0 2px"]
[/one_half_last]
Tip: Toss noodles without spilling ingredients everywhere – use a pair of tongs instead of a spatula.
Note:
None of your nonstick pans will last forever. If you use the pan heavily, a cheap pan usually lasts about 1 year before the coating starts to wear off, and a high quality pan lasts 2 to 4 years.
Never wash the pan right after cooking (when it's super hot). Never use the abrasive side of the dish washing sponge. Use hot water, mild detergent, and a sponge to rinse it when it cools down a bit. Proper cleaning will extend the lifespan of your pan.
2. The authentic setup
This setup works for serious cooks who own a powerful gas range or have an outdoor cooking space.
Round-bottom carbon steel wok + wok ring + high output gas range
Pros:
It's much easier to stir and toss the food. You can do pan tossing if using a smaller wok with one handle
It is so much easier to control the heat when using a gas stove, which is crucial for stir frying
You can heat the pan up really hot, so it shortens the cooking time and the food will taste better
The wok will last forever if you take good care of it
Cons:
Deeper learning curve – it takes more time to practice before you get used to it
A wok requires more care (proper seasoning, wash, and dry)
It generates a lot of smoke during cooking. Your room will smell like a restaurant even if you have a good ventilation fan!
If you're fortunate enough to own a powerful gas stove, this might be your best option to make Chinese stir fry the authentic way.
The biggest merit of using a gas stove is that you can bump up the heat and turn it down in a second to control it, which is crucial for Chinese stir fry. Sometimes cooking only lasts for 3 to 4 minutes, but you might need to adjust the heat a few times during this short period, so the pan is hot without burning the ingredients.
I would only recommend this setup if you own a powerful indoor gas stove with a efficient ventilation system, or an outdoor cooking space.
Recommended wok
14″ Japanese Style Steel Wok or 16" Carbon Steel Hand Hammered Wok
The best way to set up your wok station is to use a jet burner (62,000 to 160,000 BTU) with a stand that can hold the wok, or a outdoor stove with a round pit (54,000 BTU). You should able to find the burner and the stand in large Asian markets, or the outdoor section of Walmart or other supermarkets.
Note: I have not tried out this setup personally because my current apartment does allow me to do this. However, this would be how I'd set up my wok station if I had an outdoor space.
I would only recommend this combination to serious cooks who want to learn real, authentic Chinese cooking and have a powerful gas range.
[one_half padding="0 0 0 2px"]
[/one_half]
[one_half_last padding="0 0 0 2px"]
[/one_half_last]
3. The next best thing
This setup works for serious cooks who want to cook better food but do not have an ideal stove.
Heavy-duty deep skillet + electric stove (or less powerful gas range)
Round bottom cast iron wok + less powerful gas range
Pros:
The food won't spill onto the counter
The pan can reach a really high temperature and hold heat well even on a less powerful stove
It's very easy to toss the food, similar to using a round bottom wok
The pan will last forever if you take good care of it
Cons:
The cookware is heavy, so it requires a bit of a workout when you clean up the pan
The pan requires more care (proper seasoning, wash, and dry)
Depending on how you use the pan, it might generate a lot of smoke during cooking much like a wok
Recommended woks
Debuyer Carbon Steel Deep Skillet (7-lbs) – Shaped almost like a flat-bottom wok, this pan has a large bottom surface that can cover the largest heat element on my electric stove. It heats up fast and holds the heat very well. It has a very high curved edge, so you can cook more food in the pan without spilling any onto your kitchen counter.
Lodge Cast Iron Wok (12-lbs) – This is my absolute favorite when it comes to cooking over a gas stove; its build is way better than some of the cheap options out there. I use this pan with a portable gas stove (12,000 BTU) when I teach a cooking class or to demonstrate authentic stir frying.
I would only recommend this combination to serious cooks who want to cook better food but do not have the luxury to own a powerful indoor gas range or an outdoor cooking space.
[one_half padding="0 0 0 2px"]
[/one_half]
[one_half_last padding="0 0 0 2px"]
[/one_half_last]
The setup you should always avoid
A wok with small or round bottom surface + electric stove
By having a small bottom surface, the wok bottom cannot fully cover the large heat element of your electric stove. It doesn't work even you use a heavy pan that holds heat well, like a cast iron wok.
I've tried this so many times (with nonstick and cast iron woks) and it never works. It takes forever to heat up the wok with the highest setting. Then your wok will easily overheat and burn the food. Once you add a little sauce or ingredients, it immediately cools down and never really heats up fast enough again to cook the food properly. The result is steamed food that is soggy and watery.
Stir fry spatula – an important element you shouldn't forget
This is an important element that many books forget to mention, which causes constant frustration. A stir fry spatula is very different from the kind of spatula used in most western kitchens.
It has longer handle to prevent your hand from being burnt by the hot air
It has larger spatula surface with sloped edges like a shovel, so you can easily use it to transfer food from the pan onto a plate. Stir frying often involves steps that require you to temporarily remove the food from the pan, so the pan won't be too crowded and the food won't overcook. A proper spatula makes this process so much easier
You can scoop and flip food during cooking to allow the ingredients to be heated evenly
A stir fry spatula has sharper edges, so it can remove food that has stuck to the pan
If you are using a nonstick pan, you should use a silicon spatula so as not to damage the nonstick coating. If you're using a cast iron wok or carbon steel pan, a stainless steel spatula works the best.
Watch how I used it making Shrimp Fried Rice.
Conclusion
The best stir fry setup can be very different depending on your goal. None of the setups are perfect, but what you can do is choose one that works for you.
No matter which wok or stir fry pan you choose, as long as you stick to the best practice of stir frying and use solid recipes, you can create better and healthier food in your own kitchen instead of ordering Chinese takeout.
What is your current stir fry setup? Do you have a favorite wok or stir fry pan that you'd like to recommend to others? Leave a comment below to share your thoughts!
Recommended Reading