Classic Chinese-restaurant style wonton soup features pork and shrimp wontons served in a hearty chicken soup. An authentic Chinese street vendor soup base is also included in the recipe!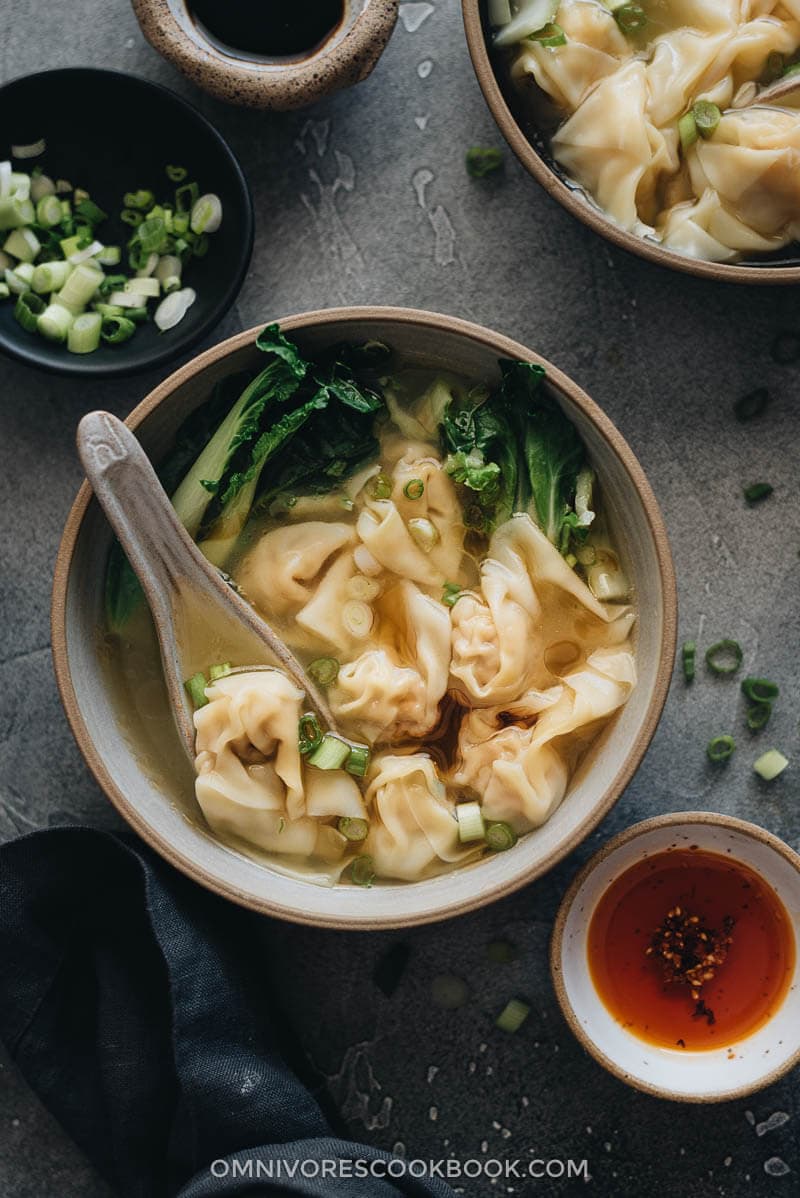 A bowl of wonton soup is so hearty that I can eat one at any time of day and in any season of the year. Even though the dish looks intimidating to make, it is surprisingly easy once you try it out.
There are many ways to prepare wonton filling and soup. For example, you make chicken wonton soup, beef wonton soup, watercress wonton, or add noodles into the soup to make Cantonese-style wonton noodle soup. You can even use hot sauce as a base to make Sichuan-style spicy wontons.
In this post, I want to introduce the most basic and classic version – it uses ground pork, shrimp, ginger, green onion, soy sauce, and a drizzle of sesame oil to make a rich and flavorful filling that tastes so, so good. This is how we Northerners make wontons. We like to add plenty of aromatics and seasonings to make the filling very rich, so the wontons taste great, even by themselves.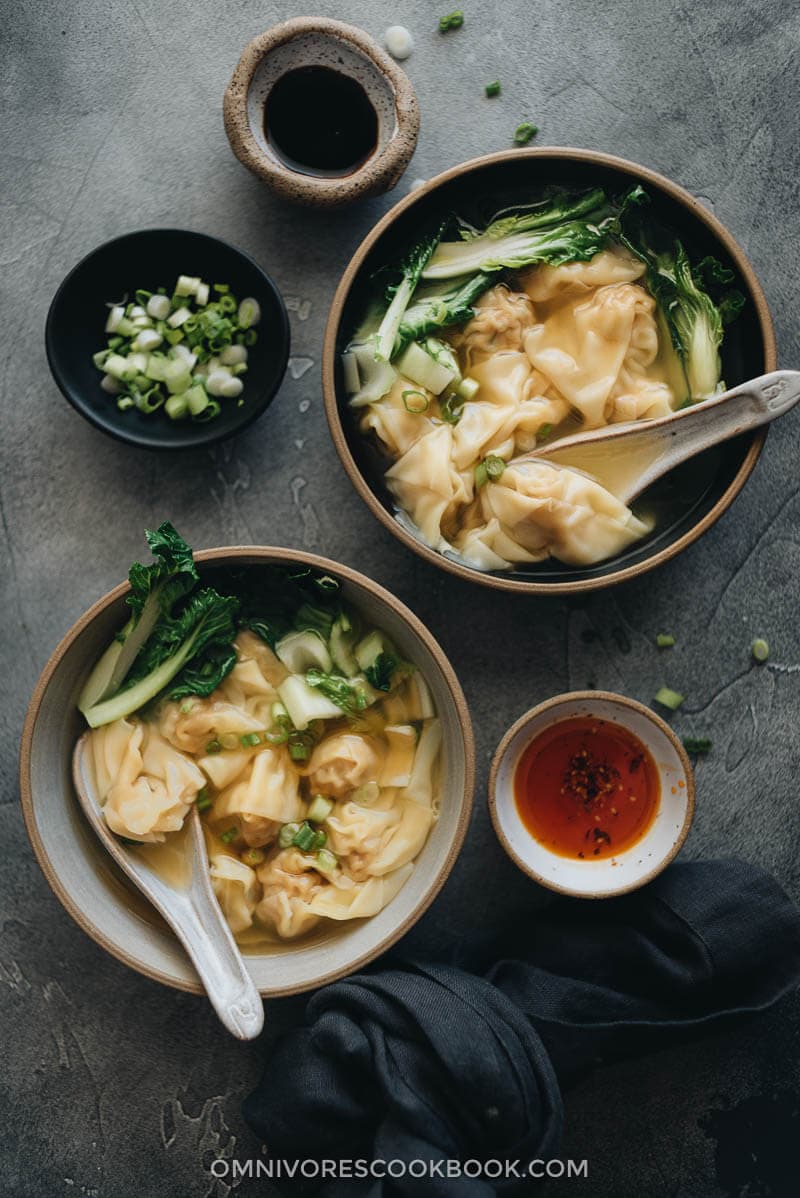 How to make wonton soup
1. Prepare the filling (with and without a food processor)
In a Chinese kitchen, home cooks always hand-chop all the ingredients. This is because most Chinese families do not own a food processor. Plus, many people enjoy the texture that is made by hand chopping.
If you want to make the prep easier, you can totally use a food processor or a blender to mix the filling. In this case, you can simply slice the ginger and green onion into coarse pieces. Add all the filling ingredients except the shrimp into a food processor. Process until it forms a silky paste. Then add the shrimp and blend until the shrimp are finely chopped, but do not turn into a paste.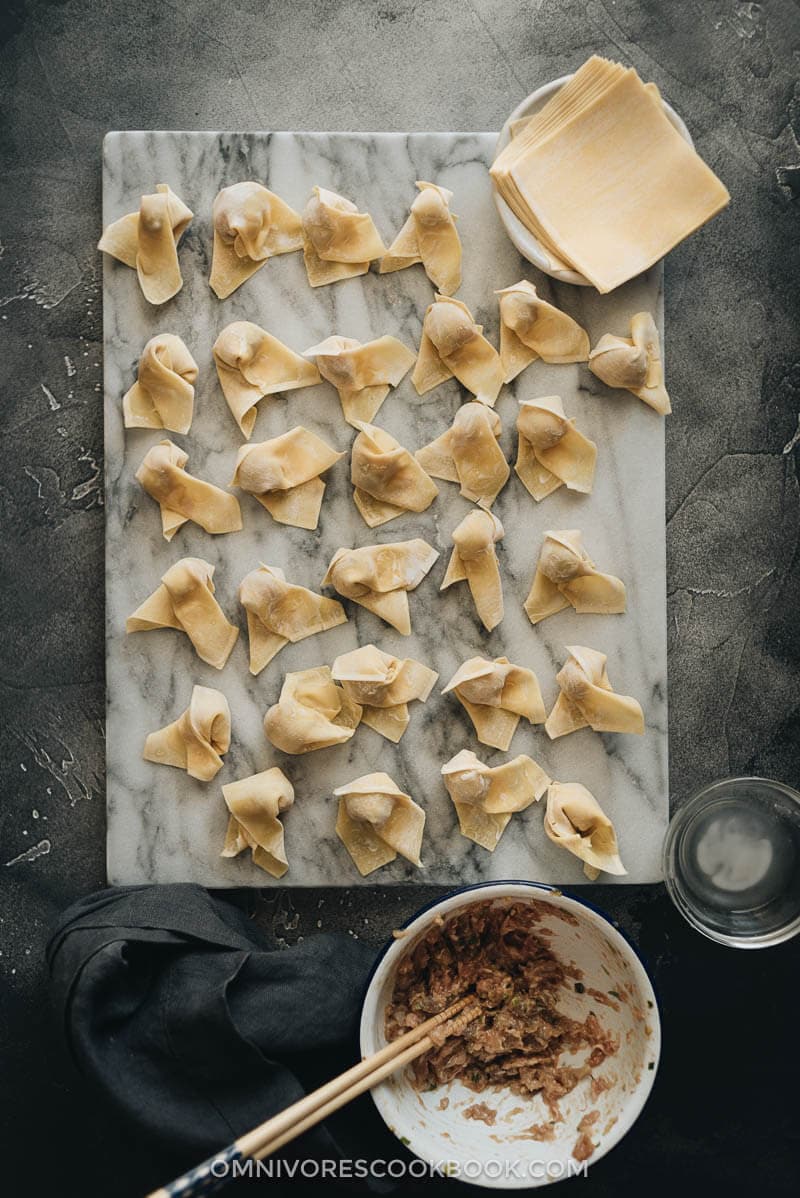 2. Wrap the wontons
The simplest way is to roll up the filling in a wrapper and press both loose ends together to lock in the filling
There's a good chance that the wrapper will not be sticky enough and you'll have trouble pressing the ends together. To solve this problem, you can brush some water onto the edges of the wrapper with your finger, so the wrapper will stay together while cooking.
Here is a short video I made to show you four ways to wrap wontons.
3. Prepare soup base
I introduced two types of wonton broth in the recipe below.
My old wonton soup recipe (published May 26th, 2014) introduced a traditional Chinese street vendor style soup base. It uses papery dried shrimp, dried seaweed, a bit of chicken bouillon, some soy sauce, and a touch of sesame oil to turn the wonton boiling water into a simple and tasty soup that's full of umami.
However, after moving to the US, I did find it more difficult to find the ingredients to make the Northern-style soup. That's why I added another chicken-broth-based soup base with easy ingredients that you can get in most grocery stores.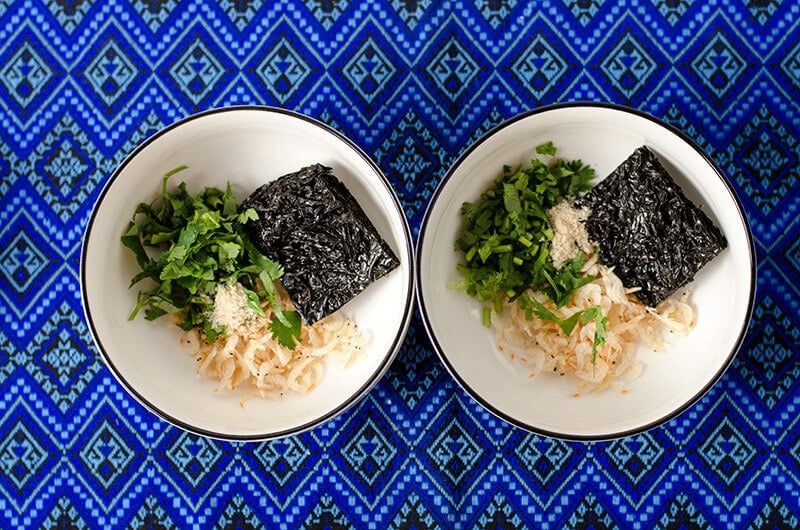 4. Put everything together
Once you've wrapped the wontons and made the soup, all you need to do is boil the wontons and assemble the bowls. I love to wrap my wontons in a big batch and freeze them in small portions, so I can have freshly made wonton soup ready in 5 minutes on a busy weekday.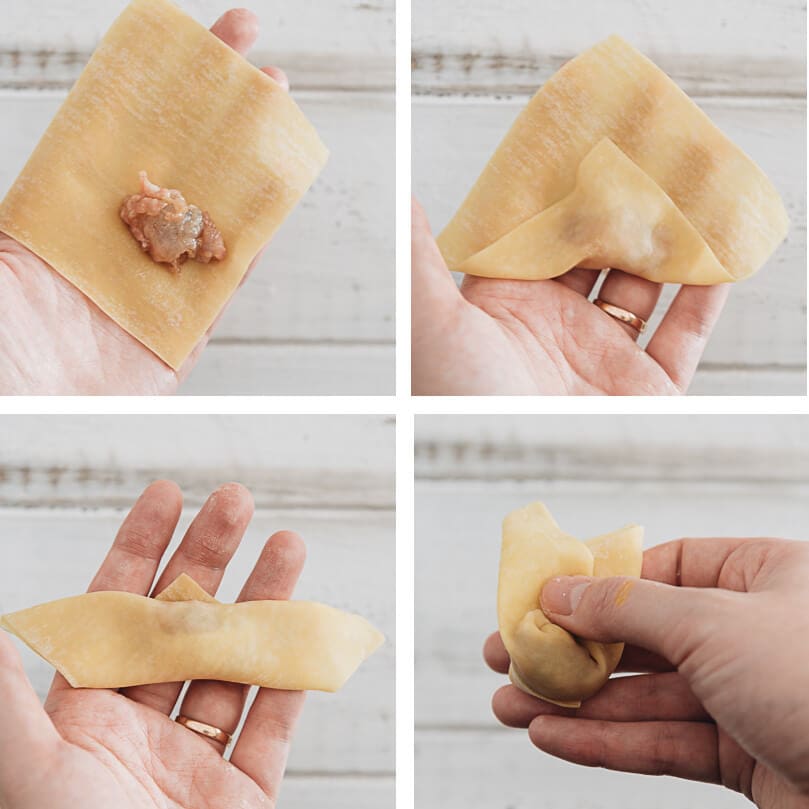 Cooking notes
1. How to choose wonton wrappers
Always use the square-shaped wrappers that are designed for making wontons. I love to use the Hong-Kong-style wonton wrappers, because of their beautiful yellow color. I always use the brand shown in the picture below when I can find them. I avoid using wonton wrappers that are too small (if edge is less than 3.5" or 8.5 cm) or too thin (the type sometimes labeled as for wontons or shumai), because they can be difficult to work with and fall apart easily.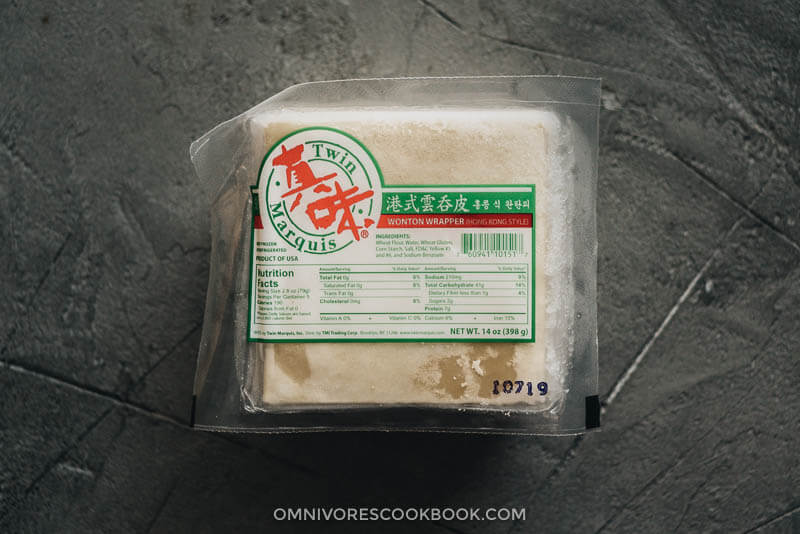 2. Why does the filling look wet?
When you add all the filling ingredient into a bowl, it might look like you've added too many liquid ingredients. Do not panic! This is one of the traditional Chinese ways to create a juicy filling, by beating liquid ingredients into the meat. You should mix the ground meat in a circular motion until it forms a paste that is sticky and spongy. This means the liquid is well absorbed by the meat and the filling is firm enough to wrap.
3. Cooking time
The wonton cooking time can be a bit tricky to put a number on because it can vary a lot depending on the wonton size. In general, you want to keep an eye on the pot while cooking. Once the wontons float to the top, cook 1 to 2 minutes for small wontons, and 2 to 3 minutes for bigger wontons. The wonton wrappers should look semi-transparent. If a lot of wontons start to fall apart, it might mean you've cooked them too long. Transfer them to a bowl immediately.
Always taste a wonton before you serve them.
4. Storage and preparation
The best way to serve wonton soup is to boil the soup base and the wontons fresh, and serve them immediately after cooking. If you assemble a wonton soup but don't finish, it will stay well in the fridge for a day. But the longer you keep it there, the mushier the wontons will become.
I understand that you might not want to cook a giant batch of wontons every time. That's why I always recommend freezing the wrapped wontons and cooking them when you plan to serve them.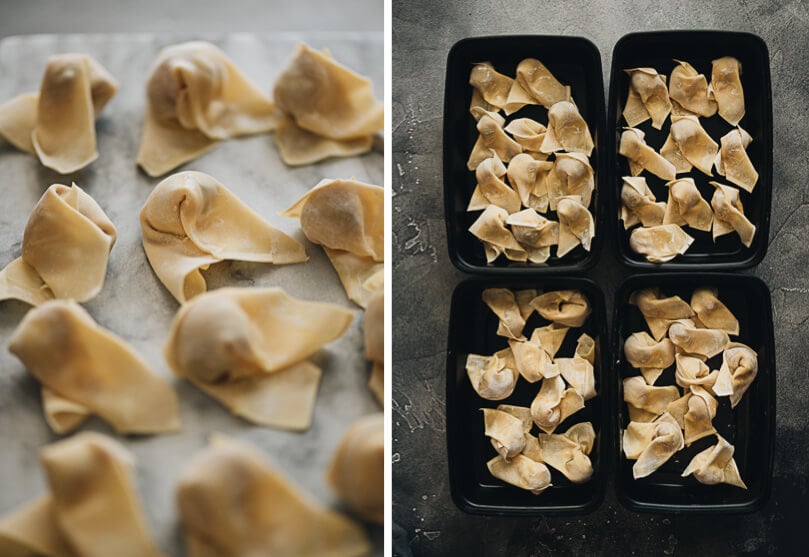 To make a single serving
Boil the number of wontons you plan to serve: 8 to 10 wontons to serve as a light snack, 6-8 for an appetizer, or 12 to 15 for a main dish.
For each 8 to 10 wontons, boil 1 cup of soup.
TIP: Adjust the serving size in the recipe below – if you click on the number of servings, it will show a slider. You can use the slider to adjust the serving size, and the ingredient quantity will change accordingly). Then you can see the quantity you need for each ingredient that goes into the soup base.
Note, wonton soup base is quite flexible and you can adjust it according to your taste. Add another drizzle of soy sauce if it's not salty enough. You can also add some homemade chili oil to spice it up!
Phew! That's everything you need to know to make a bowl of authentic wonton soup! I hope you enjoy it 🙂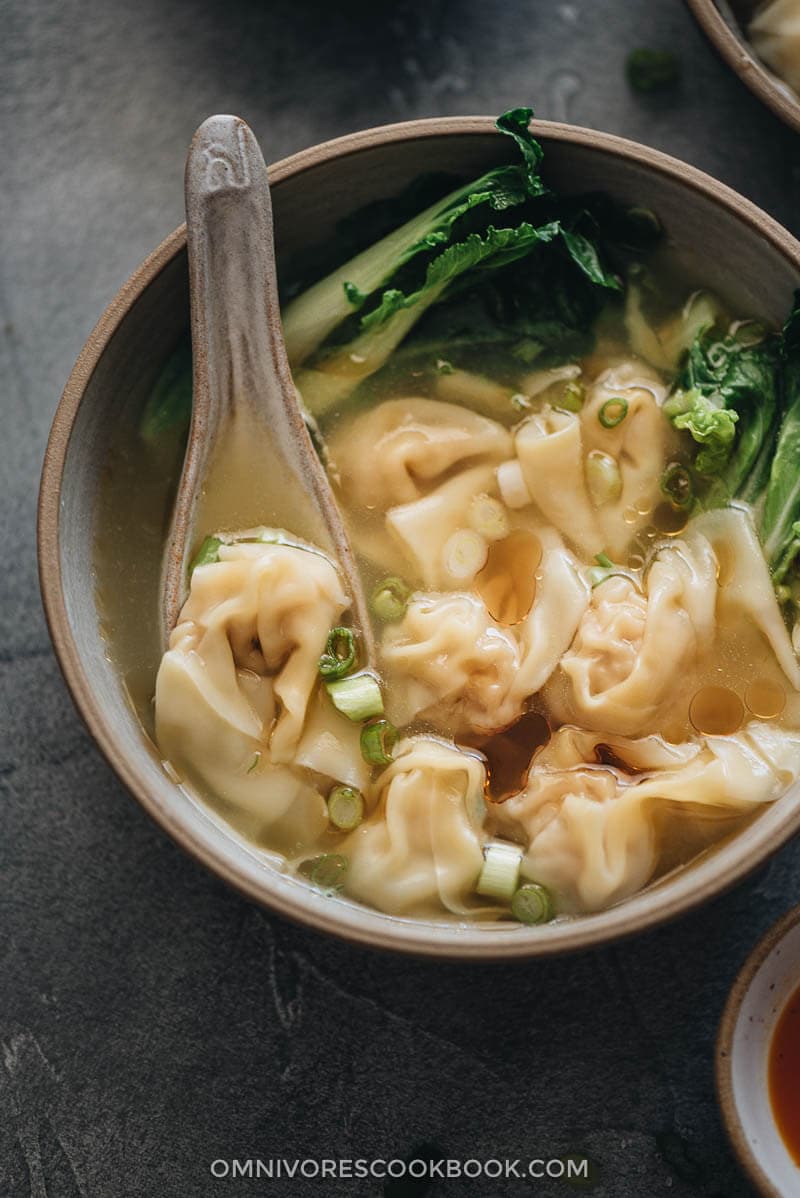 More dim sum recipes
If you give this recipe a try, let us know! Leave a comment, rate it (once you've tried it), and take a picture and tag it @omnivorescookbook on Instagram! I'd love to see what you come up with.
Want to Know More?
Receive our 5-Day Chinese Cooking Crash Course & Recipe Updates! Subscribe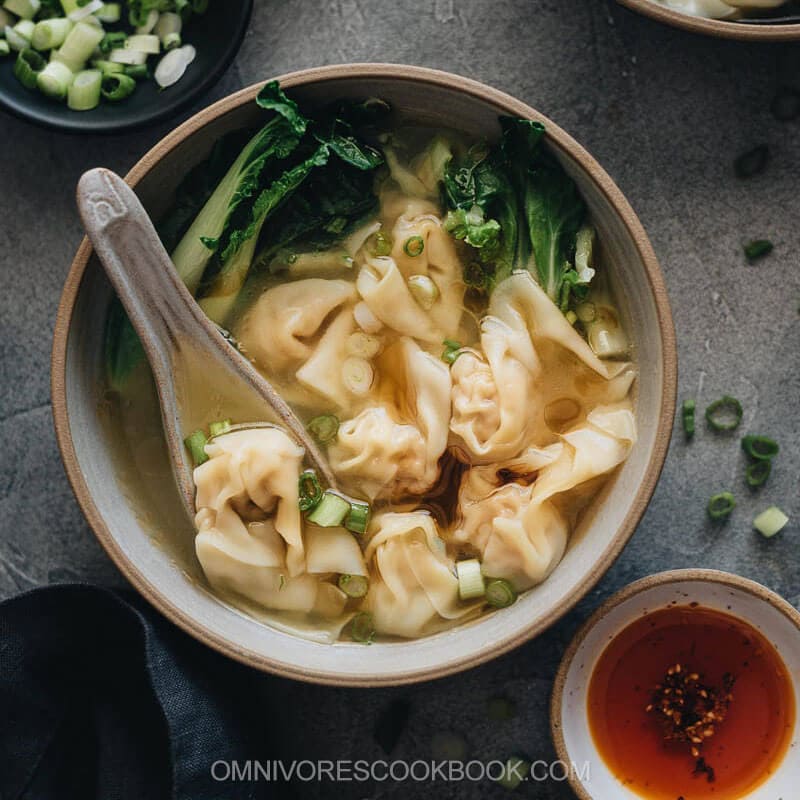 Wonton Soup
A bowl of wonton soup is so hearty that I can eat one at any time of day and in any season of the year. Even though the dish looks intimidating to make, it is surprisingly easy once you try it out.
Servings:
8
servings (60 to 80 wontons)
Ingredients
Instructions
Make the filling
Without a food processor: Combine ground pork, shrimp, ginger, green onion, soy sauce, Shaoxing wine, salt and sesame oil in a big bowl. Mix well with a fork until everything combines well together and the mixture feels a bit sticky.

With a food processor or a blender: coarsely chop the ginger and green onion. Add all the filling ingredients except the shrimp. Mix until it forms a silky paste. Add the shrimp and blend again, until the shrimp are finely chopped but don't become a paste.
Wrap the wonton
To make wontons, place a wonton wrapper in one hand, scoop a teaspoon of wonton filling and place it near the narrow side of the wonton wrapper (you can add more filling to the wonton if you like, as long as you can still wrap it). Fold the narrow side over the filling, then roll the filling all the way through the other side of the wrapper. Bind both ends and press together to lock the filling inside the wrapper. Brush a thin layer of water onto the wonton wrapper and press the ends together.

Make one wonton at a time, and line up all the wontons on a big wooden cutting board. If you aren't going to boil the wontons immediately, use a damp paper towel (or cheesecloth) to cover the wontons to prevent them from drying out.

If you aren't going to boil the wontons the same day, place them in an airtight container with several layers of wet paper towels on the bottom. This way, they can be stored in the fridge for up to 2 days.
(Option 1) Make the chicken soup base
Combine the chicken stock, ginger, and soy sauce in a pot. Bring to a boil. Let boil for 10 minutes. Turn to lowest heat to keep warm and start cooking wontons (see below).

Prepare 8 medium-sized bowls. Pour in 1 cup hot broth into each bowl. Add the cooked wontons and bok choy. Top with green onion and 1/2 teaspoon sesame oil into each bowl. Garnish with cilantro and chili oil, if using. Add a bit more soy sauce or salt to adjust seasoning if needed. Serve hot.
(Option 2) Make the street vendor style soup base
To prepare 1 serving of wonton soup base, add a big spoon of cilantro, 1 tablespoon papery dried shrimps, a generous piece of dried seaweed, 1/4 teaspoon chicken bouillon, and some baby bok choy into a big bowl. Repeat the process to prepare the rest of the soup base in the other serving bowls. Cook wontons (see below).

To make 1 serving of wonton soup, use a ladle to transfer cooked wontons, bok choy, and the hot soup into a serving bowl with all the ingredients from the previous step. Drizzle 1 teaspoon soy sauce and 1 teaspoon sesame oil into the bowl and give it a gentle stir. The soup should be amber-colored. Add extra soy sauce or salt if the soup is not salty enough. Scatter green onion on top. Garnish with cilantro and chili oil, if using. Serve hot.
Boiled the wonton
To boil the wontons, heat a big pot of water until boiling. Add 10 to 20 wontons at a time and boil over medium heat until wontons are floating on the surface of the water. Continue to boil until the wrappers are swollen, around 1 to 2 minutes for small wontons and 2 to 3 minutes for bigger ones. Take a wonton out with a slotted spoon and split it with a chopstick or fork. If the wonton is cooked through, stop heat immediately and transfer the wontons to individual serving bowls. If not, continue to boil until cooked through.

Once you've cooked the wontons, add the bok choy. Let cook until tender. Remove from the pot, drain well, and set aside.
To cook frozen wontons
Bring a large pot of water to a boil over high heat. Add wontons. Stir gently to prevent from sticking. Cook until bringing the water to a boil again. Turn to medium-low heat. Cover the pot with a small gap on one side, to prevent spilling. Continue boiling for 2 minutes (3 minutes for larger wontons). Stand beside the pot the whole time to monitor the broth. If the broth starts to spill, uncover and stir, and replace the cover. Uncover and continue cooking for another minute, or until the wontons are cooked through.
Notes
There are many types of dried seaweed. My original recipe used a type of instant seaweed that will rehydrate immediately once placed into the hot soup. There are other types of seafood that require some soaking before using. Read the back of your package and follow the instructions accordingly.
The nutrition facts for this recipe are calculated based on 1 bowl of chicken-broth-based soup containing 10 wontons.
Nutrition
Serving:
1
serving
,
Calories:
259
kcal
,
Carbohydrates:
22.9
g
,
Protein:
21.6
g
,
Fat:
9
g
,
Saturated Fat:
0.8
g
,
Cholesterol:
111
mg
,
Sodium:
1526
mg
,
Potassium:
164
mg
,
Fiber:
0.9
g
,
Sugar:
2.2
g
,
Calcium:
40
mg
,
Iron:
2.2
mg
The post was originally published on May 26, 2014 and updated by June 13, 2018.